Five takeaways from Indiana's win at Minnesota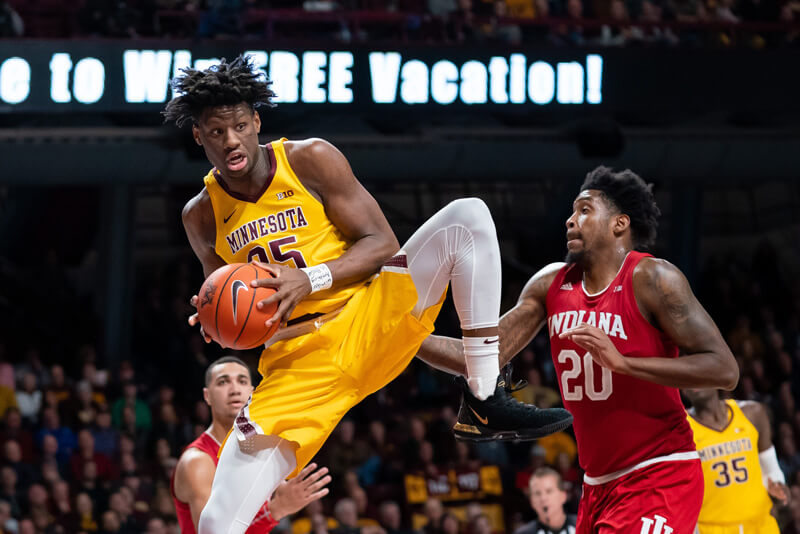 Indiana finally snapped out of its horrid road performances and picked up a huge victory over Minnesota on Wednesday night.
The Hoosiers' 12-point victory was highlighted by the play of star freshman Trayce Jackson-Davis, who will most likely be well on his way to his fifth Big Ten freshman of the week award. Archie Miller made the case postgame that he thinks Jackson-Davis deserves to be Big Ten freshman of the year.
The road victory improved Indiana to 17-9 overall and 7-8 in the Big Ten and creates huge momentum before hosting No. 9 Penn State on Sunday in Assembly Hall.
Here are five takeaways from the win over the Golden Gophers:
· Trayce Jackson-Davis dominated Daniel Oturu: After putting up five points and three shot attempts in a 24-point road loss to Michigan, Archie Miller said the team needed to get Trayce Jackson-Davis more involved on the road.
The message must've been clear as Jackson-Davis completely dominated at Minnesota on Wednesday night, scoring a career-high 27 points on 11-of-15 shooting. Jackson-Davis also had 16 rebounds, which completed his eighth double-double on the season.
Indiana is 8-0 when Jackson-Davis records a double-double.
"He was engaged tonight," Miller said. "He really delivered on some big second shots, too. Just some timely second shots that we needed. Credit to him."
Jackson-Davis' involvement was a point of emphasis from the start. He scored Indiana's first six points and led the team with 10 points and four rebounds heading into halftime.
The second half was where he took over the game, including a monster dunk over Isaiah Ihnen. Jackson-Davis' 17 and 12 performance in the second half propelled Indiana to its 12-point victory.
The Hoosier freshman also outplayed Daniel Oturu, who is one of the more talented bigs in the country. Oturu had 11 points on 5-of-15 shooting.
· The Race and Trayce combination in the frontcourt continued to work wonders: The tandem frontcourt of Race Thompson and Jackson-Davis was highly praised after Indiana defeated Iowa a week ago.
However, both players struggled at Michigan, and Indiana as a team was terrible defensively. But last night, the Thompson and Jackson-Davis combo was Indiana's best frontcourt lineup.
Thompson finished with a career-high 10 rebounds and also added nine points on the night. He was one basket shy of his first career double-double. His 25 minutes were also a career-high (just one minute more than what he played against Iowa). Also similar to Iowa, Thompson had the highest plus-minus against Minnesota at plus-21.
"Race is a blue-collar guy," Miller said. "He plays hard, and he's our most physical guy just in terms of being able to put his body in front of people. You saw it tonight."
The versatility that Jackson-Davis and Thompson bring defensively makes Indiana a better team on that end. Both players are much quicker than Joey Brunk and De'Ron Davis, so it makes hedging ball screens and rotating to shooters much easier and less chaotic – something Indiana struggled to execute against Michigan.
Granted, Minnesota's Marcus Carr isn't the same caliber point guard as Zavier Simpson, but the Hoosiers' defense was much better handling ball screens, and a big reason was because of Jackson-Davis and Thompson.
· Indiana finally won another game on the road: Perhaps the most obvious takeaway from last night's win is the Hoosiers finally got another road victory.
After defeating Nebraska in Lincoln on Jan. 18, Indiana dropped three road games in a row, which put their total away record at 1-6. It wasn't just the losses either, it was the way they were losing. Lack of focus, lack of leadership and lack of execution were all culprits each time Indiana went away from Assembly Hall.
But in "The Barn," Indiana finally looked cohesive and picked up its second road win of the season. Indiana went down 10 in the first half and instead of rolling over like they usually do on the road, they fought back and took over the game in the second half.
It was a much-needed victory for Indiana, who most likely needed to win the remainder of its home games to reach the NCAA tournament, but now there's slightly more leeway after this win.
Last night was also Indiana's most winnable road game that it had left on the schedule, with Purdue and Illinois coming up on the schedule.
· Rob Phinisee looked more aggressive and dished out six assists: The guard play has been underwhelming this season, and Rob Phinisee hasn't quite taken that next step everyone thought he'd take after a solid freshman campaign.
Phinisee has had his ups and downs just like every Indiana player this season, but on Wednesday night he was more aggressive, and it worked in IU's favor.
Phinisee only had six points, but his two made baskets came from putting his head down and driving in the paint. More importantly, Phinisee just orchestrated the offense and was Indiana's calm point guard on the floor.
He did have three turnovers, but overall it was a solid performance from him with six points and six assists.
Miller said he thought Phinisee, as well as Devonte Green and Al Durham, really slowed things down for Indiana and ran the offense according to plan.
· Joey Brunk's production continues to fade away: Since the Michigan State game on Jan. 23, Joey Brunk has struggled on both ends of the floor to really produce anything positive.
That continued on Wednesday night as he played a season-low eight minutes, went 0-of-2 from the field and only had two rebounds. Of the 10 players to check into the game, Brunk played the least.
He got into early foul trouble guarding Oturu and was never able to find any rhythm. In the last five games, Brunk has finished with three or fewer rebounds in each contest. Wednesday was also the first time all season he hasn't scored.
Fortunately for Indiana, De'Ron Davis has risen to the occasion in place of Brunk. Davis didn't replicate his performance at Michigan, but his 10 minutes against Minnesota featured three points and solid defense against Oturu.
Despite Brunk's struggles, Miller is still sticking with him in the starting lineup and to begin every second half in hopes of him returning to the energizing, physical player he once was to start Big Ten play.
If he can't return to that form, it makes the Jackson-Davis and Thompson combination more so important going forward.
Photo credit: GopherSports.com
Filed to: Minnesota Golden Gophers, Race Thompson, Robert Phinisee, Trayce Jackson-Davis