'We need him to win:' Race Thompson proves importance in Iowa victory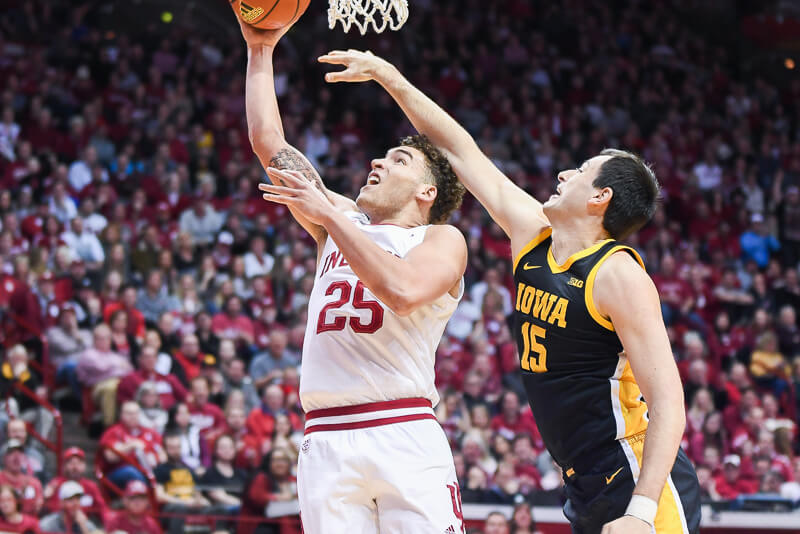 Race Thompson finished shaking hands with the Iowa team and made his way back to the locker room, smiling from ear to ear.
De'Ron Davis snuck up from behind Thompson, put his towel over Thompson's head and embraced him. The redshirt sophomore, still smiling, had just finished putting up a career-high 10 points in an essential 89-77 win over No. 21 Iowa.
Thompson's Indiana career has been filled with injuries. And there was no change to that trend a few weeks ago when he collided with Michigan State's Xavier Tillman in midair going for a loose ball, making Thompson unable to break his fall as he landed hard on his lower back and tailbone. Before that fall, Thompson had four points and four rebounds in 11 minutes, and Archie Miller called it his best collegiate game.
The injury sidelined him for the Hoosiers' next three games — all losses for Indiana. Thompson played against Purdue, but Miller said he still wasn't 100 percent in that game.
Fast forward to Thursday night, and Thompson picked up where he left off against Michigan State.
Against a versatile big like Luka Garza, Joey Brunk wasn't the answer. Garza's ability to be physical in the paint, face up for a midrange shot and step out on the perimeter requires a more athletic and quicker forward, which is where Thompson checks in.
Thompson by no means contained Garza, who torched Indiana for 38 points, but he played the best defense out of Indiana's four bigs.
The combination of Thompson and Trayce Jackson-Davis was the most effective throughout the game. Unlike when Davis or Brunk are in, Thompson and Jackson-Davis don't need to hedge on ball screens because they can switch, which makes everything easier for the defense.
Perhaps more importantly, Thompson clocked in a season-high 24 minutes and had the highest plus/minus of the team at plus-16.
"His 24 minutes, 25 minutes, whatever it was tonight, he did a great job," Miller said. "So, I was happy for Race, obviously, that he didn't — you know, sometimes when you get out and you get knocked out, it takes a while to get back. But he's back, which is important."
In addition to a career-high total in points, Thompson also tallied four rebounds, two blocks and four steals.
Despite filling up the stat sheet tonight, a lot of Thompson's contributions go unnoticed.
Even following the game last night, most questions were directed toward Devonte Green (27 points with seven made 3-pointers) and Trayce Jackson-Davis (17 points and 10 rebounds).
An IU spokesperson brought up the fact that Thompson had a career-high in points, invoking a "Yes sir" from Green and definitive "Yup" from Jackson-Davis. All while Thompson had the same smile he had as he trotted to the locker room.
"That's who he is for us — does all the little things that don't show up on the stat sheet and goes unnoticed, but we notice it," Green said. "And we know he will help us win a game."
"Agree with just what Devonte said. He does a lot of little things, and we have so many interchangeable pieces," Jackson-Davis said. "He comes in and does his job and he does it at a high level. We need him to win, we really do."
For Thompson, it's all about gaining confidence. He said getting more minutes against Iowa allowed him to find a rhythm in the flow of the game.
"I know my coaches trust me; my teammates trust me," Thompson said. "It's just out there having fun with my guys."
The excitement and smiles displayed by Thompson after defeating the Hawkeyes has been few and far between on this roster over the last two weeks. Thursday's win has revived Indiana's season, now at 16-8 overall and 6-7 in the Big Ten. Though daunting road tasks loom ahead, first being a surging Michigan team who has won four of its last five and also sits at 6-7 in the conference.
Indiana has been atrocious on the road this season (1-5) and each loss hasn't been particularly close. But Thursday's win could go a long for Indiana this season, and Race Thompson's performance showed what the Hoosiers were missing in their four-game losing streak and what they need going forward.
"He's at the right place at the right time," Miller said. "He's about the right things and he's a winning player. He helps you win. He makes winning plays."
Filed to: Iowa Hawkeyes, Race Thompson