De'Ron Davis scored a career-best 18 points against Michigan. Will he get more playing time?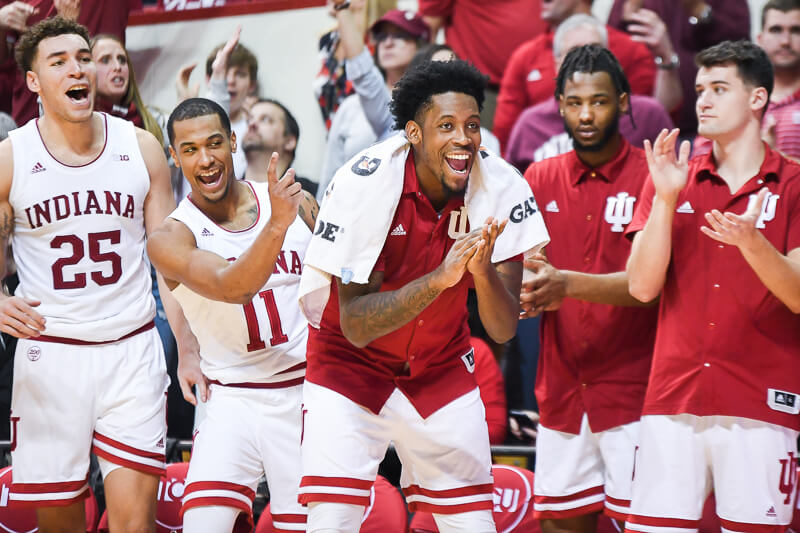 ANN ARBOR, Mich. – De'Ron Davis' answer was partially muted, drowned out by the polite applause of a teammate.
The inner hallways of the Crisler Center were already a crowded and loud place Sunday afternoon, as arena workers shuffled past in the aftermath of Michigan's 89-65 victory over Indiana.
Archie Miller had just met with the media, deriding Indiana's lack of effort and rebounding in the 24-point loss. Now, it was his players' turn to respond to the on-court shortcomings.
But one of the questions posed to Davis, about the senior forward's career-high 18-point scoring performance against the Wolverines, brought even more sound to the already noisy environment.
Junior guard Al Durham, himself selected to speak with the media after scoring 17 points, began clapping.
Durham bobbed his head up and down with understanding, acknowledging the breakthrough that came for Davis after an inconsistent senior season.
It was indicative of the respect Davis has from his Indiana teammates, but it also served as a somewhat empty gesture.
Here was Davis, fresh off tying Indiana's program record for consecutive field goals made without a miss (he went 9-9 from the field Sunday).
A statistical mark that otherwise would be the cause for celebration was relegated to a mere footnote after Indiana's sixth road loss of the season, all of which have come by nine or more points.
"Guys were finding me, shots were falling, my work's been paying off that I've been doing all year," Davis said above the din of the arena workers and Durham's claps. "I started the season healthy (and) I'm going to finish the season healthy…just seize my opportunity…do the best I can."
Opportunities haven't come regularly for Davis in his third season under Miller. He's played 10 or more minutes in just eight of his 24 appearances for the Hoosiers this season.
The hook came quickly for Davis during non-conference play, when he often struggled with foul trouble early in games.
He's gotten a longer run of minutes over the past month, playing 10 or more minutes in four of Indiana's last six games, and the on-court production has followed.
Davis has been a contributor in the scoring, rebounding and assist columns, and his resurgence has come while fellow frontcourt player Joey Brunk has faltered.
Trayce Jackson-Davis and Race Thompson were also no-shows Sunday in Ann Arbor, leaving Davis as the lone Indiana big man, and player in general, who responded to the road challenge.
"De'Ron did a good job, he was effective, not only in different portions of the game (but) start to finish," Miller said postgame. "He was able to command some attention, he handled himself well in and around the basket, knocked shots down."
With Brunk repeatedly getting burned hedging high-ball screens and missing shots at the rim, Jackson-Davis struggling to assert himself on offense and Thompson still a hit-or-miss contributor each game, the obvious question exists for all to ponder:
Will De'Ron Davis get more playing time going forward?
It's a question Miller has addressed before, previously stating that Davis' importance to the Indiana team would reveal itself in conference games, when the matchups become more reflective of what Indiana's postseason will look like.
Having six games left in the regular season would qualify as such, and given Miller's harsh postgame assessment of Indiana's failure to rebound and reach the foul line against Michigan, the timing may also be ripe for a frontcourt shakeup.
"Hopefully he can build on the performance (against Michigan), (Davis) was definitely the most effective player on our team." Miller said. "We need to have more than one, that's the one thing I'd say. We need to have more than one guy be able (to be) effective."
Inserting Davis into the starting lineup, or simply increasing his minutes, still only exists as a short-term solution.
His rebounding numbers (Davis averages 1.5 per game and had two against Michigan) aren't enough to shift the battle on the glass in a game in which Brunk and Jackson-Davis aren't carrying that load, and Davis has his own defensive deficiencies due to a lack of speed.
But he's also been here before.
A veteran of Indiana's two most recent NIT-bound teams in 2017 and 2019, Davis has been through Big Ten play four times now and understands better than most current IU players the rigors of conference play.
He's also more likely to be keenly aware of this moment in Indiana basketball history.
Not since 1972 has a four-year class of Indiana players failed to reach the NCAA tournament. That infamous fate would extend to Devonte Green and Davis should Indiana not reach the Big Dance in 2020.
In between his in-depth explanations of what went wrong against Michigan after Sunday's game, Davis was asked about the future, and whether this Indiana team has "the necessary fight" to earn its way to the NCAA tournament, a place Davis has never been.
He paused briefly, then answered in the affirmative four times in a row.
And whether the Hoosiers get there or not, it appears Davis will have a true say in the matter.
Filed to: Archie Miller, Deron Davis