De'Ron Davis remains in control ahead of senior season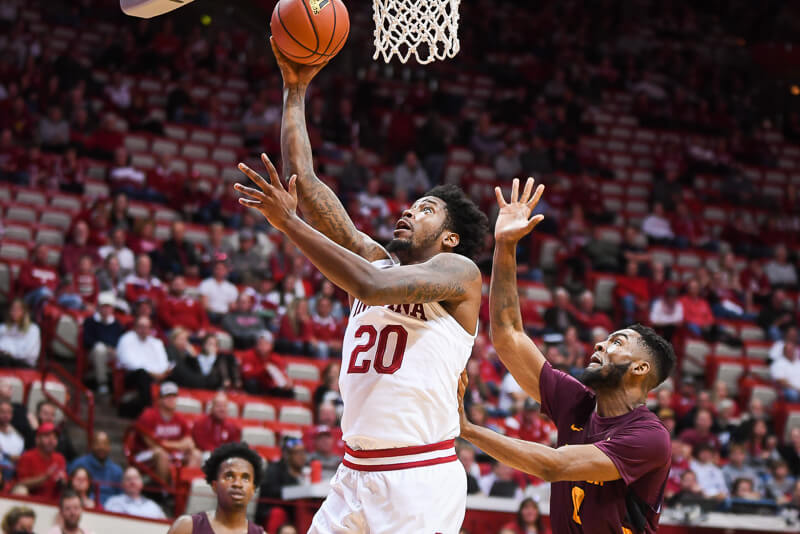 Show up early enough to an Indiana basketball game and you'll see it.
De'Ron Davis alone at the free throw line joined only by a few Indiana team managers who stand along the lane, just in case the senior forward fails to convert one of his practice free throws.
He goes through this routine before every game with varied results.
Sometimes he quickly makes two shots and leaves in no time, joining his teammates who have huddled and already left the court.
Other times it's a struggle.
Davis may only make one shot before it's time to exit.
Sometimes he misses all his shots, stuck without the satisfaction of seeing the net sway.
It's part solace and solitude for Davis, a man whose life and basketball career has been shaped by things out of his control.
The death of his father when Davis was 11. The coaching change in between his freshman and sophomore seasons. The torn right Achilles he suffered in January 2018.
Davis' senior season is just days away from starting and more change lingers over him.
A congested frontcourt featuring Davis, graduate transfer Joey Brunk and freshman Trayce Jackson-Davis means his role will shift
This unfolds against the backdrop of Davis and senior teammate Devonte Green trying to avoid becoming the first Indiana four-year class since 1972 to never reach the NCAA tournament.
So much is again out of Davis' hands. So he controls what he can.
De'Ron Davis shoots his free throws and walks off the court triumphantly, whether he makes the shots or not.
*****
If there's one memory Art Williams has of Davis, it's that he was always in his hotel room.
From seventh grade through high school Williams coached Davis as part of the Colorado Hawks AAU program.
The time period featured countless road trips around the country, but Williams never had to wonder what Davis was doing in between games.
"De'Ron was probably one of the most boring kids I've ever coached… I mean the kid never got in trouble," Williams said. "If I said curfew was at 10 o'clock, that kid would be in bed at curfew at 10 o'clock. There were times I'd knock on the door thinking 'Why don't you sneak out?' He treated every trip like a business trip."
Davis was there for a specific reason.
By the eighth grade he had two power five conference scholarship offers, one from Colorado and one from Indiana.
Between the day he was offered (July 16, 2012) and the day he signed his National Letter of Intent for Indiana (Nov. 12, 2015), Davis' recruiting stock skyrocketed.
"He kind of knew ahead of time how serious things were, more than kids his age typically do," Williams said. "I think losing his dad at such an early age humbled him pretty early. Kind of created some perspective for him, something other kids don't have to go through at that age."
That Indiana offer came with Tom Crean still in charge of the Hoosiers. Crean and former Indiana assistant coach Steve McClain (now the coach at Illinois-Chicago) were the main Indiana points of contact for Davis while he lived just outside of Denver.
"Crean jumped on him pretty quick and gave him a visual for what he could be," Williams said. "I think he really bought into it, he believed in it and it was easy for him to not get so rattled when all these other coaches were calling and asking him or telling about who he will be."
Crean's pitch was simple.
He told Davis he wanted to put the ball in his hands and make use of Davis' passing prowess.
The Hawks' AAU offense ran through Davis, a player Williams described as the team's best ball handler and passer. Williams ran a "41" offense with Davis at either the high or low post, forcing him to make decisions.
Is it time to set a screen? Roll to the basket? Catch the ball up high? Face up in the block? Kick it back out?
It was a part of the on-court maturing process for Davis.
"De'Ron used to have a jump shot and I used to actually get mad at him for shooting so many jump shots," Williams said. "I think as he got to that next level, he just was trying to figure out how to fit in with the team, the injuries plagued him a bit."
*****
An academic issue meant Davis was delayed getting to Bloomington, only arriving at the start of the fall 2016 semester and missing out on a summer's worth of conditioning.
This was reflected in his freshman season.
Davis' 82 personal fouls in 34 games (four starts) during the 2016-17 season could be linked back to his need to be in better shape. His 14 minutes-per-game average and 48.5 percent shooting from the field came as he adjusted to Big Ten basketball while Crean's final Indiana team fell apart.
He absorbed what he could from fellow big men Thomas Bryant and Juwan Morgan, and a new, leaner Davis appeared after Archie Miller became coach.
This coincided with the arrival of Clif Marshall as IU's director of athletic performance for the men's basketball team. Marshall changed Davis' eating habits, reducing portion size and helping Davis get carbs from healthier foods.
Davis spent 12 weeks of summer 2017 in Bloomington, forgoing time back home with his mother Terri to prep for the season.
"I see a newfound determination in De'Ron," Morgan said in July 2017. "Before he would always talk about it…now he's more confident. He sees the changes going on."
This allowed Davis to run quicker, to feel better and to eliminate the nagging injuries that already presented themselves during his first season. It also set the stage to give Davis the tools he hopes to use now as a senior.
"When I got tired in practice, I kind of got quiet," Davis said in September 2017. "This year I'm starting to not be as quiet, be more of a vocal leader and also a visual leader. Just my main focus is trying to play above the rim, try to be athletic, try to be fast with my moves, be precise with my moves."
All of that was evident in the first 15 games of the 2017-18 season. Davis started each one, averaging nearly 10 points, four rebounds and more than a block per game.
He received national praise during Indiana's November home loss to Duke after outmuscling future NBA lottery picks Marvin Bagley and Wendell Carter Jr.
But when Davis heard a pop in January 2018 during a non-contact drill in practice, all of it was undone.
"I can remember talking with him when he first tore his Achilles, and I mean, he was pretty devastated," Williams said. "He knew it was going to set him back a ton and I can just remember encouraging him… At times, it got really dark, in regards to 'Am I going to be the player I ever used to be? That I'm desiring to be?'"
Davis and Williams prayed.
They did it "all the time" according to Williams, and they did it to help Davis understand.
"I think De'Ron, watching some of the kids he used to play against and he was really effective against, play in the NBA and he's not there yet, I think that's been a challenge for him," Williams said. "You know, he's constantly reminded of that, 'That's just not your story.' So, your story may end up in the NBA, but it's going to take a different route."
*****
The only players remaining at Indiana from the 2016 recruiting class are Davis and Green.
Curtis Jones transferred one semester into Miller's time as coach, and Grant Gelon did the same without ever playing for Miller.
In the time between the firing of Crean and hiring of Miller in March 2017, rumors swirled about Davis' future with the Hoosiers.
But in Davis' mind there was no thought of transferring.
"I can remember De'Ron telling me on the phone 'I committed. I said I was going to be here, I'm going to finish it out. I love the community, I love the school, I love the fans, I love my teammates. I'm not going anywhere,'" Williams recalled.
On-court differences between Crean and Miller's coaching philosophies are readily apparent.
The regime change forced Davis to bolster his defensive presence, while offensively he's had to become more creative to involve himself in Indiana's halfcourt sets.
Davis' injuries forced Morgan to play the 'five position' frequently as an upperclassman, leaving Davis without a defined role as he shuffled in and out of the lineup.
Last season saw Davis relegated to coming off the bench as he suffered an ankle injury in early January while still working his way back from the Achilles tear.
Soreness went from a surprise sensation to a near expectation for him.
Miller admitted multiple times last season Davis should have been shut down for a stretch to rest and recover, but Davis still found himself frequently on the court, trying to help the Hoosiers reverse their slide in conference play.
"You can only imagine as a kid growing up. You get all these crazy injuries, the coach that recruited you leaves," Williams said. "Indiana is already a tough school to play at because of the tradition, because of the success the program's had. But I've been really proud of that kid to stick it out, be loyal to his commitment and continue to get better…
So this is a part of his journey to becoming a man, right, not just becoming a basketball player but being a man."
*****
Davis is the entertainer of the Indiana team.
He's been repeatedly trusted to film vlogs for the program's social media accounts, and is frequently called upon as a designated player who speaks to the media before and after games.
Davis' talking can also be serious, as it was when he and Green were freshmen and helped convince Morgan not to transfer.
His words rang loudly last season after the upset win at Michigan State, which he contributed 12 points and six rebounds toward, as Davis called out the rest of the Big Ten for failing to respect Indiana.
It was Davis in his purest form, saying what he wanted.
"I would say the kid thinks his swag is probably better than anyone else that I've ever met," Williams said. "What you see with De'Ron is what you get. He's not going to be a kid that puts on for the media or fans or anybody else and be somebody different behind the scenes. He's pretty solid in who he is."
What remains to be seen is how comfortable Davis will be in his on-court iteration with the 2019-20 Hoosiers.
Miller has stressed a desire for Indiana to operate offensively through its frontcourt, where the Hoosiers are significantly deeper than in the backcourt.
But the way bigs and guards are matched together will go a long way in determining success.
Davis said as an aggressive post player who likes to pass, the way he thinks on the court varies from having a player like Green at shooting guard compared to Rob Phinisee or Al Durham.
What isn't lost on Davis is how expendable he's become.
Brunk brings similar skills as Davis to the Indiana team, while Jackson-Davis' athleticism and big-play potential figures to earn him immediate playing time.
"The good thing about all our front guys is we are all capable of making post moves and being aggressive and being efficient around the rim," Davis said. "Once one post player comes out, it's not like 'Oh, you can take a break or forget about the next.' It's boom, boom, boom."
Still, some traits separate Davis.
"He has every shot, fake, wiggle, everything in the post to be able to create his angles to score," Brunk said of Davis. "As soon as he gets that little bit of an advantage on you, you're kind of done because he's so skilled and so strong."
Davis' time at Indiana, and his youth in Colorado, has been spent learning how to make choices.
From running the "41" offense with the Colorado Hawks to his decision to change his diet, these are all things Davis has power over.
There will be at least 31 games played during De'Ron Davis' senior season.
How many of those he will play, let alone have a significant role in, is a question currently without an answer.
What is known is that before each game he is healthy for, De'Ron Davis will grab a basketball and walk to the foul line.
He will do it by himself and for himself.
He will shoot free throws and try to make two.
Filed to: Deron Davis