2019-2020 Player Profile: De'Ron Davis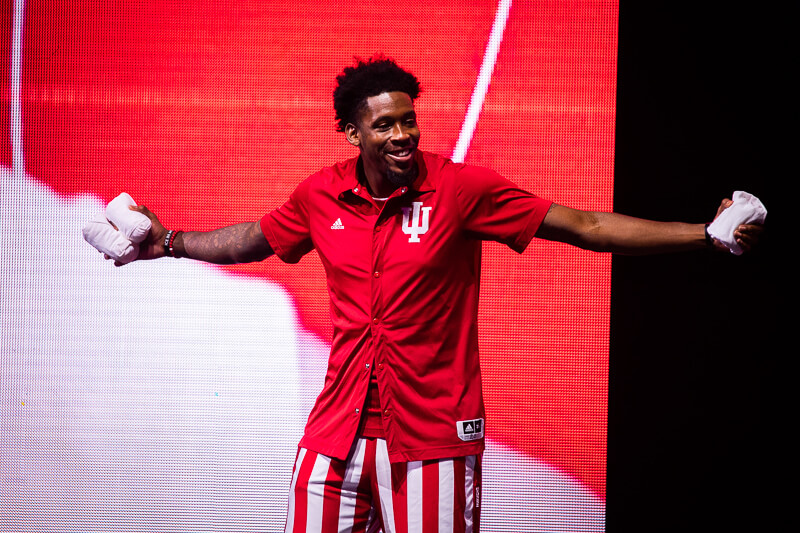 With the start of college basketball season on the horizon, we've transitioned from our look at other Big Ten programs to our player-by-player previews of the 2019-20 Indiana roster. Today, our player profiles conclude with a look at De'Ron Davis.
(Previously: Armaan Franklin, Trayce Jackson-Davis, Jerome Hunter, Race Thompson, Damezi Anderson, Al Durham, Rob Phinisee, Justin Smith, Joey Brunk, Devonte Green)
De'Ron Davis has one final chance to get it right.
After a freshman season that ended with a coaching change, a sophomore campaign derailed by injury and a junior year riddled with bumps and bruises, Davis will pull on a cream and crimson-colored uniform for his final season, a defining one for him at Indiana.
Not since 1972 has a four-year senior class at Indiana failed to reach the NCAA tournament.
But should the Hoosiers again miss out on college basketball's signature March showcase in 2020, that infamous distinction would also extend to Davis and Devonte Green.
A pair of NIT appearances are all Davis has to show for his college postseason experience so far. His final opportunity to reach the NCAA tournament will come as part of an Indiana team with a roster composition vastly different from the other three he's been a part of.
Davis has long been the outlier among IU players — a strong and sturdy presence around the rim without much range, and someone who's lack of mobility at times compromised him on the court.
The torn Achilles he suffered in January 2018 prematurely ended his most productive IU season (he started 15 games while averaging almost 10 points per game before the injury), and he spent most of last season still recovering from the aftereffects of it.
Davis will have more help than ever before in the interior for IU this season. Three players — Race Thompson (6-8), Trayce Jackson-Davis (6-9) and Joey Brunk (6-11) are similar in size and style to Davis.
They're all players who make points in the paint their bread-and-butter, and have also yet to show a consistent ability to close down on the perimeter.
The factors behind each of these aside, all four will have a chance to be in the frontcourt rotation for the Hoosiers this season.
Archie Miller wants to play a big lineup, and for the first time in his Indiana tenure he has the pieces to do so.
What does this mean for Davis? Well for starters, he doesn't have to do it alone.
Sunday's secret scrimmage gave some indication as to the minutes distribution Miller envisions.
Thompson played the most with 26 minutes, Brunk played 20, while Jackson-Davis played 17 and Davis played just 10.
It will be a jigsaw puzzle of sorts to begin the season, as Miller mixes and matches those players on the court in groups of two and three to see what works.
Brunk and Davis are far enough established in their college careers to know what can be expected from them, but the opposite is true for Jackson-Davis and Thompson.
As such, Davis' role with the 2019-20 Hoosiers, the one that will in part determine his IU legacy, may depend more on those around him than his own play.
Bottom line: With an offseason to completely rest his oft-injured body, the focus should be on Davis' conditioning entering this season. He's never averaged more than 19 minutes per game in a season. That likely won't change this season, but that's more because Indiana has other big bodies like Brunk and Jackson-Davis to frequently rotate into games.
The mix-and-match approach from Miller lends itself to a few periods of high-intensity work from Davis each game. His passing ability out of the post to the perimeter is a strength, as was his suddenly solid free-throw shooting a season ago.
Don't expect wholesale changes from Davis this season. His scoring likely won't significantly increase and his minutes will fluctuate from game to game. For the first time since his freshman season though, Davis figures to be fully healthy. That may be the decisive factor for a big man playing in a system that values him.
Quotable: "That's the old-school lineup right there. That's the big-ball, traditional two bigs.
Can it happen? Absolutely.
In my opinion and how these guys find that niche, will be their ability to defend together. That's obviously the hardest part for two bigs on the floor. It's not offense. You can run a lot of different types of offense, especially when you have some guys who can score the ball down low.
But could they play together and defend a team who doesn't play traditional with bigs. That will be the quest," — Miller at IU media day.
Filed to: 2019-2020 season preview, Deron Davis