That's A Wrap: De'Ron Davis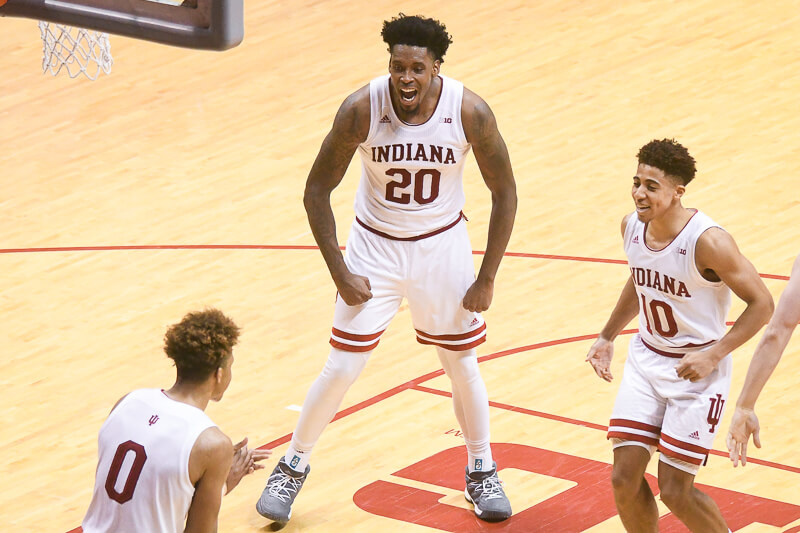 Welcome to "That's A Wrap," our player-by-player recap of the 2018-2019 Indiana Hoosiers. Today: De'Ron Davis. Previously: Damezi Anderson, Rob Phinisee, Jake Forrester, Romeo Langford, Race Thompson, Jerome Hunter, Al Durham, Justin Smith, Clifton Moore, Devonte Green
Davis (28 games): 5.4 ppg, 2.5 rpg, .9 apg, .6 bpg, 60% FG, 57.7% FT in 13.6 minutes per game
Coming off an achilles injury, De'Ron Davis didn't get the benefit of a full offseason. He had to spend much of that time rehabbing and recovering just to get back to playing condition.
He wasn't at full strength by the start of the season, but continued working to get there during games and practices. He eased his way back, and even missed time in January with an ankle injury.
But once he returned from that, it was clear he was back to full strength, and he became a significant figure on the Hoosiers.
He was really a key to Indiana solving the problem of opponents stacking the paint in conference play. That strategy killed the Hoosiers on so many occasions, especially in January, when IU's main offensive options were to play through Juwan Morgan in the post or to have Romeo Langford drive to the hoop. Davis' presence, especially when Morgan was out there with him, made it tougher for defenses to double-team the post, which opened things up Indiana's offense.
His biggest game of the season came immediately after returning from the ankle injury in IU's upset win at Michigan State Feb. 2. He played 25 minutes — tied for his season-high and the second-most of his career — in large part because of Morgan's injury in that game. Davis' minutes were pivotal in allowing IU to maintain its post presence after Morgan went down, and his defense was at least partially responsible for Nick Ward's rough game. His 12 points were also a season-high, and three of those came in game-sealing free throws in overtime.
Davis' season numbers don't look exceptional, but he took a notable step forward from that Michigan State game on. He averaged 7.1 points per game in the last 14 games of the year — more than 61 percent of his total points this season came during that stretch. He grabbed 3.4 rebounds per game over that span as well.
He still needs to show he can replicate that improvement over a full season, and he may even need to improve to have the level of impact IU may need from him next year. Foul trouble continued to limit him at times this season, a problem that has plagued him throughout his career. He'll need to improve defensively to be able to stay on the court for longer stretches next season. But the late-season jumps are a good first step toward a bigger impact as a senior.
Davis is the obvious candidate to take over as a team leader next year. He and Devonte Green have discussed that responsibility, and they plan to use what they've learned from past leaders, such as Morgan.
"A lot of the stuff (Morgan) does is just common sense," Davis said. "It's just a matter of fact that he says something. Have the guts to stand up and say something to someone, check someone, put someone in their place."
Unlike last year, Davis will have a full offseason to improve on the court. He's focused on his body and keeping his weight where it's at, but would ideally like to add to some weaker elements of his game.
"I need to bring back my jump shot, space the floor, that's going to help our team a lot," Davis said. "It'll help my game a lot just because teams aren't going to be able to double me as much."
Bottom Line: Davis became a solid contributor this season once he was fully healthy. The one-two punch he and Morgan provided in the paint often proved effective, and it's a strategy Archie Miller could try to replicate next season with Davis and Trayce Jackson-Davis. Davis will likely start at the five, and he'll arguably be the most important player on the team in terms of his impact on- and off-the-court.
Quotable: "I'm excited, man. This is one of the most exciting summers for me. I'm just ready to get to work, honestly. I haven't been this healthy since high school." – De'Ron Davis after IU's NIT loss to Wichita State
Filed to: 2018-2019 season wrapup, Deron Davis