That's A Wrap: Justin Smith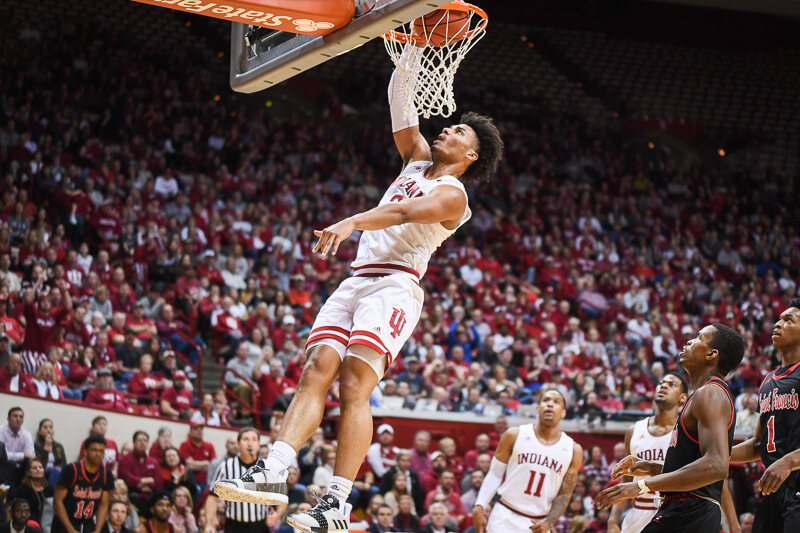 Welcome to "That's A Wrap," our player-by-player recap of the 2018-2019 Indiana Hoosiers. Today: Justin Smith. Previously: Damezi Anderson, Rob Phinisee, Jake Forrester, Romeo Langford, Race Thompson, Jerome Hunter, Al Durham
Smith (35 games): 8.2 ppg, 4.5 rpg, .8 apg, .6 spg, 49.6% FG, 21.9% 3PFG, 51.4% FT in 28.8 minutes per game
Heading into the 2018-2019 campaign, Justin Smith looked great on paper. After a freshman season where Smith's offensive rebounding percentage, putback ability and work out of the short corner proved highly effective, he had a record-setting summer. In July, the suburban Chicago product posted a 48-inch max vertical, besting Victor Oladipo's 42-inch mark for the best all-time in the program.
Gains had been made in the offseason and expectations were high for the sophomore.
But early on in the season, Smith seemed out of balance. When he got into the lane and tried using that record-setting vertical around the basket, Smith lacked the nuance and court sense to avoid defenders and get up an effective shot. He often drew offensive fouls or missed badly instead.
And by the time the teeth of conference season hit and teams had discovered the optimal defensive strategy to employ against the Hoosiers — pack the paint, make them shoot — Smith repeatedly found himself left to his own devices on the perimeter. And when he had the ball with space and nobody on him, the advantage he had commonly became no advantage at all — illustrated in this Film Session after Indiana's loss to Ohio State on Feb. 10.
It led to a sophomore season where Smith's offensive numbers were down across the board. Smith played more minutes but used a touch less possessions (22.2 percent his freshman season vs. 20.5 this year), as his offensive rating dropped from 104.6 to 93.0. His effective field goal percentage fell from 56.0 to 51.0. His free throw rate (32.9 vs. 28.5), free throw shooting (67.3 percent vs 51.4 percent) and 3-point shooting (30 percent vs. 21.9 precent) all declined, while his turnovers went up (19.6 percent vs. 21.4 percent).
Yet, it wasn't all backwards for the sophomore. Indiana doesn't beat Michigan State twice without him. Smith was integral in helping the Hoosiers snap their seven-game conference losing streak up in East Lansing on Feb 2. He posted a double-double (13 points, 10 rebounds) in the overtime victory and two of his three blocks came when it mattered late in the contest.
When the Spartans and Hoosiers squared off on March 2 in Bloomington, Smith had his best game of the season, scoring a career-high 24 points. The sophomore hit 3-of-6 from distance in that one, the only game all season he made multiple 3-pointers. Smith followed that performance up with a 15-point, 7-of-12 line in Indiana's win against the Illini five days later in Champaign. He, like many of his teammates in that high-scoring affair (92-74), benefited from a Brad Underwood defense that eschewed the pack-the-paint defense that other teams employed against the Hoosiers in favor of his tight man-to-man style.
Defensively, Smith rose to the challenge of defending some tough covers, as his size and length coupled with proper effort could help seal up an opponent.
Bottom line: Had Indiana been able to space the floor better and keep defenses honest with more shooting, Smith probably would have had a more efficient offensive season. It would have allowed him to work the baseline and short corners, putting him in position for more putbacks instead of having to camp out unguarded on the wing. Because Smith struggled to hit a 3-point shot or put the ball on the deck and score with any sort of consistency, it placed him in a tough spot. As a result, his season didn't quite go as expected.
Quotable: "Attitude is everything. It's everything. When your attitude is great and you're focused in on whatever you can do to help, good things tend to happen. I think that's where Justin really changed his mindset after Iowa. With De'Ron getting sick and not being very available in this past week, he was thrust back in there. And today, obviously, I wasn't going to take him off the floor very much. He had a career day." – Archie Miller when asked what happened between Smith's benching at Iowa and his career-high performance against Michigan State on March 2.
Filed to: 2018-2019 season wrapup, Justin Smith