That's A Wrap: Al Durham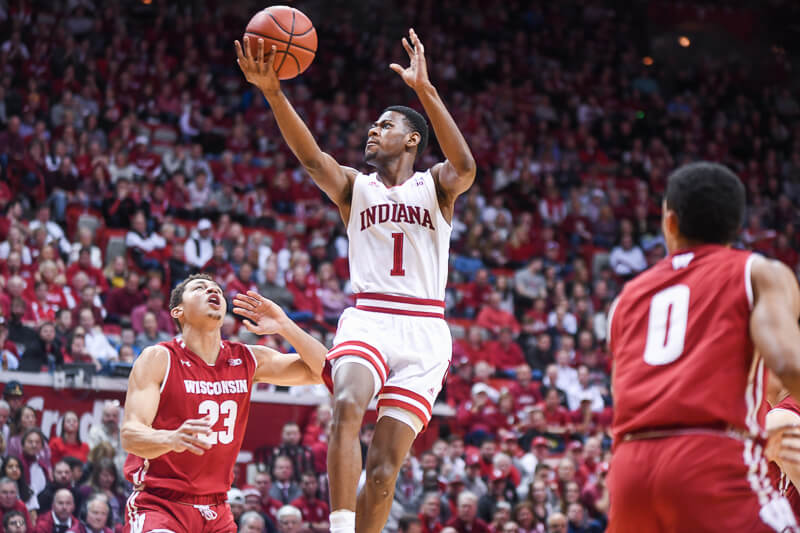 Welcome to "That's A Wrap," our player-by-player recap of the 2018-2019 Indiana Hoosiers. Today: Race Thompson. Previously: Damezi Anderson, Rob Phinisee, Jake Forrester, Romeo Langford, Race Thompson, Jerome Hunter
Durham (34 games): 8.3 ppg, 1.9 rpg, 1.3 apg, .5 spg, 40.3% FG, 34.8% 3PFG, 74% FT in 28.8 minutes per game
Indiana's roller coaster of a 2018-19 season threw Al Durham into the fire, testing the sophomore's every basketball fiber. His skills were measured with those of some of the Big Ten's best guards, his intellect and composure set against that of players stronger and more experienced. His team asked him to handle the ball, which he did capably; pester opposing ball-handlers, which he did passably; stretch the defense with his shooting, which he did intermittently; chase shooters on defense, which he did enthusiastically.
In all, Durham held his own. There were times when he was one of Indiana's most important and productive players – for about five games, he was the team's best point guard – and others when he left plenty to be desired for a player being asked to shoulder so much in in 29 minutes per night.
As Indiana's rotation grappled with injuries, inconsistency, and its very identity, Durham's versatility kept him on the court. Archie Miller and his teammates came to lean on the sophomore, who became a seemingly ever-present part of IU's operation. By season's end, he routinely led Indiana in minutes because there was room for him in any alignment Miller chose to deploy. The night of Indiana's triumph in East Lansing, he began to emerge as a more vocal and involved leader. Using his supreme length and a motor that seldom stops running, Durham defended most any position Miller asks him to; with another offseason to condition and add muscle, he could work himself into one of the Big Ten's most versatile defensive guards.
For all Durham does well, however – and he does nearly everything passably – he lacks a single skill that sets him apart. His shooting percentages wavered, his effectiveness as a slasher varied by the game, and playmaking wasn't consistent enough to keep a wandering offense afloat. Durham isn't a pure point guard in the same way Rob Phinisee is, but he has the makings of what could be a primary initiator or overqualified secondary playmaker. He's capable of operating in the pick-and-roll and, for the most part, takes care of the ball when he has it in his hands. He remains one of Indiana's best at piercing the defense and getting into the lane. The trouble comes after Durham has made his move, and must then finish the play. While he excels at finding and creating seams, he shot just 46.4 percent at the rim as a sophomore and averaged only 2.2 assists per 40 minutes. He routinely misses easy passes to roll men or shooters:
Indiana needs a more refined and controlled Durham next season. He must somehow find a balance between aggression and restraint – pressing advantages when he has them without forcing the issue. He was rarely a focal point of Indiana's offense, which made him prone to wandering. Despite playing so many minutes, Durham tended to float for stretches, without impacting the game or making opponents feel him. Adding weight to his gangly frame will help, as will making his shot more versatile. Indiana badly needs a threatening pull-up shooter and Durham, who has a smooth and repeatable stroke, stands as a candidate to develop that part of his game – especially as he figures to increase his ball-handling responsibility next season.
For the time being, he remains one of the better spot-up players on IU's roster. He ranked in the 63rd percentile nationally in points per possession on spot-ups, per Synergy Sports, and can sharply attack closeouts when defenders arrive sloppily:
Durham can finish floaters, layups, and scoops with either hand as well as take his defender off the dribble in either direction. His overall well-roundedness gives him few exploitable weaknesses, and a sturdy foundation from which to grow the rest of his game. The challenge now will be developing more definitive, reliable strengths.
Bottom Line: Durham has the makings of a supremely versatile and dependable combo guard, he needs only to find ways to impact games more often and more profoundly. He figures to shoulder a heavier burden next season, particularly on offense, and could emerge as one of Indiana's most important catalysts. With a smooth jumpshot, he could also develop into one of the team's best shooters.
Quotable: "I'm just trying to get better every day in practice and by myself in the gym, so I feel like it's just been a steady grind over time, and it just showed last night when I had my career-high." – Durham the day after scoring a career-high 22 points against St. Francis
Filed to: 2018-2019 season wrapup, Aljami Durham