An in-depth look at Rob Phinisee's impact for Indiana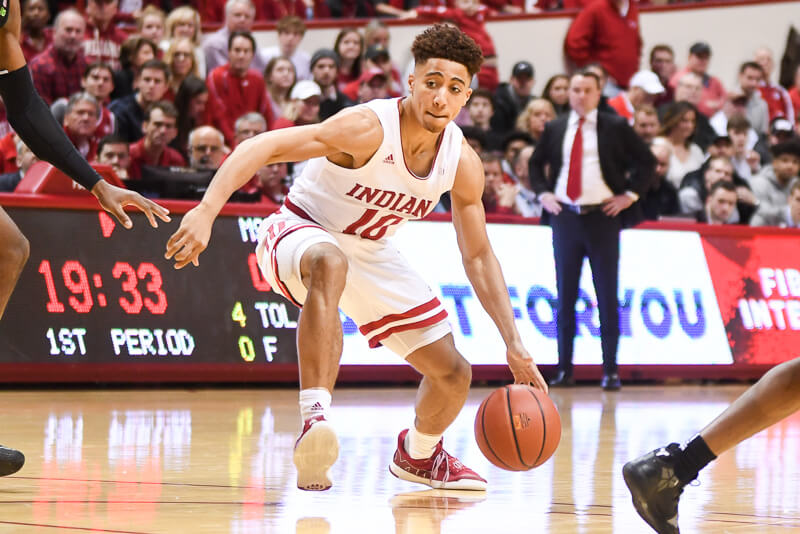 Take any given period of time from Indiana's last five games, and the force of Rob Phinisee is likely to stand out. Rarely does a player so adept at the game's subtleties have such an outsized impact on his team, but Phinisee has been central to Indiana's revival, bringing a two-way steadiness to a lineup that desperately needed it. The freshman's game belies his youth – a fact no better exemplified than by his physical strength and mental acuity. He controls the point of attack on both ends of the floor, stabilizes Indiana's offense while applying unrelenting pressure on defense, and has become one of the team's most integral players in the process.
Phinisee arrived in Bloomington with the physical and mental tools of a veteran, displaying remarkable maturity that made him a seamless fit in Archie Miller's scheme. Indiana heavily emphasizes attacking the rim and taking it away for opponents, and Phinisee has been vital to both endeavors. His brand of defense is suited for the pack-line, which mandates that guards be able to stay in front of the ball at the point of attack, and his physicality is evident in the way he stays glued to his man's hip through every ball screen. For most guards in the conference, Phinisee is immovable, and thus unshakeable. Even Cassius Winston, the Big Ten Player of the Year, struggled to create separation against the robust Phinisee, even with the help of wide screens from Kenny Goins and Xavier Tillman:
In keeping constant contact with his man, Phinisee takes some strain off the rest of the defense, who need not scramble or make long rotations to buy him time to recover. His closeouts are precise, on-balance, and under control, which prevents opponents from darting past him off the catch. Away from the ball, he combines his muscle with exceptionally quick hands, making him all the more disruptive:
While some players succumb to – or even avoid – contact, Phinisee merely absorbs it. The little nudges that create separation against most defenders seldom move him off his line, while Phinisee uses those same sorts of bumps to create separation on the other end. He'll jostle past defenders who don't sustain their effort, and like-sized deterrents simply bounce off of him:
What separates Phinisee, offensively, from other physically sturdy guards is his stability. He gives IU's offense pace and purpose without letting it spiral out of control and imbues the team with poise and confidence. He pushes the ball when the opportunity arises – rarely forcing plays that aren't there, but opportunistically making the ones that are. Phinisee is at his best when he gets downhill, pressing some advantage with a head of steam. His drives create opportunity for everyone on the floor and his ability to pierce the defense off the dribble adds a more dynamic layer to Indiana's offense. He gets Indiana into its offense early in the shot clock, capitalizing on the time it takes for an opposing defense to set itself:
Phinisee's presence affords teammates more space in which to operate and simplifies everyone's role. Defenses must pay him respect, which unclutters the paint for others to drive, cut, or post-up. With Phinisee initiating the offense, Al Durham and Devonte Green are free to slash and shoot more often. Romeo Langford finds seams more readily available when would-be help defenders can't sag off of Phinisee to shut off drives:
When opponents double the post, Phinisee capitalizes:
While he may never be a primary scoring option, Phinisee has become increasingly proficient creating for himself and has license to take over when he senses an advantage.
"I kept telling him," said Juwan Morgan after Phinisee scored a career-high 17 points in a win over Illinois. "'When you've got the ball, if you've got a lane, forget the play and we were going to make things happen.' And he did exactly that."
The freshman has begun integrating cagey drives and off-the-bounce threes into his game, and while he has room to improve as a finisher (Phinisher?), he possesses deft touch around the rim. At times, he seems to hop around the floor, making it nearly impossible for defenders to time his movement:
His 3-point shooting has slipped since a blistering start to the year, but Phinisee shoots with confidence and has a projectable stroke that should improve over the course of his career. He doesn't possess elite passing vision, though his knack for finding and creating fissures in the defense is such that complicated passes are rarely necessary. By consistently making the simple play, he keeps possessions moving, allowing them to reach a logical end:
In its last three games of the regular season, Indiana averaged 15 assists per game and 1.25 points per possession while turning the ball over fewer than 10 times in each contest. Impressive as Langford and Morgan were over that stretch, it was Phinisee's steady hand guiding the Hoosiers to offensive clarity.
"Rob plays a big part of that," Miller said. "He controls things for us and he's steady. And that helps us and gives us some confidence that we know what we're doing."
A late-December concussion deprived Indiana of that assurance and robbed Phinisee of some burst and aggression. Even after his return, the freshman occasionally floated through games without looking to make plays or imposing his will on defense – an indication of deflated confidence. Phinisee's recent stretch, however, has been an exercise in reasserting himself and rediscovering the form that made him indispensable early on. Over his last six games, Phinisee averaged nearly four assists and committed four total turnovers as Indiana outscored opponents by 35 points in 185 minutes with him on the floor.
"He's poised and he's very strong with the ball, and he's safe," Miller said. "He's a true point guard in the sense that he takes care of the ball and tries to run your team, and I think as the season is now finishing here, you're starting to see the guy at the beginning of the season was making some plays for us early. He's gotten himself back, which is a key for our late run here in our last however many games."
Indiana still has work to do, but with its flow and confidence back, can push forward with Phinisee providing an unyielding driving force.
Filed to: Robert Phinisee