That's A Wrap: Race Thompson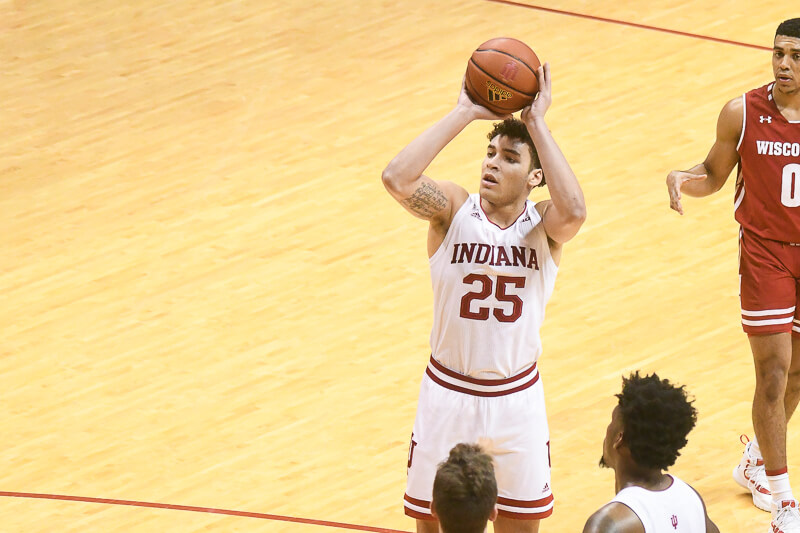 Welcome to "That's A Wrap," our player-by-player recap of the 2018-2019 Indiana Hoosiers. Today: Race Thompson. Previously: Damezi Anderson, Rob Phinisee, Jake Forrester, Romeo Langford
Thompson (9 games): .7 ppg, 2.1 rpg, 40% FG in 9 minutes per game
Race Thompson's season would grade out as incomplete.
After coming to IU a year early and redshirting, he hoped to establish a role in his freshman season. But injury robbed him a majority of the season, as the effects of the mid-to-late November concussion suffered in practice lingered for more than two months.
Thompson didn't realize his concussion would cost him so much time.
"I didn't know my concussion was that bad," Thompson said after IU's loss to Wichita State in the NIT. "I thought I'd be back in like two weeks, like whatever, it's alright. But it ended up being two months, almost three months before I could even play again. So that was something that was really tough."
That concussion brought Thompson down to some of the lowest points of his life. The anticipation of playing wiped away by a longer waiting game with the concussion than expected crushed his morale. He credited his teammates, coaches and others around the program for keeping him going.
Throughout his recovery process, there were small checkpoints he'd hit, but they often looked the exact same.
"There's always just like the one test that you take every time you go see the doctor," Thompson said. "And you had to pass that test. Once you pass that test, then you take another step forward. And you keep taking that test. And as your symptoms get better, you keep being able to do more and more and more, but they obviously supervised me as I was doing the workouts. And you could tell, 'He's not doing okay right now, you've got to take him out.' And that would be the most frustrating thing, just seeing doctors taking you out."
Anytime he passed one of the concussion tests and made a little progress, some weight came off Thompson's shoulders. But that weight was never truly gone until he was able to return to action. He said returning to action in February was a great feeling he'd never felt before.
He played in nine total games this season, eight of which came after his concussion. He only played double-digit minutes in three of those games, but he still found a way to make an impact.
Thompson's big moment came in IU's double-overtime upset win over Wisconsin on Feb. 26. He played 21 minutes in that game, as Juwan Morgan fouled out in regulation and De'Ron Davis was supposed to have a limited role because he was sick. What kept Thompson on the floor was a stellar defensive performance. He did a really good job against Badgers star Ethan Happ, who was limited to three points in the overtime periods.
He didn't play much of a role in the postseason for IU, playing just two minutes in IU's Big Ten tournament loss to Ohio State and not seeing the court again until he played two minutes in the NIT loss to Wichita State.
Bottom line: Thompson showed promise late in the season after he returned from his injury. The defensive ability he showed should earn him a role of some sort on next year's team, but he'll need to make significant improvements to his offensive game to see more playing time than he did after his injury this season. Jake Forrester and Clifton Moore transferring helps Thompson's cause, but how big his role is will also depend on how many big men IU adds to the roster.
Quotable: "He's got more physicality than we're accustomed to. He can bang. He can mix it up a little bit. The other thing is he's a really good rebounder per minute. He's rebounding the ball on both ends of the floor for us in his minutes that he's given. He's been able to do that. So that's a big step for him to come in." – Archie Miller on Thompson after IU's win over Wisconsin.
Filed to: 2018-2019 season wrapup, Race Thompson