That's A Wrap: Damezi Anderson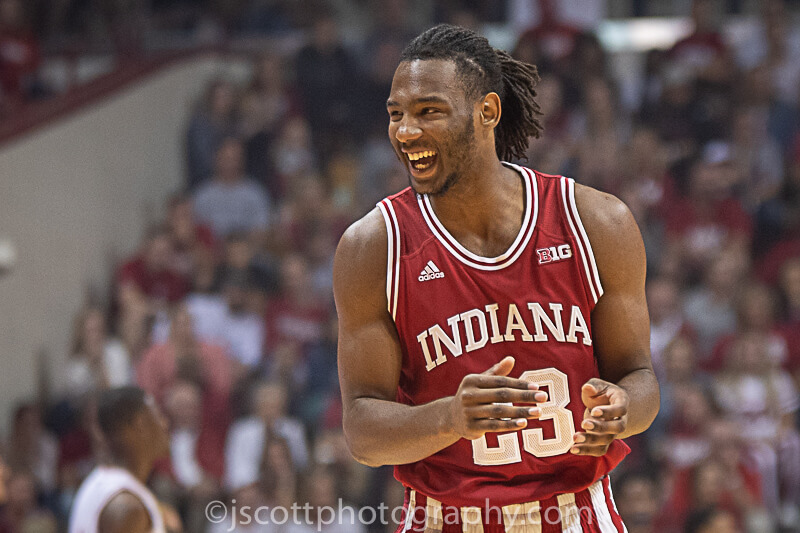 Welcome to "That's A Wrap," our player-by-player recap of the 2018-2019 Indiana Hoosiers. Up first: Damezi Anderson.
Anderson (21 games): 1.5 points, 1.1 rebounds, 27.9% FG, 23.3% 3FG in 9.6 minutes per game
The first of three in-state prospects who committed to Indiana in the class of 2018, South Bend Riley forward Damezi Anderson had a difficult transition to the college game in his first season.
After a decorated high school career in which he became the all-time leading scorer in St. Joe County, Anderson's offensive game never flourished as a freshman in Bloomington.
And as the shots clanged off the rim, Anderson's deficiencies in other areas kept him from getting on the floor once Indiana's roster got healthier later in the season.
In IU's first five games, Anderson saw the floor often as it became clear that Jerome Hunter wouldn't play and Devonte Green and Zach McRoberts battled injuries. Anderson made a 3-pointer in four of those contests, but shot just 33.3 percent from the perimeter.
Once Green and McRoberts returned to the lineup, Anderson's minutes dropped significantly and for the most part, he found himself on the outside of IU's rotation for the remainder of the season. He logged double digit minutes in just three of IU's 20 Big Ten games and in IU's final 31 games, he scored just nine points, all of which came in a blowout win over Jacksonville on Dec. 22.
Is there an argument to be made that Anderson should have played more?
The numbers he put up when given an opportunity don't make a legitimate case. On a team that lacked perimeter shooters, Anderson scored just 12 points on 27 spot up possessions, according to Synergy Sports. That ranked in the bottom four percentile nationally.
As much as Anderson struggled from the perimeter, he wasn't much better inside the 3-point line. He was just 5-for-13 on 2s in his first season and shot just 33.3 percent on 2-point jump shots, according to Hoop-Math.
In addition to the offensive struggles, Anderson also graded out in the bottom one percent in the country in defending ball handlers in the pick-and-roll, according to Synergy. The numbers there are limited (11 possessions), but they jive with the fact that Anderson was often a step slow or simply out of position on defense.
Despite the struggles in his first season, there's plenty of potential to be unlocked for Anderson as his career progresses. With Romeo Langford likely moving on to the NBA, there will be minutes available on the wing and in the backcourt and if Anderson can get his confidence back offensively, he could grow into a bigger role in his second season.
Bottom Line: It's never easy for a heralded freshman to come into college and struggle, but the hope for the IU coaching staff has to be that Anderson learns and grows from his first season. He's a talented offensive player, but it was definitely an adjustment for Anderson to play in a system that doesn't allow the freedom he had during his prep career. It's a major offseason for Anderson, who needs to show growth as a defender and a ball handler if he's going to claim a bigger role as a sophomore in Bloomington.
Quotable: "He's a good shooter. I think once he made a couple tonight, probably made him feel a little bit better. His struggles are like all young guys. He's learning how to play defense the first time a certain way. Offensively he's learning how to play a new style. He thinks a lot at times. But I thought tonight it was nice to see him let it go. He has that ability, the skill level behind the three-point line. He's a big, strong kid. I think the better he gets defensively, the more minutes he'll get." – Archie Miller on Anderson on Nov. 1, 2018 after an exhibition win over Southern Indiana.
Filed to: 2018-2019 season wrapup, Damezi Anderson