That's A Wrap: Rob Phinisee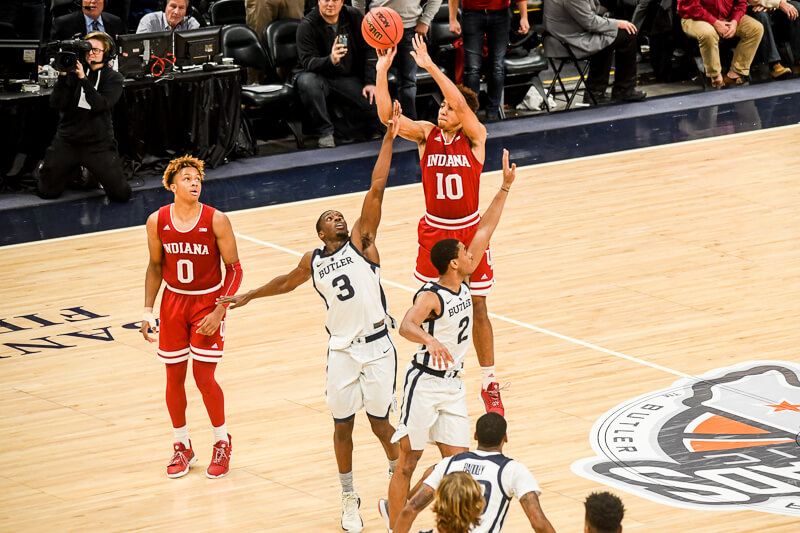 Welcome to "That's A Wrap," our player-by-player recap of the 2018-2019 Indiana Hoosiers. Today: Rob Phinisee. Previously: Damezi Anderson
Phinisee (32 games): 6.8 points, 3.3 rebounds, 2.9 assists, 1.1 steals, 36.1% FG, 31% 3FG in 27.3 minutes per game
Rob Phinisee's importance to IU progressively grew as the season aged.
He competed notably hard with Devonte Green during preseason and seemed like he could push Green for minutes or a starting role early in the season. When Green missed four games in November with an injury, Phinisee took advantage. He asserted his presence, particularly so in his 12-point, eight-assist effort in IU's win over Marquette.
He proved to be an invaluable part of Indiana's lineup. His high basketball IQ and calmness was something the Hoosiers desperately needed from the rest of their roster. Once Green returned to action, Phinisee was so entrenched in the starting five that it forced the junior to come off the bench.
Even after his minutes increased, he continued to expand his role and impact. Phinisee became the quiet heartbeat of the Hoosiers. Whereas Romeo Langford and Juwan Morgan provided more consistent scoring threats, Phinisee's presence made the team tick on both ends.
He had a flair for big moments, too. Phinisee was directly responsible for two of the three biggest individual plays of Indiana's season: his miraculous buzzer-beater to give IU the win over Butler in December, and his stifling defense on Cassius Winston in the closing seconds of Indiana's second upset victory over Michigan State in early March.
Despite all that, Phinisee's numbers don't jump off the page. He averaged 6.9 points, 3.3 rebounds, 2.9 assists and 1.1 steals per game — he was second on the team in assists and third in steals. He shot 36 percent from the field, 31 percent from 3-point range (third on the team), and 67 percent at the free-throw line. That suggests there's plenty of room for even more growth.
Phinisee missed three games after suffering a concussion in late December and was limited in several games after returning as he worked his way back to full strength. His absences and his limitations were noticeable, as it coincided with Indiana's worst stretch of basketball this season — the seven-game losing streak that encapsulated most of January.
He didn't make much of an impact in IU's win at Michigan State to begin February, but from then on, he looked like the player he was in non-conference play. And perhaps not coincidentally, Indiana started playing better — four of the games in IU's five-game losing streak after that Michigan State game were close games in which IU had chances to win.
Moving forward, he'll continue to play an important role on the Hoosiers. Archie Miller will have some options for his starting lineup next season, depending on the health of some players or the improvement of others. It will largely depend on strategy and whether he goes to a three-guard, two-forward lineup or vice versa. Whichever direction he takes, there's little to no chance that Phinisee isn't in those plans.
Bottom line: Phinisee excelled as a freshman. He was thought to be an important building block for the future at the beginning of the season, but it didn't take him long to become one of IU's most important players in the present. He's a lock to start on next year's team, and he'll continue to serve as one of the team's most important players.
Quotable: "He's rock steady. He's got to keep developing. He's got a chance to have a really, really bright career because he's a terrific teammate, he's a great kid, and he loves the game. He wants to do what he's supposed to do. He wants to win." – Archie Miller on Phinisee on March 6, before Indiana's last two regular season games against Illinois and Rutgers.
Filed to: 2018-2019 season wrapup, Robert Phinisee