That's A Wrap: Devonte Green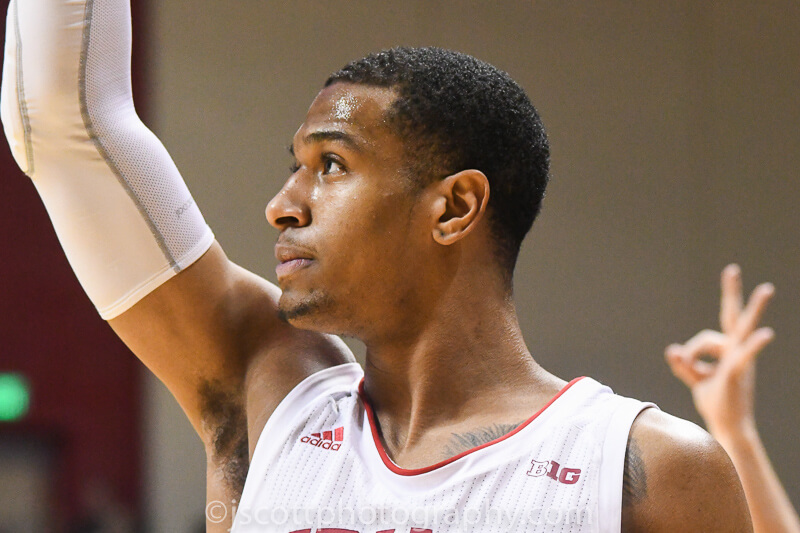 Welcome to "That's A Wrap," our player-by-player recap of the 2018-2019 Indiana Hoosiers. Today: Devonte Green. Previously: Damezi Anderson, Rob Phinisee, Jake Forrester, Romeo Langford, Race Thompson, Jerome Hunter, Al Durham, Justin Smith, Clifton Moore
Green (28 games): 9.4 ppg, 3.4 rpg, 3 apg, 40.2% FG, 41% 3PFG, 73.6% FT in 25.2 minutes per game
The legend of the Two Devonte Greens was fully present in Indiana's 2018-19 season, as evidenced by the inconsistency of Green's play and Archie Miller's corresponding relationship with him. There were times Green had the shortest leash of any player in IU's rotation – prone to quick hooks and long stints on the bench after mistakes. There were other moments, however, when Green was one of the team's more indispensable players, and Miller couldn't afford to bench him, even after especially puzzling lapses. Such is life when a team depends so heavily on Devonte Green.
Statistically, there is a strong argument that Green was Indiana's best point guard this season. The junior led the team in assists and shot 41 percent from deep – also a team-best – despite taking some of the most difficult attempts of any Hoosier. Pull-up shooting is quickly becoming one of the most important skills a college point guard can have (just take a peek at the most efficient offenses in college basketball this season) and Green was often the only guard IU had who could even approximate it. Frustrating though it could be to watch him launch difficult jumpers off the dribble (especially early in the shot clock), Green's ability to make contested shots on the move gave the Hoosiers a type of spacing they otherwise lacked. Defenders had to stay on Green's hip over ball screens and pick him up higher on the floor than most Indiana guards. That opened up not only driving lanes for Green, but opportunities for others.
Green has been Indiana's best pick-and-roll passer for two seasons now, combining vision with style to set up teammates in ways many guards can't envision. Occasionally, that style borders on arrogance, and gets Green in trouble. He turned the ball over more often than any Hoosier and didn't post the gaudy assist jumpers that would justify a turnover percentage over 20. He took risks that made little to no sense, showboated at precisely the wrong times, and often seemed incapable of making the simple play. He appeared to outsmart himself just to show that he could, which gave him a penchant for stopping offensive momentum dead in its tracks.
Defensively, Green provided mixed results as a junior. When he cared to do so, he could be a menacing on-ball defender capable of getting over screens and sliding step-for-step with some of the quickest and craftiest guards in the Big Ten. He has quick hands and sound instincts. Away from the ball, his focus wanes. He'll watch what's happening at the point of attack while his man sneaks away from him, leaving Green scrambling to recover. His rotations were fairly sloppy compared to those of Al Durham and Rob Phinisee.
Green's place on the team moving forward remains complicated, as it was this season. Entering the year, he was slated to start alongside Romeo Langford before a minor ankle injury gave Phinisee an opportunity to supplant him. In some games, Green never had a real chance to make his mark. Given how he closed the season, some bitterness about the way he opened it would be justified. But responsibility also falls on Green, as an upperclassman, to better stabilize the team and rein himself in a bit. There were times when he seemed visibly distant from the rest of the team and the coaching staff. A prolonged suspension during the team's toughest stretch of the season is no way to set a positive tone.
Bottom line: Phinisee and Durham have established themselves as more trustworthy backcourt options, but Green possesses crucial skills his peers don't. All three started by the end of this season. That look may not be tenable against many teams in the Big Ten next season, and Armaan Franklin should be in line for rotation minutes. There is no easy resolution to the situation. Then again, making things easy isn't Devonte Green's style.
Quotable: "I thought of it when I was just thinking of tattoo ideas. I was like, 'Well, basketball-wise I think I'm a cheat code. People tell you you're a cheat code, you can't play. Maybe I should get a cheat code tatted.' Went down the [Grant Theft Auto] list – that one's perfect." – Green on his Grand Theft Auto "Unlimited Ammo" tattoo
Filed to: 2018-2019 season wrapup, Devonte Green