Five takeaways from Indiana's loss to Michigan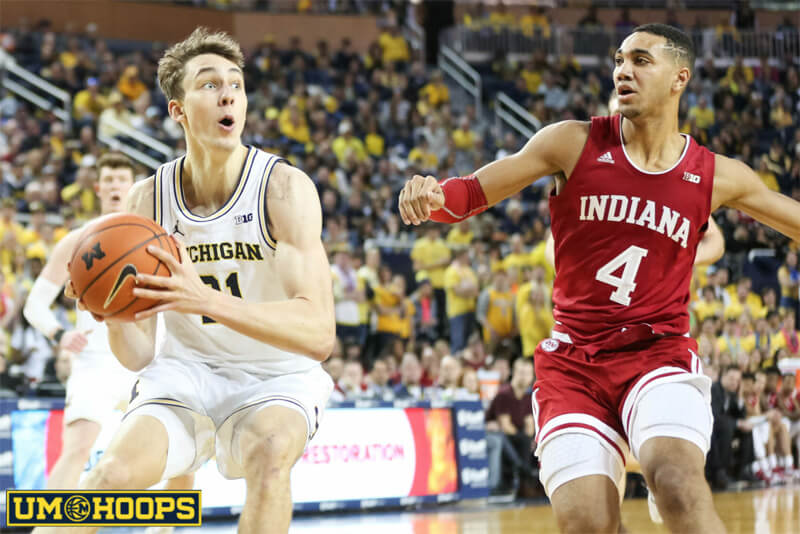 ANN ARBOR, Mich. — Indiana continued its disastrous play away from home Sunday afternoon at the Crisler Center, falling to Michigan 89-65 in another road showing that was devoid of competitive play from the Hoosiers.
Indiana, now 16-9 overall and 6-8 in the Big Ten, was out-rebounded by 16 and also struggled to get production from two of its most potent offensive players. Freshman Trayce Jackson-Davis took just three shots and scored five points in the loss, while senior Devonte Green followed up his 27-point outing against Iowa with a 1-7 showing from the field, helping waste a career day from senior teammate De'Ron Davis.
This came on a day when Indiana allowed 1.378 points per possession to Michigan.
Here are five takeaways from the loss to the Wolverines:
· Indiana's on-ball defense was terrible, and allowed Michigan to drive to the rim and create scoring opportunities: Right from the opening tip Sunday, it was clear Indiana's guards weren't going to be able to stop Zavier Simpson.
Michigan's senior guard finished with more assists himself (11) than Indiana had as a team (seven). He often sped past the likes of Al Durham and Rob Phinisee on his way to the basket, kicking the ball back out once he got there to the perimeter where teammates took open 3-point shots thanks to IU's collapsing defense.
There was a steady diet of this in the first half: Simpson driving to the cup and passing the ball out to Isaiah Livers, Franz Wagner and Eli Brooks, each of whom attempted three 3-pointers in the first half.
Simpson had five assists just 12 minutes into the game, and Michigan's points per possession was a healthy 1.45 right around the same time.
The hedging of screens from IU's big men was also a failed strategy Sunday, leading to late rotations and closeouts from the surrounding Hoosiers on defense.
While Indiana has a platoon of big men it can sub in and out in different game situations to try and curtail opponents, there are only four guards Miller can use to stop dribble penetration.
None of them could stop Simpson, and as a result, the Michigan offense.
· Trayce Jackson-Davis was nowhere near involved enough offensively, and his defensive mistakes didn't help: Sunday may have been Trayce Jackson-Davis' worst Big Ten game since he joined the collegiate ranks. His final stat line was unremarkable (2-3 shooting from the field, 5 points scored, 2 total rebounds and a -18 plus/minus when he was on the floor).
But it wasn't as much the final product as it was the lack of effort toward it that was concerning.
Indiana seemed to defer to Jackson-Davis' frontcourt teammate at all times during the game, whether it was Joey Brunk, De'Ron Davis or Race Thompson.
The Davis plan worked, as we'll get to a bit later.
The other two did not.
Brunk had just one rebound in 16 minutes and was 3-for-10 from the field, as IU repeatedly fed the ball to him in the post instead of Jackson-Davis. Thompson was 0-for-3 from the field with one rebound in 12 minutes.
It was the choice to force the ball to Brunk, in particular during the start of the second half when Indiana had cut Michigan's lead down to five, which proved a turning point in the game.
Consecutive empty possessions allowed the Wolverines to quickly grow the lead back to double-digits, and it remained a 10-point or larger gap between IU and Michigan for the final 17 minutes.
Jackson-Davis also struggled defensively, getting beat on run-outs at least twice, allowing easy Michigan baskets.
· Indiana is no longer the rebounding juggernaut it once was this season: Sunday was Indiana's worst rebounding performance of the season, and it wasn't close.
Michigan dominated Indiana on the boards, 37-21. Five different Michigan players had five or more rebounds, while only one Indiana player (Jerome Hunter with five) fell into that statistical category.
Archie Miller described his team's rebounding effort as "non-existent" postgame, and the numbers reflected that.
Indiana once routinely out-rebounded teams, and by significant margins, this season, but now the Hoosiers sometimes struggle to even collect more boards than their opponents.
Having Joey Brunk, Trayce Jackson-Davis and Race Thompson combine for just four rebounds is the root cause of this. These are the three Indiana big men most regularly tasked with battling opponents near the rim and corralling loose balls.
A failure to do that, giving the roster composition and playing style of this Indiana team, leads to blowout losses.
· De'Ron Davis had a career-best day for Indiana: Surely the only saving grace for Indiana on Sunday was the performance of De'Ron Davis.
Indiana's senior big man has had his injury struggles throughout his career, and he's been given inconsistent playing time during his final campaign.
But the stars aligned for Davis to score a career-best 18 points against Michigan, going a perfect 9-for-9 from the field.
That shooting display matched Will Sheehey's program-best 9-for-9 shooting night in 2013 against Purdue.
Davis, who also collected four fouls in the game, was given a longer run of playing time than usual from Archie Miller. He used that to his advantage, maneuvering around the paint with his trademark solid footwork and crashing the ball off the glass for points.
With Joey Brunk continuing to struggle and Jackson-Davis and Thompson having moments where they disappear in Big Ten games, this closing stretch of the season may finally be the time when Miller proves prophetic and Davis begins to truly influence games for Indiana on the scoreboard.
· Indiana remains a terrible road team in the Big Ten with Archie Miller as head coach: For three seasons now, Archie Miller has led Indiana into difficult road environments in the Big Ten.
And for three seasons the results have been underwhelming.
Indiana is now 7-23 in true road games under Miller, and specifically 7-19 in Big Ten road contests.
The Hoosiers' average margin of defeat in those conference road games has been more than 12 points.
As it pertains to this season, three of Indiana's next four games are on the road, all against teams currently ranked above the Hoosiers in KenPom.
The next two weeks will be a test of Indiana's mental and physical fortitude as an NCAA tournament berth hangs in the balance.
If Indiana continues to play on the road like it did Sunday, that berth will vanish.
Photo credit: UMHoops
Filed to: Archie Miller, Deron Davis, Michigan Wolverines, Trayce Jackson-Davis