Five takeaways from Indiana's win over Iowa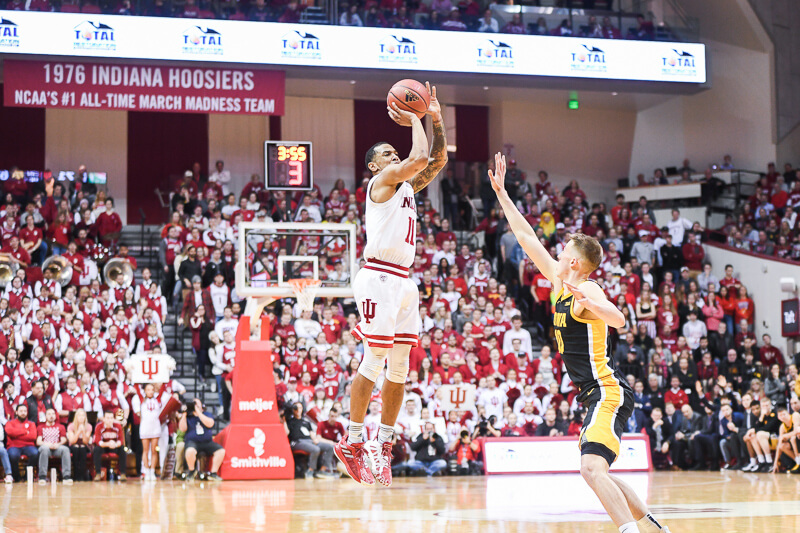 Indiana snapped a four-game losing streak on Thursday night with an 89-77 win over Iowa at Simon Skjodt Assembly Hall.
Here are five takeaways from Indiana's win over the Hawkeyes:
· Devonte Green catches fire: There are nights when Devonte Green can't miss. Thursday was one of them. With his brother Danny looking on from the front row of the north endzone bleachers, it didn't take long for the New York native to make an impact.
At the 14:51 mark of the first half, Green splashed in his first 3-pointer. By the 12:18 mark, he'd already knocked in three more and Iowa's Fran McCaffery couldn't call timeout fast enough as his team trailed 25-16.
Green's final line – 27 points and seven made 3-pointers – was the latest example that he's capable of leading Indiana to wins over the Big Ten's best teams. It was also a reminder that his inability to play well consistency is one of Indiana's biggest issues.
In his postgame press conference, Archie Miller acknowledged that Indiana cannot afford for Green to disappear like he often has after a performance like this.
"This year he's yet, in my opinion — and he knows this because I talked to him — he's yet to string together a back-to-back, two in a row, three in a row," Miller said. "And I'm not talking about 27 (points). I'm talking about you're looking out there, you're seeing one of the best guards in the Big Ten.
"And we're at that time now, like, you can't wait three more weeks to come back around. You've got to come back around now. The whole key for him is just come back to work tomorrow, be focused and get ready to go."
· Garza gets his, but the rest of Iowa's team struggles: There's no denying that Luka Garza is one of the nation's best offensive players.
Archie Miller has repeatedly called Garza his pick for national player of the year and the 6-foot-10 center went for 38 points on Thursday in Bloomington.
But Indiana chose to play Garza straight up to prevent Iowa's secondary options from getting space. And it worked. Garza's offensive explosion wasn't enough to overcome a pedestrian night from Joe Wieskamp (4-for-11 from the field), Connor McCaffery (0-for-4), and CJ Fredrick (scoreless in 11 minutes).
"As much as you want to focus your attention on Luka Garza, I don't know how many times he shot the ball where you could help," Miller explained. "When he's facing the basket at 17 feet or he's a center who is picking and popping, you've got to live with some of that stuff that he gets."
· Consistent Trayce Jackson-Davis delivers yet again: Indiana's consistency as a team has waned in recent weeks, but Trayce Jackson-Davis has remained steady.
Jackson-Davis had another double-double on Thursday with 17 points and 10 rebounds and he's now scored in double figures in six of Indiana's last seven games.
In 13 Big Ten games, Jackson-Davis is averaging 13 points, 7.4 rebounds and 1.8 blocks in 29.4 minutes per game. The Center Grove product is shooting 53.2 percent from the field and has attempted a team-high 69 free throws.
"I think his game is maturing," Green said of Jackson-Davis. "He sees the double teams coming earlier, knows how to escape them better. And he knows when to be physical and when to attack or be strong around the rim."
· Turnovers remain a major issue: For the fourth straight game, Indiana had a turnover percentage of 21.4 or higher.
The Hoosiers did a stellar job taking care of the ball early, but regressed over the game's final 26:35. Indiana turned it over 16 times in that span and finished with a turnover percentage of 22.2.
Iowa only scored 18 points off of Indiana's turnovers and a hot 3-point shooting night by the Hoosiers (11-for-21) helped to overcome another night of poor decision making.
· Iowa's porous defense limits its ceiling: Defense has always been optional for Fran McCaffery's teams and this year is no exception.
Iowa has the nation's fourth best offense and the 118th best defense, according to Ken Pomeroy's adjusted efficiency metrics. The Hawkeyes are allowing 1.08 points per possession in league play, which is 13th in the conference. This will be the fourth straight season that Iowa has finished 10th or worse in the Big Ten in points per possession allowed.
McCaffery certainly deserves praise for building a program that is good offensively on a perennial basis, but Iowa's inability to guard typically proves costly in tournament play. The Hawkeyes have yet to advance to the Sweet Sixteen under McCaffery, who is in his 10th season in Iowa City.
Filed to: Iowa Hawkeyes