Armaan Franklin shines in Crossroads Classic win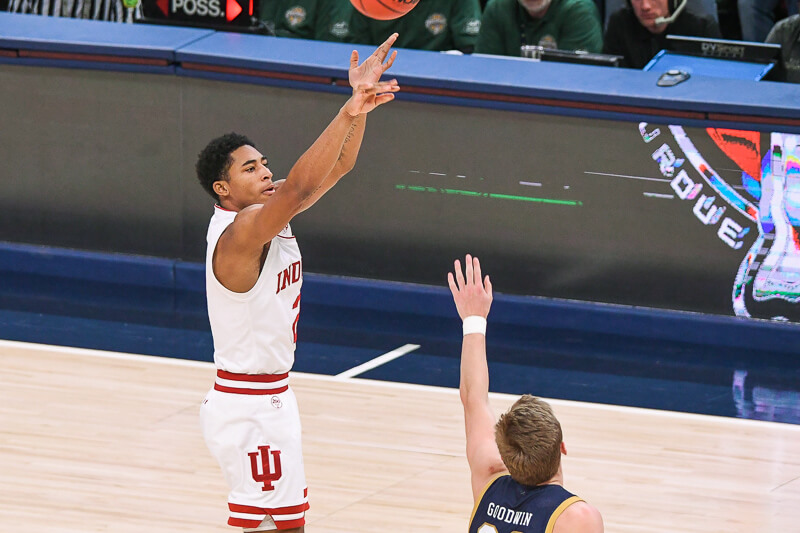 INDIANAPOLIS — Archie Miller's first two games at the Crossroads Classic had been decided by three points each.
Against Notre Dame on Saturday, it seemed like Miller's team would not have any late-game drama like the previous two years. The Hoosiers started the first half well, manipulating Notre Dame's zone defense en route to an 11-point halftime lead.
Indiana pushed its lead to as much as 17 points in the second half before Notre Dame came storming back. The Hoosiers couldn't score, they couldn't stop the Fighting Irish and they soon found themselves in the same position as year's past.
Two years ago, it was Juwan Morgan to pull Indiana through. Last year, it was Morgan again, along with Rob Phinisee's last-second shot. This year, with no Morgan and a struggling Phinisee, freshman Armaan Franklin was the hero in Bankers Life Fieldhouse.
After going 4-for-27 from three in IU's first 11 games, Franklin knocked in 4-for-5 from beyond the arc, which gave him a career-high 17 points.
With Notre Dame up five with three minutes to go, Franklin drained a three to cut the lead to two. He took a charge late in the game. He had an assist to Trayce Jackson-Davis with one minute to go to tie the game at 59. It was big play after big play for Franklin in that stretch, but the biggest one had yet to come.
Prentiss Hubb made 1-of-2 free throws with 35 seconds left to put Notre Dame up one. Indiana went inside to Jackson-Davis on the next possession and when the defense collapsed, he kicked it out to Al Durham on the wing, who swung it over to Franklin for a corner 3-pointer with 15 seconds left to put Indiana up two.
"Al had enough confidence in me to swing it one more, so I just went up with it and knocked it down," Franklin said.
Franklin hit his three with Victor Oladipo standing across the court, and Franklin said Oladipo told him after the game to keep shooting no matter how many times he misses.
That had to be the mentality for Franklin on Saturday, especially considering Mike Brey's game plan to sag off the 3-point line to make sure the Hoosiers' forwards didn't get into a rhythm.
"I almost felt like we maybe violated the basketball gods a little too much and not guarded the arc, and he (Franklin) rose up — he's the one who hit it in the corner, right? He rose up and made a big one. It's a big-time play," Brey said.
Guard play has been a point of emphasis for Miller and his staff. Saturday was one of the few times all season where all four guards were healthy enough to play.
Miller said on Friday that he looks at his backcourt as a collective unit, and they are still learning to play with one another. Even though Rob Phinisee, Devonte Green and Durham were a combined 6-for-23 from the field, it was Franklin who sparked the guard play with his 5-for-6 shooting and four 3-pointers.
"He can shoot it. He just gotten off to a tough start. Sometimes that happens for all players, but in particular young players that can really steamroll them," Miller said of Franklin. "He hasn't let it impact his attitude, and he hasn't let it impact his coachability. I think we finished the Nebraska game, talked at length about confidence, and he works at it every day, and when he shoots it, I think everybody on our team thinks he has a chance to make it."
Before this game, Miller knew Franklin's percentage was 14 percent from three, and Franklin knew it, too.
"He needed to stop walking around with his head down and acting like people didn't know who he was because he wasn't shooting the ball real well," Miller said.
The freshman didn't let that affect him on Saturday in his hometown. His head was up, and after his big performance and clutch shot, he reminded everybody of who Armaan Franklin is.
Filed to: Armaan Franklin, Notre Dame Fighting Irish