Five takeaways from Indiana's win over Notre Dame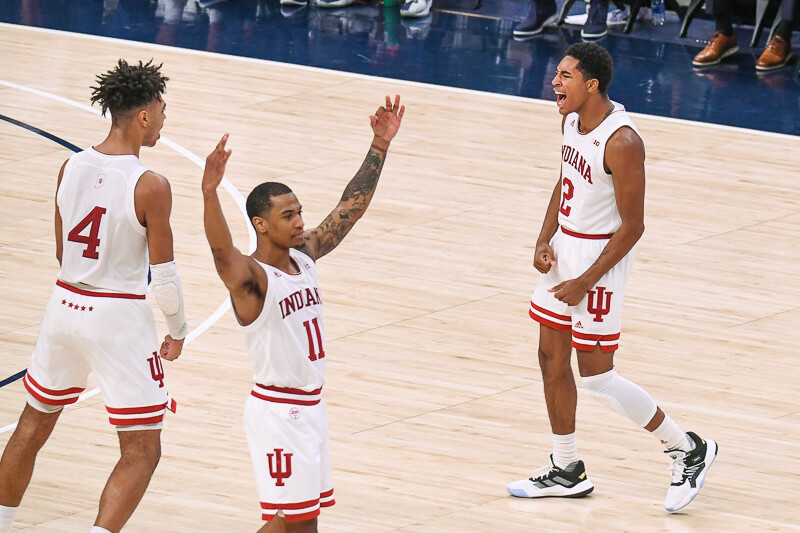 INDIANAPOLS – Indiana improved to 11-1 on Saturday with a 62-60 win over Notre Dame in the Crossroads Classic at Bankers Life Fieldhouse. The Hoosiers are now 6-3 all-time in the Crossroads Classic.
Here are five takeaways from the win over the Fighting Irish:
· Franklin comes through with career afternoon: There was little from Armaan Franklin's performance from the first 11 games of his IU career to suggest he would be Saturday's hero.
Franklin, who started the first eight games of the season due to injuries to Devonte Green and Rob Phinisee, was 4-of-27 on 3s entering the Crossroads Classic and had yet to score in double figures.
But as Franklin entered the game for the first time at the 7:53 mark of the first half, he made an immediate impact. His first shot was a made 3-pointer from the wing and he immediately attempted another just 18 seconds later, drew a foul and made all three free throws. Another 3-pointer late in the first half extended Indiana's lead to 32-20. His production was a major reason Indiana entered the break with a comfortable 11-point lead.
The Cathedral product stayed hot late into the second half as he splashed in two more 3s in the final 2:49, including the game-winner with 15 seconds to go, to lift Indiana to a narrow win. Franklin scored 17 points in the win after scoring just 17 points combined over IU's previous four games.
"He knows how to play. He makes good decisions, and for him to be able to stick some shots for us finally was a big deal," Archie Miller said. "We've been waiting on a couple of these guys to open it up from behind the line because they're pretty good shooters when they're open, especially on the inside-out ones that they're getting. It was good for Armaan."
· Hoosiers avoid total collapse: The Hoosiers looked well on their way to a comfortable double digit win less than five minutes into the second half.
Indiana led 44-27 at the 15:18 mark on a Trayce Jackson-Davis second chance putback and Notre Dame looked rudderless offensively.
Rather than stepping on the gas at that point and pulling away, Indiana let Notre Dame hang around and build confidence. The Fighting Irish started to make some perimeter shots as IU's offense stalled and Dane Goodwin, who was invisible in the first half, was the catalyst. Goodwin scored all 15 of his points in the second half and his 3-pointer gave Notre Dame the lead at 55-54 with five minutes to play.
As the Notre Dame lead grew to five with less than four minutes to play, it was Indiana who appeared to be out of answers. But the Hoosiers stuck with it, reclaimed momentum in the game's final minutes and avoided what would have been a bad loss given how well the first 25 minutes went.
"We were able to get to about the five-minute mark, especially in the last three minutes, and I was confident our guys were going to make some plays," Miller explained. "We've been in that situation. We had great attitude, regardless of the circumstances in the game, which is what you like to see."
· Hoosiers dominate the boards and the paint: As Indiana's 3-point shooting percentage as a team continues to trend in the wrong direction, the Hoosiers used a decisive advantage in the paint to overpower Notre Dame.
Indiana scored 15 second chance points to 10 for Notre Dame and had 34 points in the paint to just 24 for the Fighting Irish.
The duo of Trayce Jackson-Davis and Joey Brunk combined for 23 points and 21 rebounds in the win. The presence of both players opened things up for Franklin's heroics in the final minutes, according to Notre Dame coach Mike Brey.
"They're so hard — we were helping in the post, and we're going to have to live with some of that stuff," Brey said. "And to his credit, he (Franklin) stepped up and made some big ones.
"But you know, they are so physical down there that you have to go in and help, and jamming it up and helping helped us in that nine out of ten stop stretch that got us back into it, but the big possession when they swung it around to him, I almost felt like we maybe violated the basketball gods a little too much."
· Rotation shortens in second half: Miller has talked often this season about his trust in putting any of his 11 scholarship players into the game, but in the second half, the rotation shortened significantly.
De'Ron Davis (less than a minute), Damezi Anderson (four minutes) and Race Thompson (four minutes) all appeared in the first half, but didn't get off the bench in the second half.
Anderson had been a key part of IU's rotation in recent weeks, but took a bad 3-point shot and turned the ball over before Jerome Hunter took his second half minutes. Race Thompson has played double figure minutes just once in the team's last six games and Davis hasn't played more than eight minutes since the Troy game over a month ago.
As the competition level continues to ramp up, Indiana's rotation is becoming more defined and it appears the Hoosiers are unlikely to go more than eight or nine deep with any regularity.
· Indiana overcomes tough afternoon for Smith, Durham and Phinisee: Justin Smith, Al Durham Jr. and Rob Phinisee have all been stalwarts in the IU rotation since arriving on campus, but each player struggled on Saturday afternoon.
Smith failed to reach double figure scoring for just the third time this season as he shot just 2-for-10 from the field in 35 minutes.
Durham was just 1-for-6 from the field and has been in a rut from the perimeter over the last three games (2-for-9 on 3s).
And Phinisee, the hero of last year's Crossroads Classic, was 0-for-6 from the field and had a plus-minus of -17 in 15 minutes.
On an afternoon when three of its most important players contributed just nine points on 3-for-22 shooting, grinding out a win is an impressive feat.
Filed to: Notre Dame Fighting Irish