That's A Wrap: Race Thompson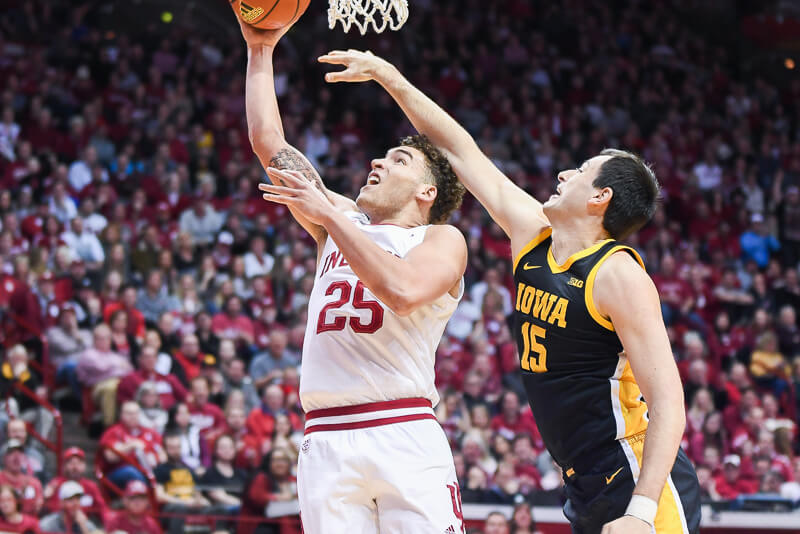 Welcome to "That's A Wrap," our player-by-player recap of the 2019-2020 Indiana Hoosiers. Today: Rob Phinisee. Previously: Armaan Franklin, Trayce Jackson-Davis, Damezi Anderson, Jerome Hunter, Rob Phinisee
Thompson (29 games): 3.7 ppg, 3.9 rpg, 0.4 apg, 0.7 bpg, 0.7 spg, 46.3% FG, 30.0% 3PFG in 13.6 minutes per game
After a concussion limited Race Thompson's redshirt freshman campaign a season ago to just eight games, the Minnesota native stayed mostly healthy this time around and grew as a sophomore.
Thompson had to contend for minutes in the frontcourt with Joey Brunk, Trayce Jackson-Davis and De'Ron Davis. It meant over Indiana's first 23 games of the season — of which he missed three in January due to injury — he played more than 20 minutes just once. But as the back half of Big Ten play began, Thompson started to assert himself as strong, important, mobile defender and a more polished offensive threat down low. As a result, Archie Miller gave him more run. Thompson played 20 or more minutes in six of Indiana's last nine contests and provided a number of key moments.
Thompson's rise came against Iowa on Feb. 13. With Brunk in foul trouble, Thompson's number got called and he delivered. The sophomore scored 10 points (4-of-6) and recorded four steals and two blocks in 24 minutes. Thompson also was on the court during a great stretch of team defense from the Hoosiers, as he hedged, recovered and rotated well. And while he didn't stop Luka Garza, he made things more difficult for him. The next week, Indiana traveled to The Barn to take on Minnesota. It was in this game, against NBA-bound Daniel Oturu, that Thompson started to flash some serious individual defensive prowess. Thompson blocked Oturu's shot and muscled him up, forcing misses. Oturu finished the contest just 5-of-15 from the floor.
Those last nine games of the season also saw an increased offensive output from the sophomore. After taking 30 2-point attempts before the Feb. 13 Iowa game, Thompson attempted 40 from there on out to close out the season. While he had a decent amount of efficient outings in the home stretch (the aforementioned 4-of-6 against Iowa; 3-of-6 at Minnesota; 4-of-6 against Penn State; 2-of-4 against Purdue), Thompson shot just 4-of-16 over the final four games of the season. In a narrow loss at Illinois on March 1, Kofi Cockburn continually left Thompson alone on the perimeter in the second half seeing him as a non-shooting threat, allowing the freshman to freely roam and block Indiana's shots. Thompson took just one 3-pointer across those last nine games, a miss.
Among regulars, Thompson had the lowest usage rate on the team at 14.3 and the second lowest assist rate (6.1) after Justin Smith (6.0). While his usage was low, the sophomore was strong with the ball when it was in his possession, as his turnover percentage of 11.8 was best on the team. Thompson also had the best defensive rebounding percentage (22.1) of regular Hoosiers, grabbing a season-high 11 against Wisconsin on March 7.
Bottom line: After a slow start, Thompson emerged as a key rotation player in 2019-2020. With Davis departing this offseason, he figures to play an even bigger role in 2020-2021. The sophomore brought consistent high energy and effort, something his teammates struggled with at times. Thompson's muscle, thickness, mobility and length make him a good fit in Miller's packline defense. He's a strong, instinctive rebounder. While his post moves and scoring ability around the rim are serviceable, Thompson's full offensive profile is still a work in progress. He may never turn into a stretch-the-floor type shooter, but if he's able to keep the defense more honest next season, it should help with spacing.
Quotable: "We're only as good as all of our players are. Race has emerged … he's at the right place at the right time. He's about the right things and he's a winning player. He helps you win. He makes winning plays. His 24 minutes tonight, he did a great job … I'm happy for Race." — Miller after Thompson's performance in the Feb. 13 Iowa game.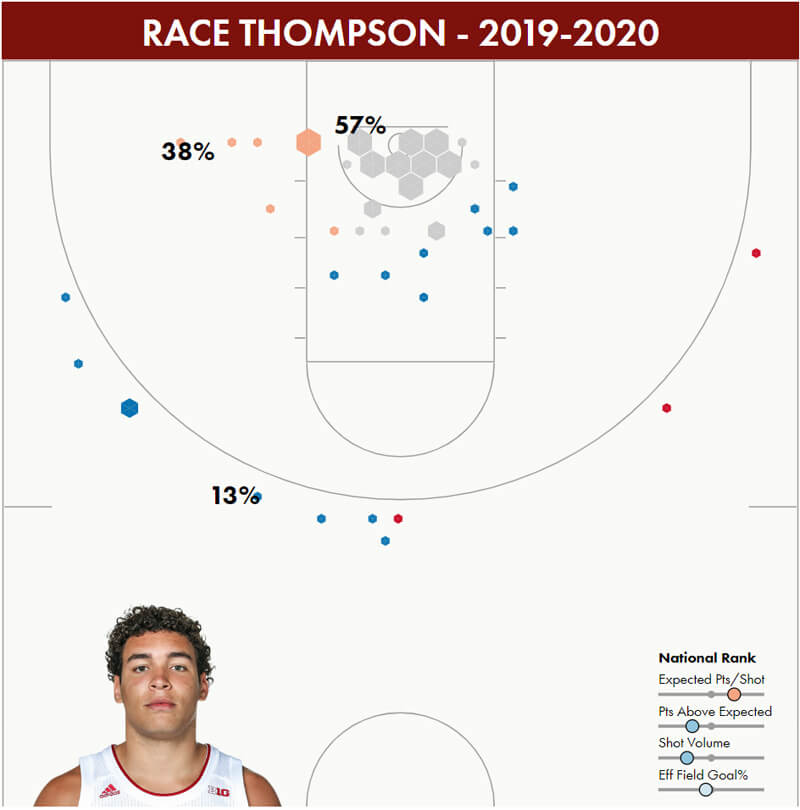 Filed to: Race Thompson