That's A Wrap: Trayce Jackson-Davis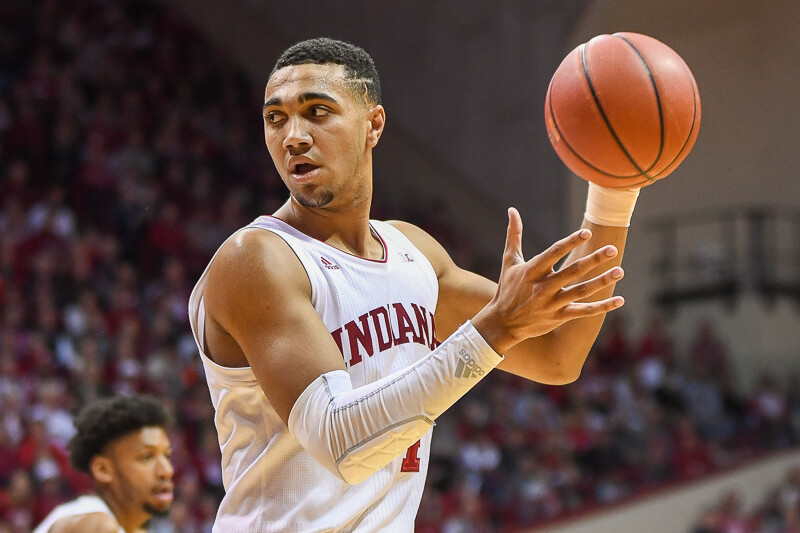 Welcome to "That's A Wrap," our player-by-player recap of the 2019-2020 Indiana Hoosiers. Today: Trayce Jackson-Davis. (Previously: Armaan Franklin)
Jackson-Davis (32 games): 13.5 ppg, 8.4 rpg, 1.2 apg, 56.6 FG% in 29.4 minutes per game.
It didn't take long for Trayce Jackson-Davis to show that he was going to be the best and most important player on Indiana's roster.
In seven of Indiana's first eight games, Jackson-Davis scored in double figures, recording four double-doubles in that stretch as well. He also had two or more blocks in six of those eight games, and IU came out victorious in each game.
Coming into the season, the depth of the frontcourt was a strong talking point with this Hoosier team, wondering how Jackson-Davis would fit in with players like Joey Brunk, De'Ron Davis, Race Thompson and Justin Smith.
When the season started, that script quickly flipped to how would all of those players fit in with Jackson-Davis?
The 6-foot-9 five-star freshman out of Center Grove, who was named 2019 Indiana Mr. Basketball, became Indiana's focal point on offense, and he delivered for most of the season. He started alongside Brunk and Smith in the frontcourt every game this season (minus senior day when Davis started over Brunk).
Since Brunk and Smith can't shoot the ball from the perimeter, Jackson-Davis had some of his better stretches when Indiana went small and he was surrounded by shooters. When the Hoosiers got out in transition, Jackson-Davis scored 62 points on 50 possessions, which is 1.24 points per possession, according to Synergy Sports.
Toward the end of the season, Thompson and Jackson-Davis started to emerge as the Hoosiers' best frontcourt combination, specifically coming up big in the home wins against Iowa and Penn State, as well as the Minnesota road victory.
Needless to say, it didn't matter too much who was on the floor with Jackson-Davis, as long as he got enough touches on offense the Hoosiers had a shot to win.
There were certain Big Ten road games where Jackson-Davis went quiet, most notably the 24-point loss to Michigan where he had five points and three shot attempts in 27 minutes. Head coach Archie Miller challenged him after that game to play better on the road, and Jackson-Davis followed it up with his best performance on the season with a career-high 27 points and 16 rebounds at Minnesota.
If there's one thing Jackson-Davis needs to improve on heading into next season, it's passing the ball better out of the post and learning how to handle quick double teams.
The road loss to Purdue was a perfect example on how to defend Jackson-Davis as the Boilermakers brought an immediate double team anytime Jackson-Davis touched the ball. It left him little time to even look at the rim, and there weren't many times where he was able to send a good pass out of the double team to keep Indiana's offense moving.
But overall, Indiana has a complete stud on its team for at least another season. The Hoosiers were 11-1 when Jackson-Davis recorded a double-double. He earned Big Ten freshman of the week honors five times throughout the season, and he was placed on the All-Big Ten third team as well as All-Big Ten freshman team. CBS Sports also named Jackson-Davis as a top-10 freshman in college basketball this season, listing him as No. 8.
Jackson-Davis finished second in the Big Ten in field goal percentage at 56.6, seventh in rebounding at 8.4 boards per game and second in blocked shots with 1.9 each game. Per Synergy Sports, Jackson-Davis scored 1.075 points per possession this season.
In post-ups, Jackson-Davis scored 89 points on 108 possessions (0.824 PPP) and when Jackson-Davis crashed the glass and got offensive rebounds he scored 79 points on 65 possessions (1.215 PPP).
With a year under his belt, the coming seasons with Jackson-Davis as the centerpiece should be a reason to remain optimistic.
Bottom line: Jackson-Davis had a tremendous freshman season, and he helped lead Indiana to its first 20-win season under Miller. He's a versatile defender and strong finisher at the rim. If Jackson-Davis keeps putting up these kinds of numbers, his NBA stock will continue to rise, so Indiana needs to capitalize with him while they still have the chance. The Hoosiers are only losing two key players from this season, and adding more wings like Anthony Leal, Trey Galloway and Jordan Geronimo next year will only help space the floor for Jackson-Davis to go to work. The program is trending in the right direction, and Jackson-Davis is a big reason why.
Quotable: "His athleticism, his conditioning, are all very, very impressive. He's a gifted young guy and he's coachable. He's a guy that sponges it up. He doesn't know what he doesn't know, and he asks questions. He's improved as a player, but he's going to go through some really hard times. I feel like college basketball is harder for young bigs than it is guards because they're not used to the pounding and the size, and in some cases in the Big 10 the age difference.
So, he'll go through that, but he's going to be put in the fire. He was brought here to be put in the fire, and he can help our team immensely. I think as you watch us play, he's got some confidence in him. The more experience he gets under his belt the better he'll be. He's got to continue to work on his game, evolve as a player, but he's going to get pushed and thrown into the fire and have to earn it. There is no better guy to be around than him on a daily basis with how he approaches things." – Archie Miller on Jackson-Davis at Indiana's media day.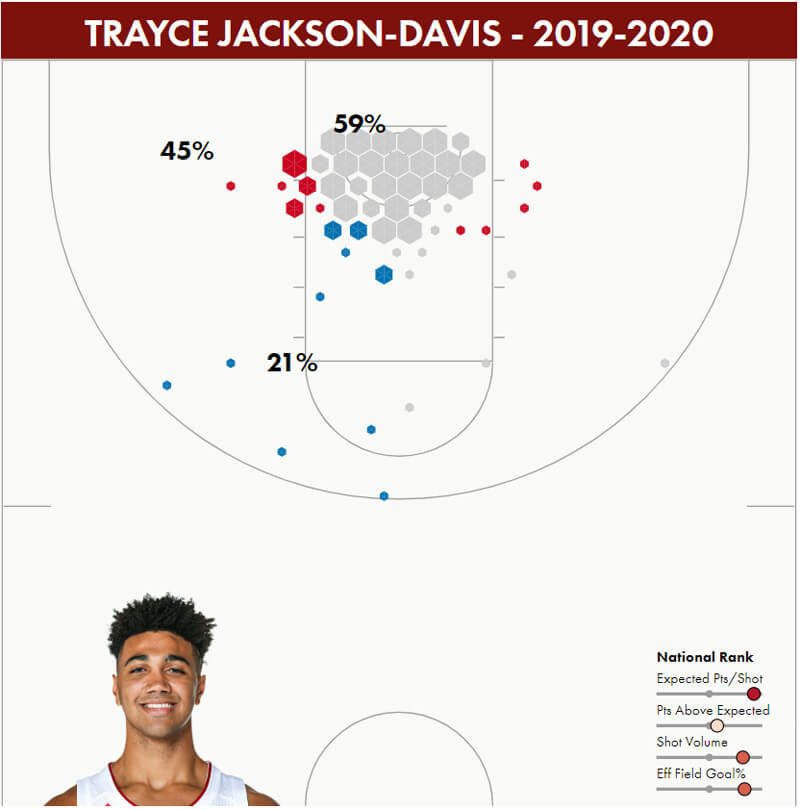 Filed to: Trayce Jackson-Davis