Offseason storylines: How will Indiana's front court rotation shake out?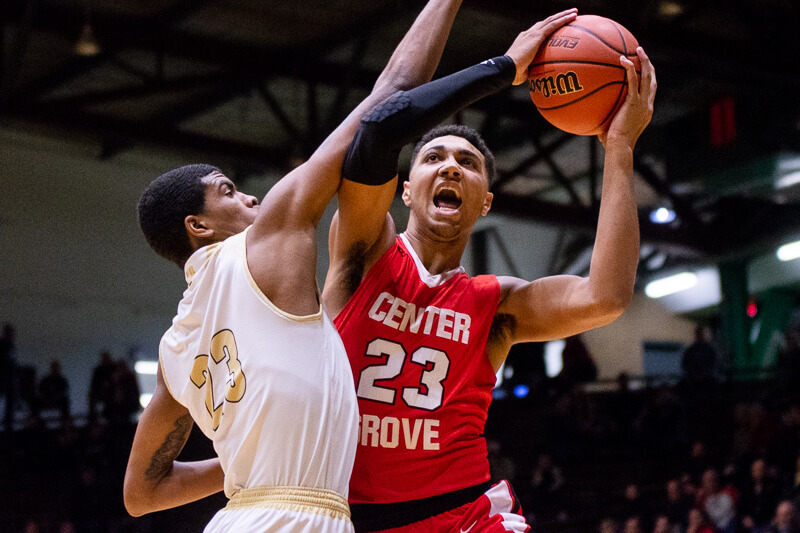 Welcome to offseason storylines, a look into some of the biggest storylines surrounding the 2019-2020 Indiana Hoosiers. Today's topic: How will Indiana's front court rotation shake out?
The front court for Indiana has seen a nice number of additions heading into the 2019-20 season.
Even though Juwan Morgan's 15.5 points per game will be missed, the Hoosiers have five potential front court players that could be in the rotation.
De'Ron Davis and Justin Smith are the primary post players from last season returning to the lineup. Race Thompson, who showed promise during Indiana's two-overtime victory over Wisconsin but battled injuries throughout most the season, will also be returning and hoping to see a bigger role. Then, the additions of 2019 Indiana Mr. Basketball Trayce Jackson-Davis and Butler transfer Joey Brunk will fill out the remainder of the front court lineup.
When Miller spoke at Huber's Winery May 29, he talked about how for the first time since he's been at Indiana, he has more depth than ever at the "big guy" position.
"The depth at that spot and to have that type of size and strength, so to speak, is a positive," Miller said.
Miller was mainly referring to the combination of Davis, Jackson-Davis and Brunk. With Jackson-Davis being 6-foot-9, Davis 6-foot-10 and Brunk 6-foot-11, the three bigs will by far be the tallest on the team.
Last season, Davis was still recovering from his Achilles injury suffered during his sophomore season and spent early parts of the year on minutes restriction, but toward the end, the Colorado native began showing his strengths in the low post.
In the three games he started — at Minnesota, home against Purdue and at Iowa — he scored 10, eight and 10 points, respectively. Miller has often praised Davis for his passing out of the post and in a couple games last season Davis had three or more assists, with his highest total being seven against Iowa at home.
In the 33 games Brunk played last season at Butler, he averaged 7.6 points per game while shooting 62 percent from the field. In the 23 minutes he played against Indiana in the Crossroads Classic, Brunk finished with eight points, five rebounds and two assists.
Miller said from watching Brunk on tape and playing against him, he can also score in the low post.
As for Jackson-Davis, the Center Grove star averaged 22 points, 9.4 rebounds and 3.1 blocks his senior season, shooting 62 percent from the field. Even though college is different than high school, Miller said he has no worry Jackson-Davis will be able to adjust and make an impact right away.
"I think all three guys have unique games where they can play with one another," Miller said.
Yet one caveat to what Miller was saying was that when two of the three bigs are on the floor together, one of them will have to be able to defend on the perimeter. Jackson-Davis is probably the most athletic of the three, but it's unknown if either have the lateral quickness to defend on the perimeter.
That's where guys like Smith and Thompson slot in.
Thompson is 6-foot-8 and has shown that when healthy, he can be a key defender for Indiana. His defense on Wisconsin's Ethan Happ was the defining moment for him this past season. His perimeter defense isn't anything extraordinary, but he has more quickness than a guy like Jackson-Davis.
As for Smith, Miller knows he's the one forward that can guard out on the perimeter. Smith started all but three games last season and played alongside Morgan, and since both were undersized with Smith being 6-foot-7, he's used to guarding the stretch fours the Big Ten presents.
He averaged a career-best 8.2 points per game last season and when confident, is one of the better offensive and defensive players for the Hoosiers.
If Jerome Hunter can get healthy, he's also a forward that can defend on the perimeter as well as shoot from the perimeter, giving Indiana an athletic two-way player.
The Hoosiers almost always played with a three-guard set last season, but with a shortage of guards this year — Devonte Green, Al Durham, Rob Phinisee, Damezi Anderson and Armaan Franklin — don't be surprised if Miller decides to play big, and roll with a three-forward lineup more often this season.
Filed to: 2019-2020 season preview, Deron Davis, Joey Brunk, Justin Smith, Race Thompson, Trayce Jackson-Davis