Quick, athletic lineup provides boost in Indiana's season-opener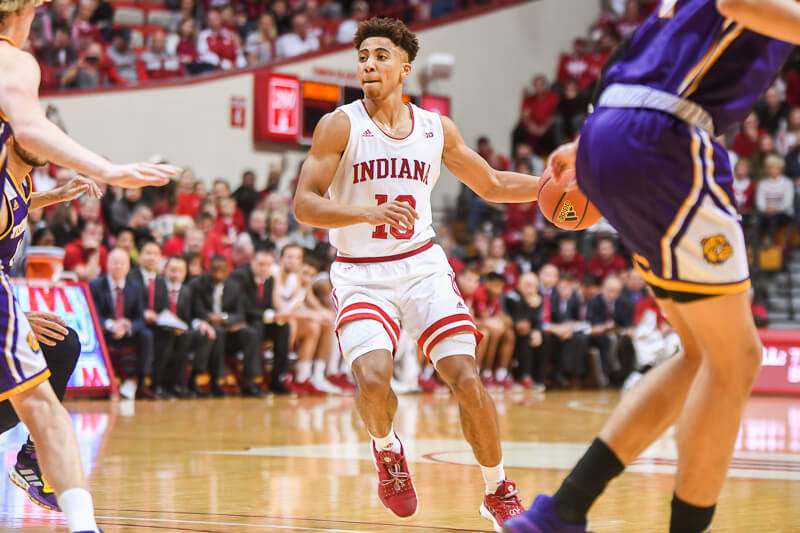 With depth being a strong suit for this Indiana team, it allows Archie Miller to put multiple lineups on the floor. A majority of those lineups are going to be big, simply because of the plethora of frontcourt players.
But when Indiana looked at its best in its season-opening victory against Western Illinois was when the Hoosiers went a bit smaller.
With 10:35 remaining in the first half, Indiana found itself trailing 15-12 to the Fighting Leathernecks. Thirteen seconds later, Miller subbed in Rob Phinisee and Trayce Jackson-Davis for Armaan Franklin and De'Ron Davis. Phinisee and Jackson-Davis joined Al Durham, Jerome Hunter and Justin Smith on the floor.
Six seconds after the substitution Jackson-Davis hit a hook shot in the paint, and Indiana took off, going on a 16-0 run with that lineup to break the game open, storming in front by 13 points and never looking back.
"You had your quickest lineup out there defensively," Miller said. "We weren't applying any heat defensively there in the first six to eight minutes."
In the just over three minutes that lineup was on the floor together, they forced three turnovers, had one block and scored six fastbreak points.
Each player scored at least one basket in that stretch as well. Jackson-Davis had two, Durham had two, Hunter had two, Phinisee had four and Smith had six.
Most of their offense was done in transition, but one half-court set that stood out with that group was when Durham took a screen from Jackson-Davis on the left wing. Durham did a dribble-hand-off with Phinisee, and Smith came to set a screen for him while Jackson-Davis posted up on the left block. Phinisee dribbled toward Jackson-Davis, and as Smith rolled from his pick past the right block, all attention was on a post entry to Jackson-Davis, so Phinisee was able to lob the ball over the defense for an alley-oop slam from Smith, all while Hunter kept his defender honest in the left corner.
It was an example of the more off-ball, more motion offense Miller and the players have been talking about heading into this season.
Although the offensive firepower is prevalent with that lineup, most of their damage started at the other end.
"I would say our defense," Phinisee said. "We had a lot of steals and Trayce, and I think Justin had a couple blocks, too, and we got out in transition and that's where we're at our best."
Perhaps using the word "small" to describe this lineup isn't even the right word. Jackson-Davis is 6-foot-9, and Smith and Hunter are both 6-foot-7, and Hunter was at the three, so by no means is it small. But compared to when Davis, Brunk or Thompson are on the floor, it feels smaller.
If you throw height out the window, this was definitely Indiana's most athletic lineup it displayed Tuesday night. Defensively, it's presents the ability to switch a lot and the quickness to stay with opposing guards and close out on shooters.
Offensively, there are options everywhere on the floor. They can go in the post to Jackson-Davis, Smith or even Hunter, and then they have three very capable shooters on the outside in Phinisee, Durham and Hunter. But when this lineup was on the floor, there wasn't much need to run half-court sets because they pushed the pace so frequently, putting the defense on its heels and creating easy transition opportunities.
It's a versatile lineup that can even be effective if they replace Phinisee or Durham with Devonte Green, who is still out with a hamstring injury.
This lineup changed the game and ignited the Hoosiers to a big lead when they desperately needed to get out of an early funk. In a season where the five players on the floor are going to fluctuate game in and game out, Miller may have struck gold with the quick, athletic, change-of-pace abilities of Phinisee, Durham, Hunter, Smith and Jackson-Davis.
"It was very methodical (early), and they were able to do what they want," Miller said. "We started to challenge some passing lanes, we were able to get some deflections, we got out in transition and got a cushion, and that lineup, having some quickness to it, I thought helped."
Filed to: Aljami Durham, Jerome Hunter, Justin Smith, Robert Phinisee, Trayce Jackson-Davis, Western Illinois Leathernecks