While Indiana's stellar 3-point shooting was a big catalyst in its victory against Iowa, the Hoosiers also put together one of their better defensive performances in a while. This was especially true during a stretch in the first half. As the Hoosiers started to pull away from the Hawkeyes in the middle of the half, Indiana held the Hawkeyes to zero field goals and just two points via a pair of Luka Garza free throws over nearly five minutes of game action (12:59 to 8:03 mark).
During that 15-2 run between Iowa scores, Indiana's ball screen coverage was on point as they continued to not allow the Hawkeyes to gain an advantage. IU also got into transition for scores after an Iowa turnover and missed shots from the Hawkeyes.
We'll take a look at four sequences during this stretch in the latest edition of Film Session:
On the right wing, Garza sets a ball screen for Bakari Evelyn. On the left wing, CJ Fredrick runs through staggered screens: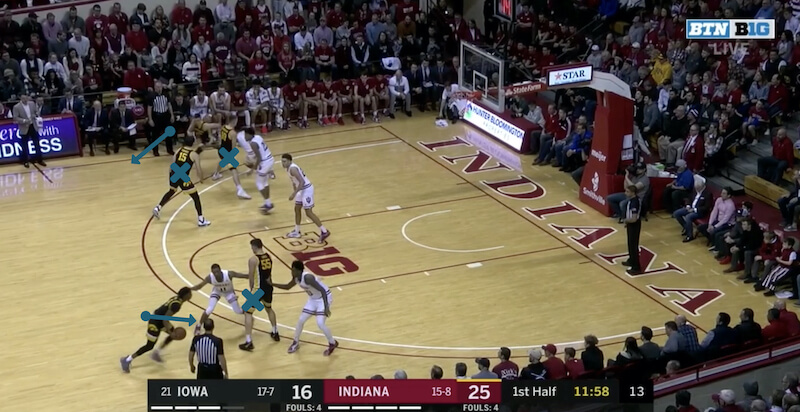 Davis hedges on Evelyn as Garza rolls to the paint. Meanwhile, Fredrick has foregone the second screen and heads towards the paint: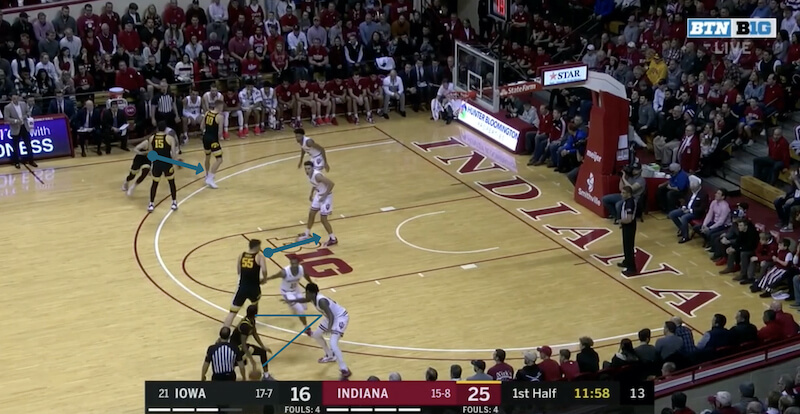 As Davis recovers back to Garza, Evelyn dribbles to the top of the key. Fredrick is now hunting for Jerome Hunter because both he and Ryan Kriener are about to set staggered screens for Joe Wieskamp: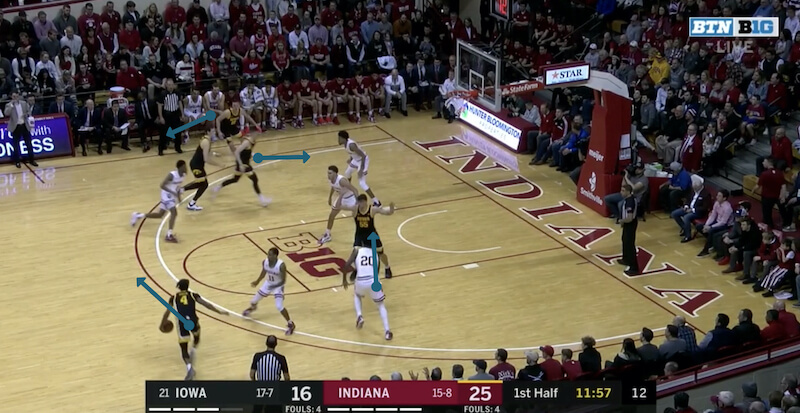 Wieskamp comes around the screens as Evelyn keeps moving towards the top of the key: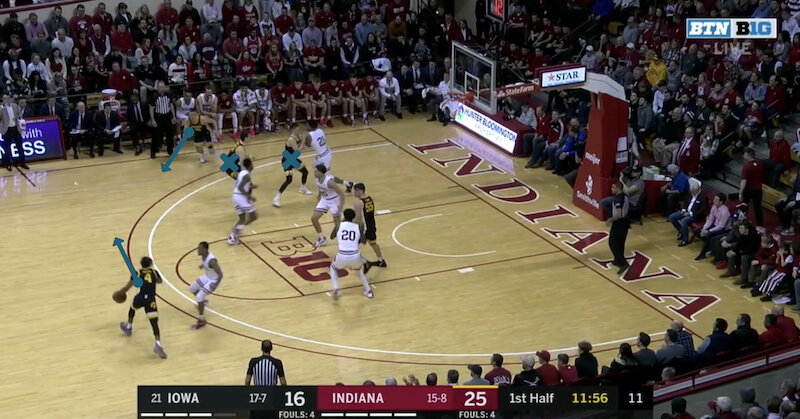 As Evelyn makes the pass to Wieskamp, Devonte Green rotates over to help on Wieskamp. Race Thompson sits in front of Wieskamp in the paint. Hunter comes around the second screen: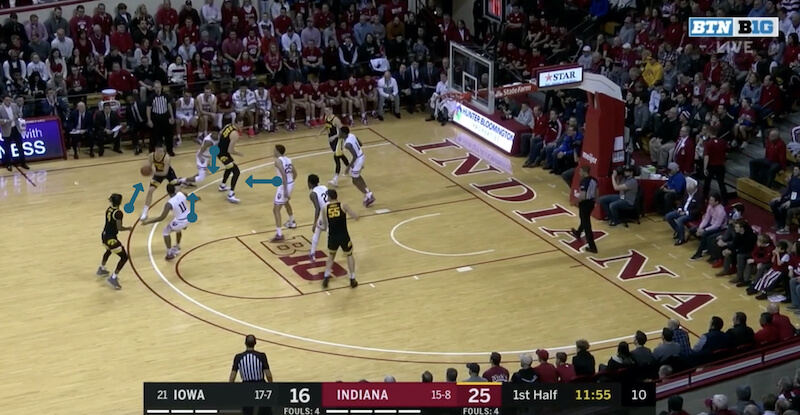 As Hunter makes it back to Wieskamp, Green rotates back to Evelyn as Thompson begins to find Kriener again on the roll: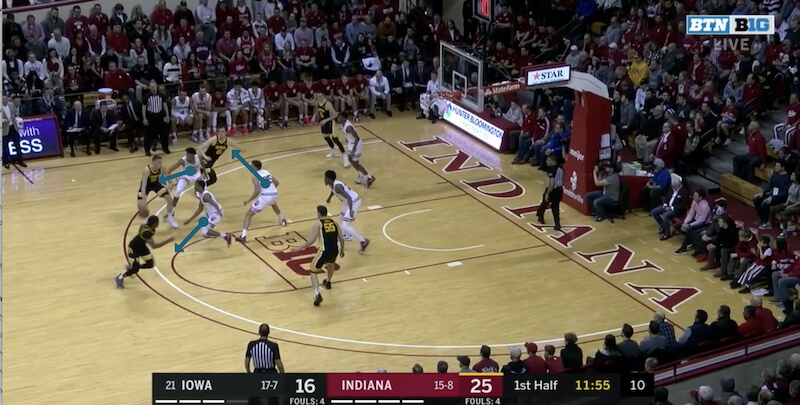 Hunter muscles up on Wieskamp, forcing him out some. Wieskamp picks up his dribble. Fredrick pops out of the left corner: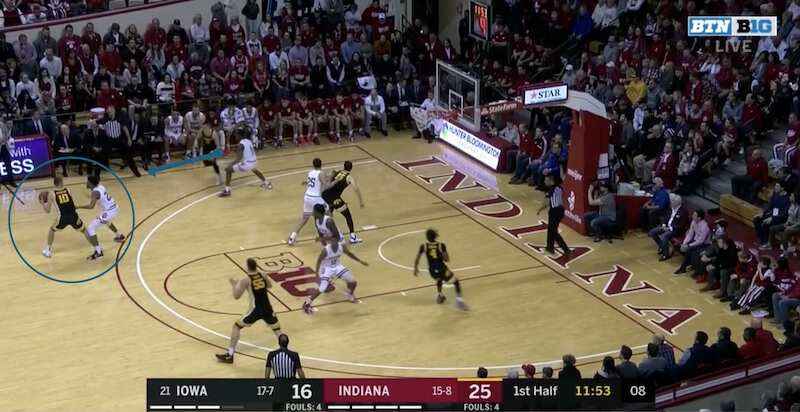 Wieskamp makes the pass to Fredrick: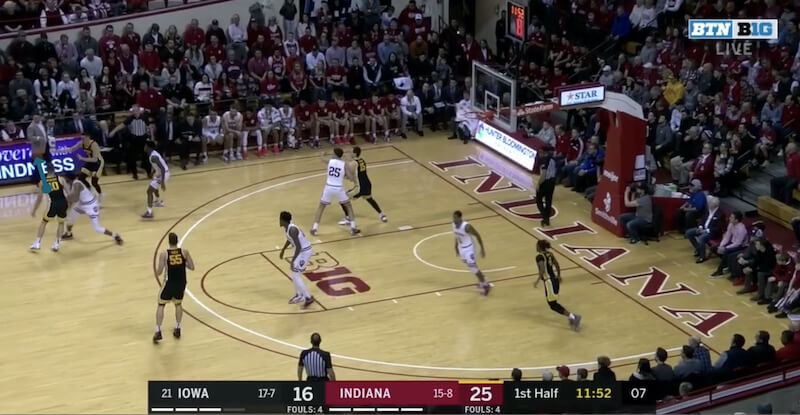 With just four seconds left the shot clock, Fredrick launches a deep contested 3-pointer: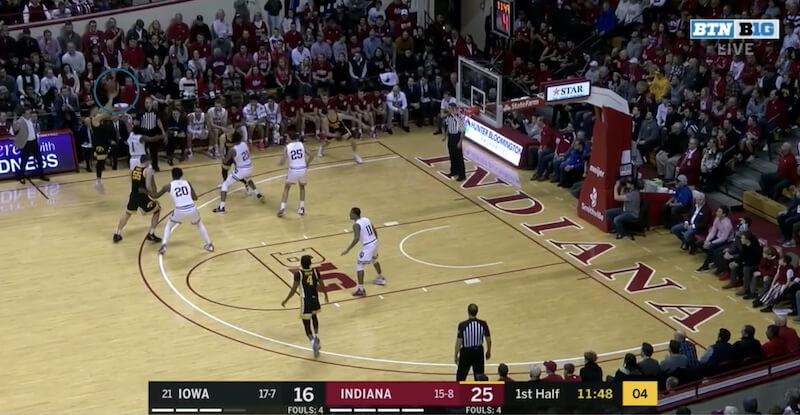 It's an air ball from one of the better 3-point shooters in the country that Green snags out of the air. He then goes coast to coast and got his shot blocked in the paint: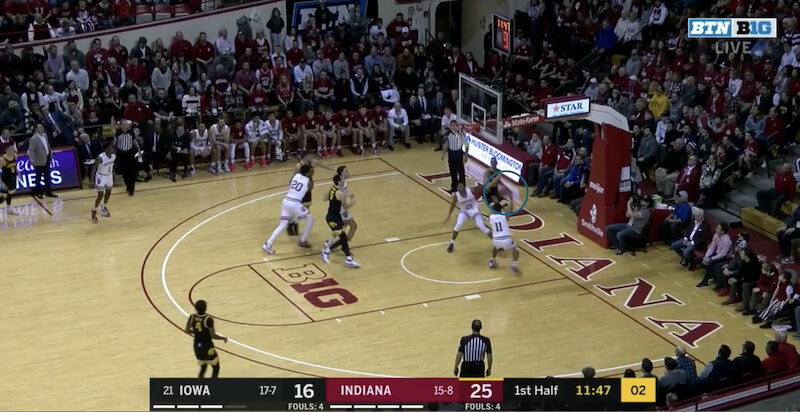 Nice job of Indiana here to continually help and recover until Iowa simply ran out of time and was forced into a tough shot.
Video:
Filed to: Iowa Hawkeyes