That's A Wrap: Damezi Anderson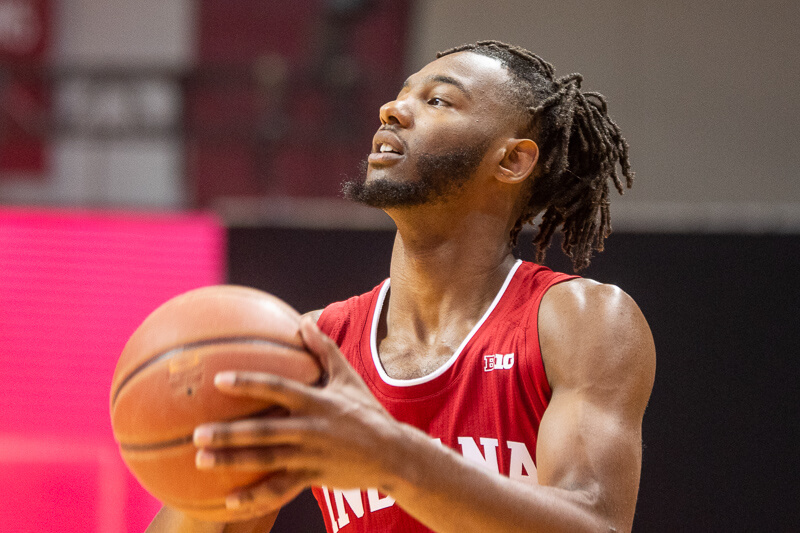 Welcome to "That's A Wrap," our player-by-player recap of the 2019-2020 Indiana Hoosiers. Today: Damezi Anderson. Previously: Armaan Franklin, Trayce Jackson-Davis
Anderson (18 games): 2.8 ppg, 2.2 rpg, 0.94 apg, 31.5% FG, 22.9% 3PFG in 12.3 minutes per game
Damezi Anderson's high-water mark for the 2019-20 season came two weeks into November, and that proved to be prophetic as his on-court importance for Indiana was devalued as the season progressed.
Expectations were set high for Anderson entering his sophomore campaign, and he was a focal point of Archie Miller's comments during Big Ten Media Day last October.
The general thinking was that, after a freshman season which featured offensive struggles and defensive deficiencies, particularly in pick-and-roll situations, things would change for Anderson in year two.
But Jerome Hunter's ability to play this season at the wing meant Anderson's minutes would not come by default. He made a strong case to play at the start of the season, scoring 26 points across his first three games of the season.
This included going 4-of-5 from the field against North Alabama and scoring a career-high 14 points on 6-9 shooting against Troy.
But just like the 2018-19 season, when the competition got tougher Anderson's minutes dried up. Part of that was Hunter taking priority in the pecking order at the 3 position, but Anderson also didn't do much to justify giving him time on the floor.
After the calendar flipped to 2020, Anderson played more than four minutes in a game just twice, both times in blowout defeats at Maryland and Penn State.
Dating back to last December, Anderson made 12 appearances for Indiana, scoring a total of 15 points across those games.
Stunningly, Anderson failed to score in his final eight games for Indiana in the 2019-20 season, missing 11 3-pointers during this stretch.
While he shot a favorable 50 percent from the left wing 3-point spot and 44 percent from the right wing mid-range spot, Anderson still ranked below the national average in a host of shooting metrics, from effective field goal percentage to expected points per shot.
Among IU's 11 scholarship players, Anderson was used on the fewest offensive possessions (71) and had the lowest points per possession (0.718) per Synergy Sports.
Miller also mentioned in the offseason how Anderson needed to make defensive strides, and there were plenty of moments during games where Anderson looked lost at both ends of the court this season. His stark dropoff in minutes during conference play was an unsurprising result.
Bottom Line: Anderson's potential to be a significant contributor for Indiana now seems to be minimal. His ability to be a "3-and-D" guy hasn't panned out over his first two years, as he's neither displayed the defensive competency nor the consistent 3-point shooting needed to be relied upon in this capacity.
He and Hunter do a lot of similar things on the floor, and given the fact Hunter has more upside and is more athletic than Anderson, there's no reason for Miller to play Anderson over Hunter.
Couple all that with the upcoming arrival of another wing, 3-star recruit Jordan Geronimo, to Bloomington, and it's hard to see Anderson carving out a role for himself.
Quotable: "Right now he's as big and strong and as well-conditioned as he's been," Archie Miller said of Anderson during last October's Big Ten Media Day. "He's so much more prepared mentally to know what he's dealing with. Without question one of the gifts he has is he can shoot the ball."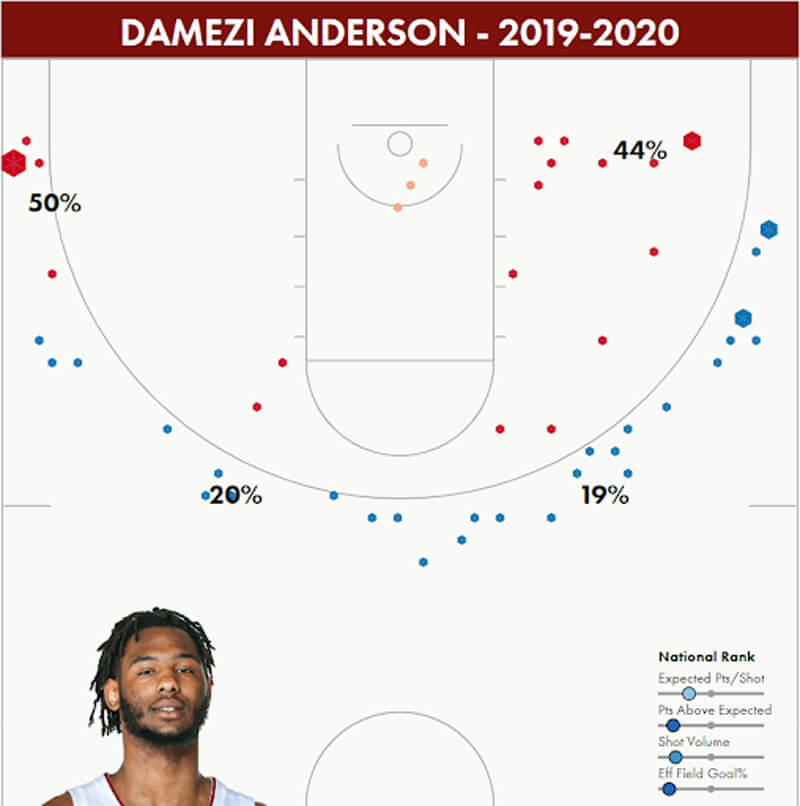 Filed to: Damezi Anderson