That's A Wrap: Rob Phinisee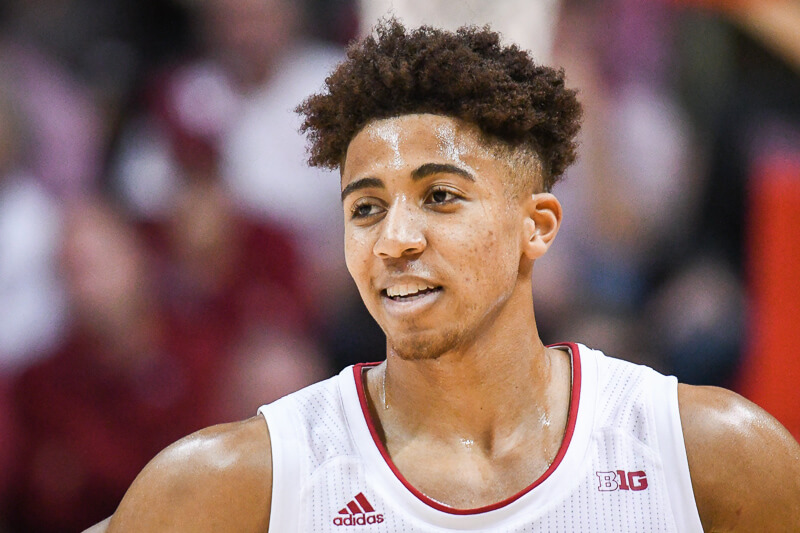 Welcome to "That's A Wrap," our player-by-player recap of the 2019-2020 Indiana Hoosiers. Today: Rob Phinisee. Previously: Armaan Franklin, Trayce Jackson-Davis, Damezi Anderson, Jerome Hunter
Phinisee (27 games): 7.3 ppg, 2.5 rpg, 3.4 apg, 37.4% FG, 33.3% 3PFG in 23.2 minutes per game
Before the start of the season, Archie Miller said Rob Phinisee had a lower abdominal injury.
"It's something that's not very common," Miller said. "He's been uncomfortable with that. It could be something that he has to deal with here for some time — just managing it."
Those sentiments had fans concerned about the IU's starting point guard, especially after the way the team struggled when Phinisee sustained a concussion during his freshman season.
Phinisee was able to play in Indiana's first three games and looked good, scoring in double figures in two of the three. He also had seven assists against Portland State and six assists against North Alabama. But due to his limited practice time, Phinisee wasn't in the starting lineup to start the season as Al Durham and Armaan Franklin fulfilled those duties.
But then Phinisee started to miss games. He missed the fourth game of the year because he had strep throat, and then when he came back against Princeton, he only played 11 minutes and left the game with an ankle injury.
Phinisee proceeded to miss Indiana's next four games, which featured three wins (one over Florida State) and then one terrible road loss to Wisconsin. IU lacked communication, leadership and direction on offense against Wisconsin, and it showed how much the team missed having Phinisee on the floor.
Luckily for IU, Phinisee returned for the Jimmy V Classic and provided 13 minutes and six points in a three-point victory over UConn. He brought a much-needed calming presence to the court, and it really showed in Indiana's next game.
The Hoosiers went to overtime against Nebraska at home and Phinisee scored seven of his 16 points in the extra period, including a huge 3-pointer at the end of the shot clock in which he had the poise to pump fake to get the defender to jump by him before knocking in the dagger.
"You can see that he's the heart and soul in this thing with that team. With that poise and the way he plays, have the patience to get that thing down to the 1 and shot fake and rise up and knock it down. It's a big time shot," Nebraska coach Fred Hoiberg said of Phinisee after the game. "His ability to guard. His ability to make the right play. Getting him back in the lineup was huge for Indiana. As long as he's running the show, there's bright days ahead."
And there were bright days ahead for this Hoosier team with Phinisee getting back to full health. He finally started his first game of the season on Jan. 11 against Ohio State, and he began the game by hitting three 3-pointers, which sparked Indiana to a cushion they used to win the game.
But as the season progressed, it became more about defense than offense for Phinisee, who was tasked to contain the Big Ten's premier guards such as Cassius Winston, Anthony Cowan, Zavier Simpson, Marcus Carr and so on.
"He's definitely physical," Winston said of Phinisee after Indiana defeated Michigan State. "He moves his feet really well, doesn't fall for a whole lot, so he's a pretty good defender."
In 27 games played, Phinisee had 27 steals. His active hands and ability to quickly move laterally gave Indiana that much-needed perimeter defense it struggled with at times during the season.
Phinisee's numbers are up from his freshman season, improving his points per game average from 6.8 to 7.3 and his assists from 2.9 to 3.4. His shooting percentage also raised from 36.1 percent to 37.4 percent and his 3-point percentage from 31 percent to 33.3 percent.
His stellar play on the floor helped the Hoosiers get to 20 wins for the first time in Archie Miller's tenure, and toward the end of the season, his offensive game started to look more aggressive as he attacked downhill more and got into the paint. Indiana will need him to carry that over into next season as well.
Bottom line: Al Durham was adjusting all year to handling the point, Devonte Green was sometimes careless with the ball and Armaan Franklin was just a freshman, so Phinisee was really the main guard that could run the offense soundly. The guard play was under heavy scrutiny this season, but down the stretch when postseason hopes were on the line, they showed up, and Phinisee was a big reason why. With Khristian Lander's reclassification still unofficial, Indiana isn't bringing in any new ball handlers next year and they are losing one in Green. So, Phinisee will need to continue to take control of the offense, which isn't a bad thing.
Quotable: "For where we are heading as a team, for Rob, it's about, you know, really spearheading our defense and being a guy we can count on defensively. I think from an offensive perspective, I think he understands right now, it's about running our team and it's about making sure that we're taking care of the ball, and he knows when he has his opportunities, you know, offensively, to be aggressive, he can do that, but he's playing pretty good basketball for us right now and I'm really proud of his defensive effort." — Archie Miller on Phinisee before Indiana played Purdue in West Lafayette.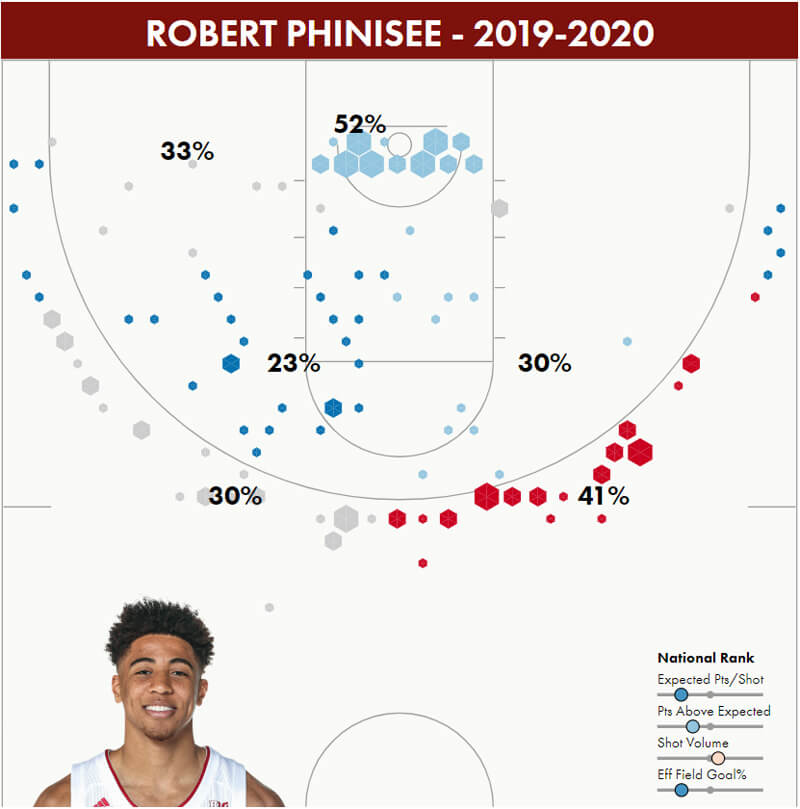 Filed to: Robert Phinisee