'Big Shot Rob' comes through again in Indiana's win over Nebraska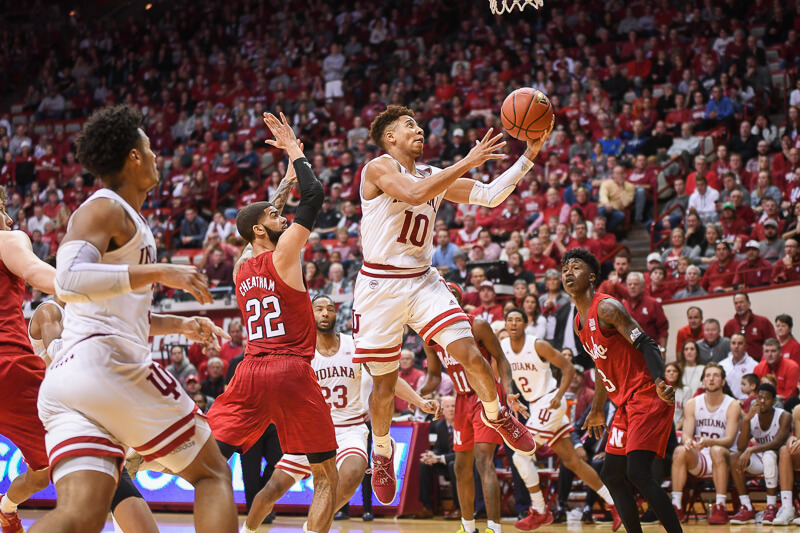 Rob Phinisee calmly stood at the free-throw line with 10 seconds left, his team up one, and knocked down both.
Leading by three over Nebraska, Phinisee guarded Cam Mack as he took the ball up the court, precious seconds ticking off the clock. Archie Miller regrets not telling Phinisee to foul.
Mack had just hit a big three moments prior, so Phinisee was geared for another shot. But an impressive play drawn up by Fred Hoiberg got Dachon Burke free from an off-ball screen as he drained a 3-pointer with one second left.
Indiana was heading to overtime at home against one of the Big Ten's bottom feeders. Their captains were both out of the game — Al Durham fouled out and Devonte Green hurt his Achilles — so the ball was placed into the hands of Phinisee.
Hoosier fans are used to Phinisee hitting clutch shots, donning the nickname "Big Shot Rob" after the infamous buzzer-beater to knock off Butler a season ago in the Crossroads Classic. But this year's version of Rob Phinisee hasn't seen much action, battling various injuries and illnesses for a majority of the games played.
But Friday night in Assembly Hall after Burke sent the game to another period, Phinisee remained calm.
"You don't want to panic just because he hit a big shot," Phinisee said.
Overtime was a steady diet of Trayce Jackson-Davis, who had his fifth career double-double with 25 points and 15 rebounds, and Phinisee.
With five seconds on the shot clock, Indiana up three with three minutes left, Phinisee had the ball in his hands, guarded by Mack.
He took a screen from Jackson-Davis… just three seconds… Nebraska's Yvan Ouedraogo hedged out on him, then went back to Jackson-Davis as Mack recovered… two seconds… Phinisee had to shoot and Mack came flying at him, but Phinisee pumped faked it as Mack flew by… one second… Phinisee got the shot off just in time as the shot clock sounded, the 3-pointer netted through the nylon and the Hoosier faithful erupted.
A few plays later Phinisee used his quickness to get to the paint and make a layup. He scored seven of his 16 points in overtime en route to Indiana's 96-90 victory.
"You can see that he's the heart and soul in this thing with that team. With that poise and the way he plays, have the patience to get that thing down to the 1 and shot fake and rise up and knock it down. It's a big time shot," Hoiberg said of Phinisee. "His ability to guard. His ability to make the right play. Getting him back in the lineup was huge for Indiana. As long as he's running the show, there's bright days ahead."
"Big Shot Rob" came through again for the Hoosiers. When he hit that 3-pointer in overtime, Phinisee showed a rare sign of emotion, slightly pumping his fist in celebration of the dagger.
But when he was asked about those moments postgame, he answers with the same poise he plays with.
"Very satisfying, actually," Phinisee said of his shot-making. "I mean, really made shots for my team when they needed it. Really just tried to make a big play when we needed it."
With Green's status unknown now for the foreseeable future, Indiana's backcourt will once again not be at full strength. But as long as Phinisee is on the court, the Hoosiers have somebody who can orchestrate the offense and provide that calming presence.
Phinisee was a big difference in Indiana's win against UConn, and he was the main reason the Hoosiers closed the game against Nebraska and got their first Big Ten win on the season.
"He's about as a team guy as you get. He's stepped up and he's ready. He's been paying attention and maybe with some reps and other things to get under his belt he'll continue to find himself back into the rhythm," Miller said. "But it won't take him long to get back. He's a guy that's engaged you can tell out there he's got his bounce back."
Filed to: Nebraska Cornhuskers, Robert Phinisee