Five takeaways from Indiana's win over UConn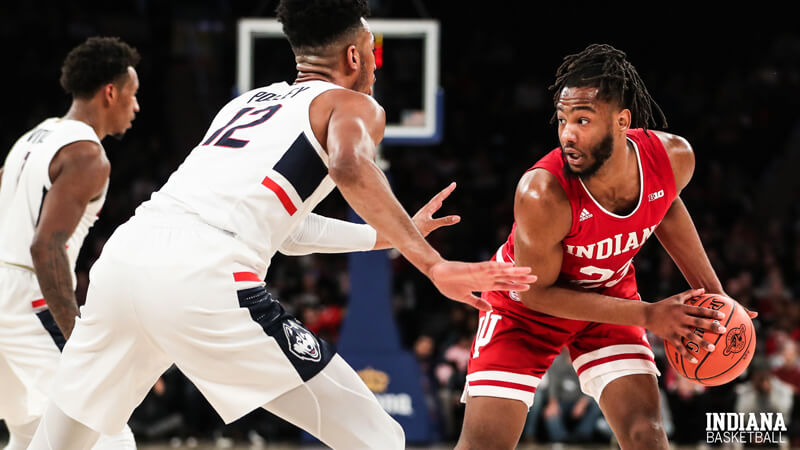 NEW YORK — Indiana secured a significant nonconference win Tuesday night, defeating the UConn Huskies, 57-54, in the late game of the Jimmy V Classic inside Madison Square Garden.
Here are five takeaways from the win, which improves Indiana's overall record to 9-1 on the season.
· There was a lot of poor offensive basketball played Tuesday night: Madison Square Garden is a showcase venue. A primetime slot on ESPN, as part of a nationally known night of college hoops, should hopefully elicit trademark performances from the teams taking part.
That was not the case for any of the four teams that took part in Tuesday's Jimmy V Classic.
Much like the No. 1-ranked Louisville Cardinals and Texas Tech Red Raiders in the game prior (which Tech won, 70-57), neither the Hoosiers nor Huskies (who committed a season-high 22 turnovers) found scoring to be an easy endeavor.
Indiana shot 21-of-57 from the field (including a poor 2-of-13 showing from 3-point range) in a winning effort, while UConn went 21-of-51 from the field (going 6-21 from distance).
Whether it was big-stage nerves, the difficulty of shooting with the backdrop of an NBA arena or just some combination of solid defense and poor offensive play, the shots weren't falling in the Big Apple.
This forced Indiana to rely on different traits to secure the win, and the Hoosiers settled on physicality.
"I thought tonight obviously we were much better in the toughness category," Archie Miller said postgame. "I thought today was a battle-tested kind of game where you were going to have to earn it and we did that."
· After frontcourt questions arise, Joey Brunk steps up in the big moment: Joey Brunk's performance against Wisconsin was woeful, and his first-half showing against UConn was more of the same.
Brunk only got one run of play in the first half, which came during the first seven minutes of the game. He missed all four of his shots, gathered only one rebound, and was routinely swatted at the rim and outmuscled in the paint by UConn junior Josh Carlton and freshman Akok Akok.
It was a surprise when Brunk also started the second half for the Hoosiers, and despite scoring a basket within the opening 90 seconds of play, he still didn't factor into the equation much.
Indiana's best spell of the game on both ends came with Trayce Jackson-Davis playing the five at the end of the first half, allowing Justin Smith to provide a bit more quickness at the four and letting the Hoosiers more comfortably run out in transition while athleticism and speed took over on defense.
But with 8:19 left in the game and the game tied at 38, Brunk checked back into the game and proved to be a difference maker.
He finished the second half with a team-high nine points, scored seven straight points in a two-minute span for Indiana and suddenly provided a sturdy defensive presence while sealing off UConn's big men on offense to let Al Durham drive to the hoop.
"I thought he went back to the basics of what he's been doing very well all year," Miller said. "He ran to the rim, got a key transition post-up when we needed it … to his credit he didn't get down."
It was a complete change from Brunk's previous three halves of basketball, and one that played a big part in Indiana's second-best non-conference win of the season.
· Rob Phinisee makes his Indiana return: After not playing since Nov. 20 against Princeton due to a multitude of injuries ranging from a blow to the head to a rolled right ankle, Rob Phinisee returned to play 13 minutes for the Hoosiers in New York.
"He played more (of) tonight's game than he's practiced all year," Miller said of Phinisee. "To his credit he's ready to go just from an experience level."
Phinisee's stat line wasn't overly impressive from his return, as the sophomore shot 1-of-3 from the field and scored six points, but he went a perfect 4-of-4 from the free-throw line and wasn't afraid to be aggressive with the ball.
Miller put Phinisee on the court in lineups where he was one of the top offensive threats, basically forcing Phinisee's hand to either create shots for himself or others. What resulted was Phinisee driving to the basket frequently, showing no signs of the injuries that slowed him down.
With Indiana playing only three more games this month, there's still time as well to work Phinisee back into the rotations without putting too much stress on his body.
"Offensively he's steady and he's strong," Miller said. "He doesn't just fire the ball all over the place, he keeps it kind of tight."
· Starting lineup change fails to spark a stronger start: A long awaited starting lineup change arrived for the first time this season Tuesday.
Freshman Armaan Franklin was swapped for senior Devonte Green at the point guard spot, with Phinisee still not fully recovered from his injuries.
While Franklin did an admirable job stepping into the slot to start the season, his lack of offensive presence was a critique of his game, especially as the Hoosiers fell behind earlier last Saturday in Madison, Wisconsin.
Once Green recovered from a hamstring injury suffered in the preseason, it was presumed he would take over the starting job, which he did Tuesday.
The results weren't great though.
Green struggled with his shot all night long, and aside from a signature 3-pointer, which he made then posed with his right arm elongated toward the rim, he misfired on offense on his return to New York. He finished with just six points on 2-of-10 shooting, but remained an active defender, something Franklin also brought to the table in his first game off the bench.
The concept behind shifting Green from a bench to starting role is to create more instant offense for Indiana though, and to avoid early deficits.
Indiana had to claw itself out of a hole again Tuesday, as UConn led 15-6 after the opening six-and-a-half minutes.
· Versatility gives Indiana the ability to win: Scoring versatility was on display for Indiana against UConn, as 10 different Hoosiers scored a bucket, but no one made more than four shots (Brunk and Jackson-Davis).
In fact, Tuesday marked the first time in more than 20 seasons that Indiana won a game without a double-digit scorer.
"I thought that was a key message to the team coming out of Saturday, talked a lot about that coming into tonight," Miller said of his team's "scoring-by-committee" approach.
"It wasn't easy, it wasn't pretty but to find a way to get on that plane tonight, after playing in that environment, it was a good feeling for your guys."
Race Thompson was the lone Indiana player to not score in the game, but he played only four minutes.
Even on a night when scoring was at a premium for the Hoosiers, enough players contributed to the winning effort to have Miller remain confident in his team's depth.
"We just have to be really mindful around each other every single day of how hard it is to coexist with 11 players that expect to play," he said. "But if we're about the right things and we play the right way, and it's about the win, you know at the end of the day this team has a chance to be pretty good."
Photo credit: Indiana Basketball on Twitter
Filed to: Connecticut Huskies, Devonte Green, Joey Brunk, Robert Phinisee