The Minute After: Connecticut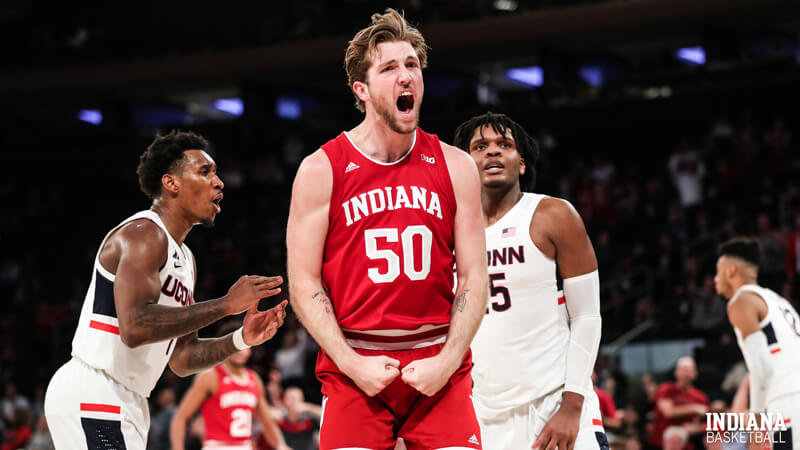 Thoughts on a 57-54 win against the Huskies:
Well, this much is for sure: No one's walking out of Madison Square Garden down 9th Ave. and dropping this game off at the Whitney Museum.
This was not art, two teams playing with grace at a high level. No, this was brutal basketball. An ugly game that stretched past midnight on the East Coast, each team bricking shots until it came to its merciful conclusion, the Hoosiers leaving the Big Apple with a hard-fought victory. Now, both teams played hard. Were tough. Gave proper effort. But save for a few lopsided scoring stretches for each team, Indiana and Connecticut never found any sort of lasting footing in this one.
The numbers: Neither team mustered even .9 points per possession. The Hoosiers scored .84. The Huskies scored .80. Indiana went 2-of-13 from 3-point range, airballing three in the first half. Connecticut shot 6-of-21 from distance. The teams combined to shoot 42-108 (37.9 percent) from the floor. Nobody from the Hoosiers scored in double figures. According to Jeff Borzello via ESPN Stats & Info, it's Indiana's first win without a double-figure scorer in over 20 seasons.
Credit to Indiana for not laying down after a rough start had them down 15-6 early. Through a mix of the Hoosiers' defense and UConn's general sloppiness, the Huskies turned the ball over on a whopping 39 percent of their possessions in the first half. All the wasted possessions coupled with an 18-3 run by the Hoosiers to close out the half flipped the script and gave Indiana a comfortable lead of 34-29 at the break. Indiana didn't shoot a free throw for nearly the first 13 and a half minutes of the game, but hit 8-of-10 to close out the first half, part of the reason for its offensive picking up steam heading into halftime.
Credit to Joey Brunk for bouncing back after a forgettable first half. Brunk had a rough start. He couldn't contain Josh Carlton on defense and Akok Akok was eating him up on the other end with blocks. Brunk went to the bench at the 13:29 mark with zero points on 0-of-4 shooting. Archie Miller never put him back in the game the rest of the first half. But Miller went to Brunk again in the second half with a starting spot and he delivered with grit and determination. Brunk scored nine second half points (4-of-6). Those nine points were enough to lead the Hoosiers in scoring. With the Hoosiers down two (42-40) with 7:09 to go, Brunk converted on an and-1 to put the Hoosiers up. On Indiana's next possession, Brunk scored again to put the Hoosiers up three. They never trailed again.
Rob Phinisee finally made his way back into the lineup this evening. While he didn't start and played limited minutes (13), he made his presence felt. In a hectic game, the sophomore helped steady the ship for the Hoosiers. He went 4-of-4 from the line, grabbed four rebounds and dished out two assists. If Phinisee remains healthy enough to play, his eventual return to the starting lineup will be welcomed. Devonte Green, Al Durham and Armaan Franklin have been adequate as ball handlers for IU in Phinisee's absence. But this team is better with Phinisee running the show.
Indiana will be awarded no style points for this one. But sometimes games get ugly and messy and gross. The Hoosiers gritted this one out. For tonight, that was good enough.
Photo credit: Indiana Basketball on Twitter
Filed to: Connecticut Huskies