Joey Brunk shows perseverance in Indiana's Jimmy V Classic win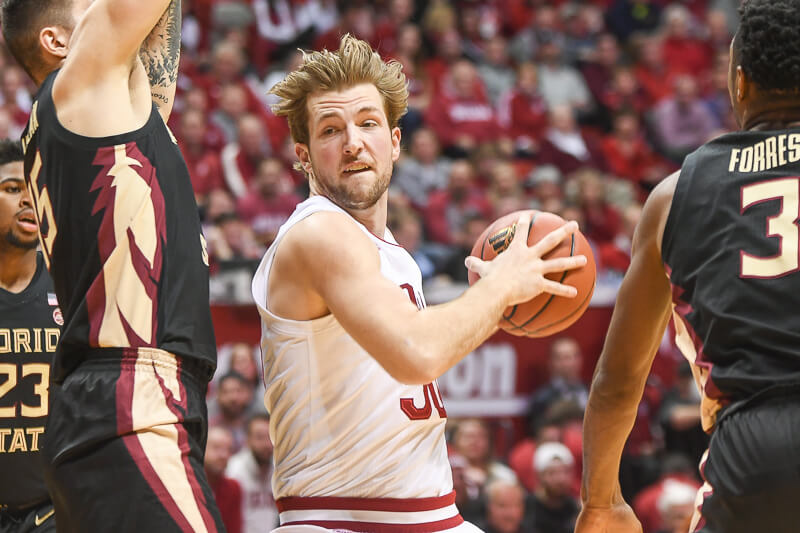 NEW YORK — Joey Brunk tried as hard as he could to not make it about him.
No matter how many ways he was asked in the lead up to it, Indiana's transfer forward refused to speak at length or in-depth about the meaning of Tuesday night's game inside Madison Square Garden.
He said what any first-year Hoosier would, that the bright lights and big stage of a primetime nonconference game against UConn were what he came to Indiana for.
More tellingly, he pushed his personal connection to Tuesday's event to the side.
The Jimmy V Classic supports the V Foundation for Cancer Research, a cause close to Brunk after the passing of his father in April 2017 due to brain cancer.
Only once it was settled, and Indiana emerged 57-54 victors in a physical game that saw Brunk lead the team with nine second-half points, did he let people in.
Brunk never said Tuesday was different for him, because it wasn't.
"My dad, I think he's watching every game," he said postgame. "I know, I'm sure he's watching tonight. I think about him nightly, so it's not like tonight…is anything out of the norm."
Nearly three years removed from his death, Brunk shared his story on the national stage.
There was a video package featuring him that played on the Madison Square Garden jumbotron. It also aired on ESPN, and after the game Brunk was interviewed by Holly Rowe, the network's sideline reporter who is herself a cancer survivor.
The narrative surrounding Brunk's involvement in the Jimmy V Classic is something out of his control.
A game that exists as part of a cancer research fundraiser, featuring a player whose life has been so intimately touched by the disease, is bound to draw parallels.
Brunk can't alter that.
What he remained in control of was his on-court performance, something that drastically changed from the first to the second half Tuesday, and something entirely of Brunk's own making.
After a much-criticized performance against Wisconsin which saw Brunk be slow to close out and unable to keep up on drives to the rim, he also struggled at the start against the Huskies.
Brunk only got one run of playing time in the opening period. The first seven minutes of the game saw him miss all four of his shots, gather just one rebound and routinely get outmuscled and outskilled by UConn junior Josh Carlton and freshman Akok Akok.
Attempted layups were swatted away by Akok, Carlton cleaned up on the glass with ease and an early nine-point deficit for Indiana was largely Brunk's fault.
"Obviously it was a grinder of a game," Archie Miller said. "It was very hard to finish around the basket. He (Brunk) struggled there for a little bit getting his feet on the ground and getting some easy baskets."
Indiana's best period of play in the game came with Brunk benched for the remainder of the first half. A smaller lineup featuring freshman Trayce Jackson-Davis at center saw Indiana go from 10 points down to five points up in the final five minutes of the first half.
But Brunk was back in the lineup to start the second half.
Within 90 seconds he had his first basket, although his most significant contributions came in the final eight minutes of the half.
Stagnant and stale are sensitive words to describe the second-half shooting for both teams.
Indiana went 9-of-31 from the field in the second half. UConn wasn't much better at 10-of-28.
The offensive pace was at times frenetic, but it was mainly just poor decision-making from both sides.
UConn coach Dan Hurley pointed to his team's 22 turnovers (a season-high), from mistakes like over-penetrating and trying to split ball screen defense, as reasons for UConn's unraveling.
"There were probably 25 different ways we could have won that game," Hurley said.
Miller's thoughts on the period, which featured a more than seven-minute scoring drought for Indiana (from the 15:21 mark to the 8:02 mark of the second half), were more succinct.
"Things became very stagnant," he said.
So enter Brunk, who approached his second run in the second half with the energy and emotion that evaded the Hoosiers last Saturday against Wisconsin.
He played tough around the rim, sealing off defenders to allow Al Durham to drive to the basket. Brunk was combative on loose balls, wearing down Carlton, who played a UConn team-high 36 minutes, to score a pair of layups and a hook shot.
In a half largely devoid of coherent offense, Brunk scored seven straight points in a two-minute span, taking a two-point UConn lead (with 7:19 to go) and turning it into a two-point Indiana lead (with 5:21 to go) that never again swayed the way of the Huskies.
"I thought he went back to the basics of what he's been doing very well all year," Miller said. "He ran to the rim, got a key transition post-up when we needed it…to his credit he didn't get down. He stayed with it and I thought the guys on the team, especially the staff as well, kind of kept everybody engaged."
On defense, Brunk was sturdy, registering a block and combining with Justin Smith to make life on the interior difficult for UConn's big men.
"Sometimes credit Indiana," Hurley said. "Just (a) tough, physical Big Ten team. If you drive the ball flimsy or weak, they're really physical."
Jackson-Davis checked out when Brunk checked in with 8:19 to go. He didn't return until there were less than 80 seconds left, as Brunk more than held his own.
"That was not a game for young players," Hurley said. "That was a very physical game."
Tuesday's win was an exercise in Indiana's "score-by-committee" mentality.
Ten different Hoosiers had a basket. No one made more than four shots (Brunk and Jackson-Davis), and no Indiana player scored in double figures, the first time that's happened in an Indiana win for more than 20 seasons.
"All 11 guys have a chance to play and I'm not afraid to play any of them," Miller said.
Miller had plenty of reason not to play Brunk on Tuesday night.
He did so anyway.
"It can be anybody's night," Durham said. "Tonight it was Joey's."
Filed to: Connecticut Huskies, Joey Brunk