Devonte Green and Rob Phinisee out for exhibition, battling injuries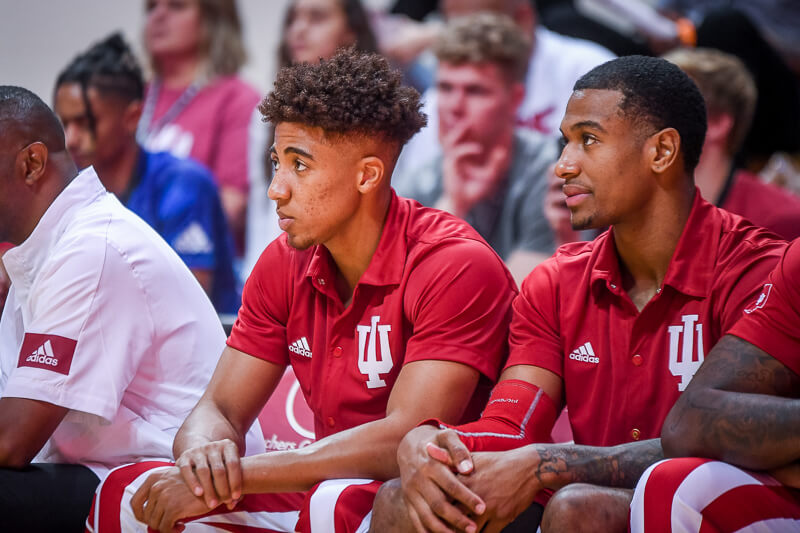 After not participating in Hoosier Hysteria and not playing in the secret scrimmage against Marquette, Archie Miller said guards Devonte Green and Rob Phinisee will not play in tomorrow night's exhibition against Gannon.
According to Miller, Green has been dealing with a hamstring injury, which has caused him to be in and out of practicing as of late.
"Hamstring's are delicate," Miller said. "We want to make sure we're putting him in a situation where he's confident."
As for Phinisee, Miller said he has a lower abdominal injury.
"It's something that's not very common," Miller said. "He's been uncomfortable with that. It could be something that he has to deal with here for some time — just managing it."
With all the questions surrounding how Indiana will form its lineup this season, Green and Phinisee seemed to be the sure starters when it came to the backcourt.
The two guards referred to themselves as Batman and Robin a season ago, and Green expanded to say they were both Batman. The tandem averaged 8.1 points combined last season.
They also combined for 179 assists, which was nearly 40 percent of the team's assists a year ago.
Senior forward De'Ron Davis said if Green is on the court playing shooting guard, he knows he'll be on the wing ready to shoot, whereas Phinisee is an outlet to keep the ball moving on offense since he isn't as aggressive as Green. So, without them on the floor, Davis believes it's on the frontcourt players to stay aggressive on the low block.
"We gotta continue to do what the coaches preaching, and that's run the floor hard on offense and defense," Davis said. "With some of our players down in the backcourt, as frontcourt players we need to put pressure on the defense in the middle of the paint."
Miller put a positive spin on his guard's injuries at Monday's press conference, saying how it has allowed other players to step up and gain more experience.
In the scrimmage against Marquette, freshman guard Armaan Franklin led the team in scoring with 14 points. Junior Al Durham got important minutes running the point guard, scoring 11 points and dishing out four assists. Franklin also added in three assists.
Expect to see a lot of Durham, Franklin and Damezi Anderson in the backcourt in the early parts of November. Miller doesn't think Green and Phinisee's injuries are severe and hopes to have them back on the floor soon.
"Both guys are very important to what we're doing," Miller said of Green and Phinisee. "Erring on the side of caution here in October is the smart thing to do. But, you know, we'll have some other guys hopefully that will have the ability to step in and get some minutes, and that's always important as well."
Filed to: Devonte Green, Robert Phinisee