That's A Wrap: Jerome Hunter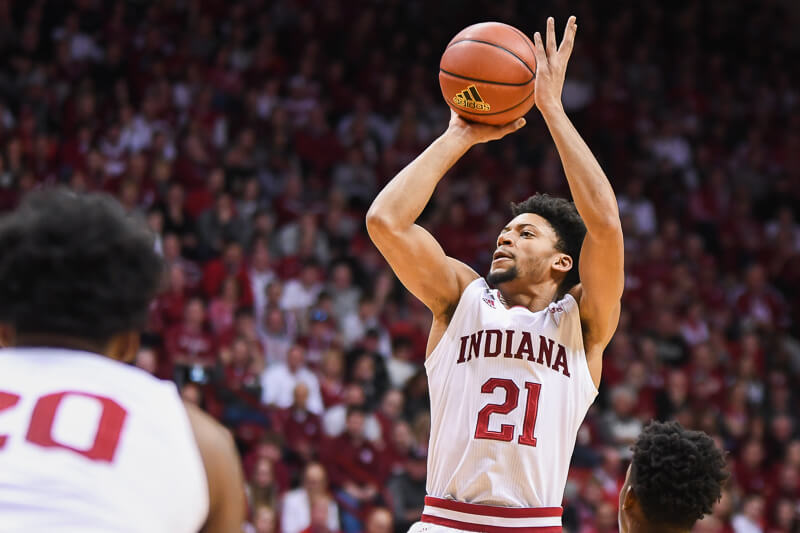 Welcome to "That's A Wrap," our player-by-player recap of the 2019-2020 Indiana Hoosiers. Today: Jerome Hunter. Previously: Armaan Franklin, Trayce Jackson-Davis, Damezi Anderson
Hunter (30 games): 3.8 ppg, 2.1 rpg, 0.3 apg, 35% FG, 30.2% 3PFG in 14.4 minutes per game
It was a long wait for Hoosier fans to see Jerome Hunter hit the floor after he had surgery on his leg in 2018 and had to redshirt the 2018-19 season.
But Hunter's year-long recovery allowed him to play this season, and he was able to show flashes of what he can be on this Indiana team.
Hunter came to IU as a four-star recruit out of Pickerington, Ohio, and he's a 6-foot-7 forward who can stretch the floor with his shooting.
In Indiana's first three games to start the season, Hunter scored seven, nine and 12 points, respectively. It was in that second game against Portland State where Hunter hit two 3-pointers and really showed how effective he can be in the lineup.
When Indiana went small early on in the season and had Hunter and Justin Smith at the three and four positions, with Trayce Jackson-Davis at the five and two guards, the Hoosiers' pace and transition game improved immensely.
But after those first three solid games, Hunter went into a rough patch, especially with his outside shooting. Hunter went 10 straight games without making a 3-pointer, going a combined 0-of-14 from deep and 6-of-25 from the field.
Archie Miller reiterated throughout the whole season how Hunter is essentially a "true freshman" and he had to basically reteach himself how to play basketball again after missing so much time due to the injury.
As Miller expected, the more time Hunter got on the floor, the more comfortable he became. He broke his shooting struggles against Northwestern on Jan. 8, and then things started to come together. The very next game against Ohio State at home, Hunter had his best game of the season, but he did it in a different way than shooting the ball.
Hunter played 19 minutes, missed and attempted just one shot, but he got to the foul line six times, made five, and played good defense, as well as cut in the flow of the offense, which was something he hadn't done much.
"He gave the best minutes all season long at that wing position," Miller said after the win. "Jerome impacted the game in a real positive way, in particular defensively. But he's big, he's physical, he's going to get more confident, get more rhythm."
The rhythm and confidence followed suit as Hunter made two or more 3-pointers in four of Indiana's next six games. He tied his career-high in points when he scored 12 against Maryland at home, going 3-of-6 from downtown.
Down the stretch of Indiana's season, Hunter had some huge shots in desperate moments. On Feb. 23 against Penn State at home, the Hoosiers were up 19 points on the Nittany Lions in the first half, then gave up a 30-5 run that carried into the second half, and Penn State went up by six.
But with 11:25 to go, Hunter hit a huge 3-pointer to cut the deficit to three and gave IU the satisfaction of seeing the ball go through the hoop. Indiana carried that momentum and won the game 68-60.
Then on March 1 at Illinois, Indiana was down five in the second half until Hunter hit two 3s in a row to catapult the Hoosiers back in the lead.
According to Synergy Sports, in spot up opportunities this season for Hunter, he scored 51 points on 55 possessions, finishing with a solid 0.927 points per possession.
It wasn't the most consistent season from Hunter, but as the season progressed, he became more comfortable with his shot and became a much-needed spark from the outside for Indiana.
Bottom line: Defense and passing are areas where Hunter needs to improve going forward for Indiana. But overall, Miller has a solid piece next season (and beyond) with Hunter. He can stretch the floor with shooting, and he can post up smaller guards when presented the opportunity. When he was ill for a 15-point road loss to Penn State and couldn't play, it was noticeable Hunter wasn't on the floor. Even if he isn't putting up flashy numbers, Hunter is a necessary presence on the court for Indiana. With his first playing year under his belt, expect only improvement in all facets for the soon-to-be sophomore.
Quotable: "To be all the way the honest, Jerome has a whole other level that he is capable of playing at. I know that Jerome has the potential to be an all-around player at IU, an impact player and, like, All-Big Ten type player. That's by far his ceiling." — Andreas James, Hunter's trainer, to Inside the Hall after Indiana defeated Ohio State.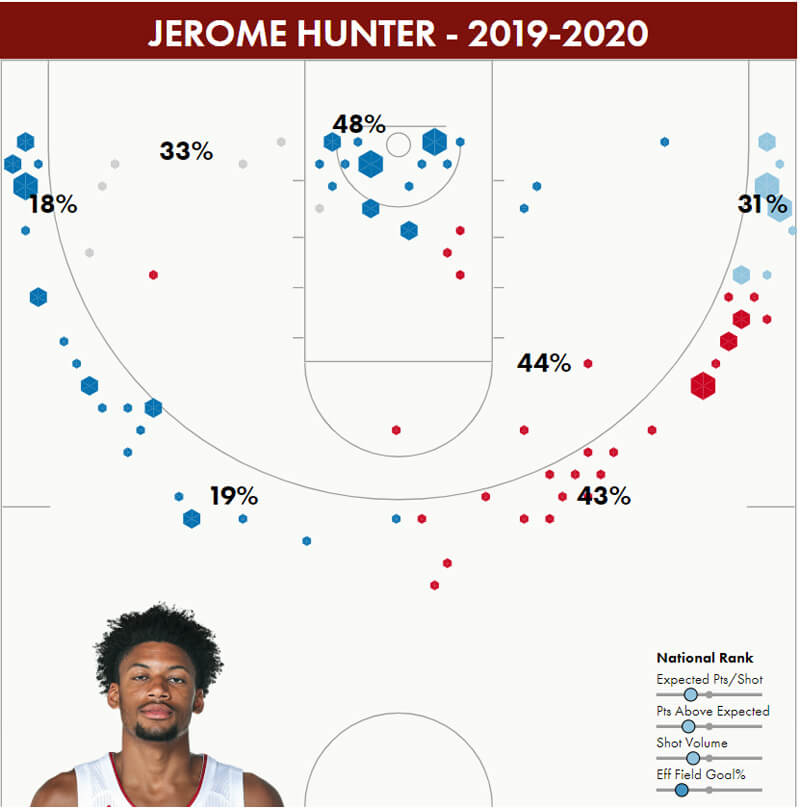 Filed to: Jerome Hunter