Five takeaways from Indiana's loss to Maryland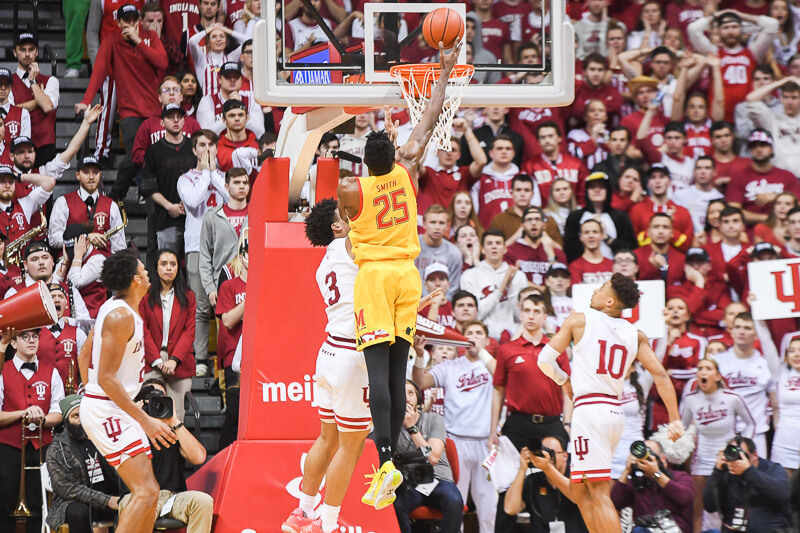 Indiana battled, but dropped a close one on Sunday afternoon, 77-76 to Maryland, on Sunday afternoon at Simon Skjodt Assembly Hall. The loss dropped the Hoosiers to 15-5 overall and 5-4 in Big Ten play.
Here are five takeaways from the loss to the Terrapins:
· Defense struggles, particularly in the first half: While Indiana's offense put together one of its better performances of the season in Sunday's loss, its defense struggled for a good part of the afternoon.
Indiana allowed Maryland to get comfortable from the perimeter early in the game – the Terps made their first four 3-point attempts – and it resulted in 45 points on 29 first half possessions (1.55 PPP).
After knocking in 13 3-pointers in Wednesday's win at Northwestern, Maryland hit 12 in Sunday's win, their second highest output of the entire season.
And even though Indiana was able to limit Maryland to just 3-of-12 shooting from distance in the second half, the Terps confidence built in the first half never went away. Maryland trailed 74-67 with 2:37 to play, but the Terps made their final two 3-point attempts – one by Anthony Cowan and one by Aaron Wiggins – to pick up their second straight road win.
"The way that they're playing five out, their frontcourt players shooting 3-point shots, the way that they shoot 3-point shots," Archie Miller said. "Jalen Smith is the center, and he goes 4 for 6. Ricky Lindo comes out of there and goes 1 for 1, and Donte Scott goes one. So when you look at it, their frontcourt made half their threes at the center position, in the power forward position, six made 3s."
· Poor late game execution dooms Hoosiers in narrow loss: Indiana's late game execution in Sunday's loss was a major reason it was unable to protect a seven-point lead with under three minutes to play.
After Maryland got within four at the 2:22 mark, the Hoosiers didn't get a great shot on their next possession. With 10 seconds left on the shot clock, Devonte Green missed a 3-pointer. Maryland couldn't convert on its subsequent possession and Indiana was able to push the lead back to six with 1:25 to play on a Green bucket in the paint.
Jalen Smith brought Maryland back to within four with 1:08 to play and Indiana then came up empty in its final three possessions as the Terps closed the game on a 7-0 run.
Indiana's final three possessions included a turnover by Jerome Hunter, a missed Devonte Green shot in the paint and a point blank miss by Trayce Jackson-Davis as time expired. Despite scoring a healthy 1.33 points per possession in the second half, Indiana scored just once in its final five possessions.
· Jalen Smith dominates Indiana frontcourt: It didn't matter who guarded Smith on Sunday afternoon. The Maryland sophomore had a career-high 29 points in the win on an efficient 10-of-14 shooting performance.
Smith was 6-for-8 on 2s, 4-for-6 on 3s and 5-for-7 from the free throw line and added 11 rebounds, two assists, two blocked shots and a steal in 35 minutes.
Smith scored Maryland's first six points of the game and he scored the game-winner with 14 seconds to go to lift Maryland to its 16th win.
· Jerome Hunter continues to emerge in IU frontcourt: After an undisclosed leg injury kept redshirt freshman Jerome Hunter out for the entire 2019-20 season, it's been a process for the Pickerington North product to return to the form he showed as a high school player.
But Sunday was another step in the right direction for Hunter. His 27 minutes were second on the team and a season-high and Hunter continues to show confidence as a guy who can space the floor, score in the paint and get to the foul line.
Hunter's 12 points tied his career-high and his three made 3-pointers were the most he's made in a game thus far.
"He's added value in a lot of ways," Miller said of Hunter. "He's doing a better job defensively. He ends up getting double figures here tonight but made three big shots, but that's what he can do. He can add some offensive firepower."
· Indiana posts a season-low 10.5 turnover percentage: Taking care of the ball was pivotal in Indiana's 67-63 win over Michigan State as the Hoosiers committed just eight for a turnover percentage of 12.5.
Sunday was another sign of progress for the Hoosiers as they turned it over just six times for a turnover percentage of 10.5.
Indiana also assisted on 22 of its 30 made baskets and its ball movement offensively was as good as it has been all season.
Filed to: Maryland Terrapins