The Minute After: Maryland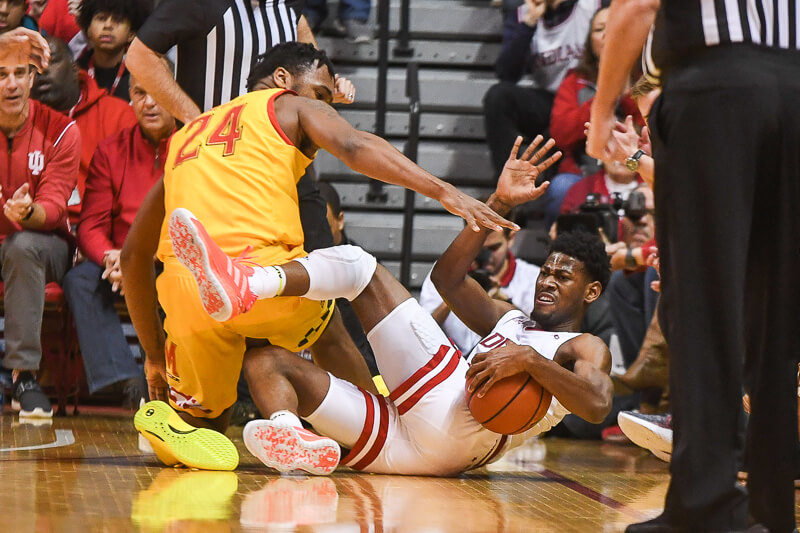 Thoughts on a 77-76 loss to the Terrapins:
What an absolute gut punch. Oof.
The Terrapins started the contest with a shooting barrage, scoring as high as 1.90 points per possession at one point in the first half. It helped them amass a 14-point lead at the 6:58 mark on a Darryl Morsell 3-pointer. But the Hoosiers were making shots of their own and held as strong as they could. Indiana got it within nine by halftime and that felt like a small victory. The stats over the first 20 minutes were impressive. Both teams had scored well over a point per possession (1.56 for Maryland; 1.25 for Indiana) and each had turned it over on just 10 percent of their possessions. Maryland shot 9-of-17 (52.9 percent) from distance with the Hoosiers making 6-of-9 (66.7 percent). Maryland's effective field goal percentage of 69 was just a bit higher than Indiana's 64.
But as the second half began, the Hoosiers really started to find something. After missing some bunnies in the first half and going scoreless, Joey Brunk came alive and had three buckets in the first seven minutes of the second half. Several other Hoosiers were involved early, too, as Rob Phinisee, Devonte Green, Trayce Jackson-Davis, Al Durham and Justin Smith all scored. The nine-point lead from the Terrapins at half vanished. They went cold from the outside. Indiana was up by as much as eight in the second half and held that lead as late as the 7:35 mark. It felt like the scales had tipped in this one. Indiana had sustained that early run from Maryland, asserted their will more in the second half and were at the advantage down the stretch. But the Hoosiers were never able to throw the knockout blow when they had the Terrapins on the ropes.
And after Maryland spent most of the second half a little rushed on its 3-point attempts or simply missing open ones — they were just 1-of-9 late — the shooting came back around when it was absolutely necessary to save the game. Anthony Cowan banged one home to cut the lead to four points with 2:22 to go. Off an Indiana turnover, Aaron Wiggins drilled another to cut the lead to 76-75 with 55 seconds left. That 3-pointer came sandwiched inbetween two layups from Jalen Smith, who was an absolute terror in this one. Smith scored a game-high 29 points, including a 4-of-6 mark from distance. He's a tough matchup with his ability to play inside and out and Indiana just didn't have enough to contain him. That second Smith lay-up with 14 seconds left put Maryland up for good at 77-76. The Terps had quickly erased a six-point Indiana lead in just over a minute of game clock.
Jackson-Davis had a pretty good look in the paint for the go-ahead bucket, but it narrowly missed and the Hoosiers weren't able to get another second-chance look. And that was the ballgame.
It was a crushing finish to what was shaping up to be one of the best wins of the Archie Miller era. It's certainly a loss and will count as such forever. But off the rigors of the Michigan State contest just on Thursday, Indiana played a heck of a game in this one, mounting an impressive comeback and having one of its best offensive games of the season, though its defense wasn't great (1.3 points per possession for Maryland). Their 1.28 points per possession were the most for the Terps of the Big Ten season and most since 1.29 against Troy on Nov. 16. The Hoosiers hit 9-of-19 (47.4 percent) and 7-of-10 (70 percent) from the line. Indiana was versatile in its sets. Green (16 points), Jackson-Davis (13 points), Jerome Hunter (12 points) and Phinisee (10 points) all scored in double figures.
But Indiana failed to close this one out and that's the story. Things get no easier for the Hoosiers with road games against Penn State and Ohio State up next. They must quickly move on from this one because the gauntlet of this Big Ten season waits for no team.
Filed to: Maryland Terrapins