Five takeaways from Indiana's win over Northwestern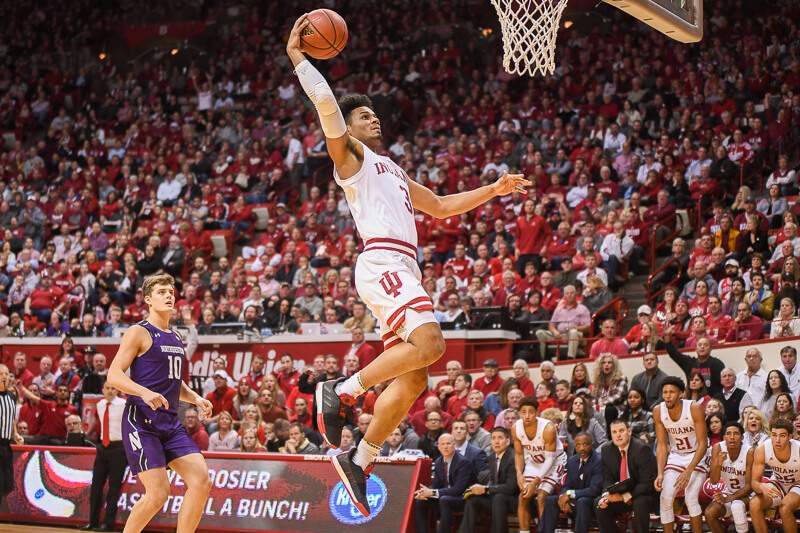 Indiana snapped a two-game losing streak on Wednesday night with a 66-62 win over Northwestern at Simon Skjodt Assembly Hall.
Here are five takeaways from the win over the Wildcats:
· Indiana found a way … regardless of how ugly it was: When Indiana trailed 50-40 with 11:59 remaining, it appeared the Hoosiers were on their way to the most deflating loss in Archie Miller's tenure.
Northwestern, the worst team in the Big Ten, was in control on Branch McCracken Court with just eight scholarship players available. The Assembly Hall faithful booed and it was fair to wonder if Indiana was just going to let the game play out without a fight like it did a season ago against Nebraska and Michigan.
But this time, Indiana didn't give in. The Hoosiers fought back, got engaged defensively, stopped committing turnovers and ultimately found a way to win the game.
A trimmed down rotation was the catalyst down the stretch as Miller simply rolled with the guys who deserved to be on the floor. And it might be a sign of things to come as Miller admitted in his postgame remarks that changes could be coming soon as Indiana's lackadaisical approach at times can no longer be tolerated.
"We're going to have to eliminate some of that, what are we getting, and understand like moving forward, we need to know what we're getting," Miller said. "And I think as a staff, as you're kind of coming in here right now, we can really take some of the confusion out; we just play as many guys as we need to play to win the game and who is playing the hardest."
· Durham provides guard production, leadership down the stretch: It had been a rough three-game stretch for Al Durham Jr. entering Wednesday's contest.
The lefty guard had a total of just 12 points against Notre Dame, Arkansas and Maryland and his ejection against the Razorbacks was a costly mistake.
But Durham returned to the effective form he showed often in November with a 16-point night against Northwestern. Durham didn't shoot it well from the field (2-for-7) and took some wild shots at the rim, but he was aggressive and got to the line 12 times, which was a big offensive boost for the Hoosiers.
More importantly, the junior looked like a leader down the stretch for an Indiana team that is desperately lacking one in its senior class.
· Smith flips the script with strong second half: Justin Smith's first half against Northwestern was forgettable.
The junior forward committed five turnovers and wasn't nearly as sharp as he needed to be with his decision making. And in the second half, he showed some frustration as he walked to the bench and had a brief conversation with Miller before taking a seat.
But overall, Smith's play in the second half – 13 points, five rebounds and three steals – was impressive.
"I was a little bit surprised coming out with five turnovers," Smith said. "I didn't expect to do that. But I kind of really took a step back and realized I had to probably slow down a little bit — trying to make something happen a little bit too quickly. In the second half I was kind of able to get back to how I had been playing this season, and luckily it played out well."
· Indiana's defense continues to underwhelm: Through four games, Indiana's defense is one of the Big Ten's worst.
And as scrutinized as the offense has been in recent weeks, the defense might be the more alarming problem.
The Hoosiers allowed Northwestern to get comfortable early, which gave the outmanned Wildcats confidence that never went away. And despite allowing Northwestern to score only .89 points per possession, Indiana's defense in league play is allowing 1.1 points per trip overall. Two of IU's opponents in the opening four games have been the league's worst teams in Northwestern and Nebraska.
Where do the changes defensively need to start? Listening to Miller's postgame comments, it sounds like an effort issue more than anything else.
"We'll have to find the guys ready to roll at the start of a game that are ready to play like we need to play, and like our fans and our crowd and everybody wants to see," he said. "And nobody needs to see anybody jogging up and down the floor not playing hard. That's just not going to work. And it starts with practice. I think we've had good practices. We've had competitive practices. But on game day we need production.
"And we're looking for effort, energy and hustle more so right now than we're looking for anything else. That's going to give us more confidence than we had couple weeks ago. But it's hard. Navigating deep waters. Lose a couple here and there. Lose confidence, what's wrong, blah, blah, blah, and it can play a role. That's when you need your older players and you need your most experienced guys come ready to roll."
· Jackson-Davis continues to roll: Freshman forward Trayce Jackson-Davis has been Indiana's most consistent player through the first 15 games and his performance against Northwestern was just the latest example.
The Center Grove product finished with 21 points in the win and through four league games, he's averaging 15.5 points, 7.5 rebounds and 2.3 blocks per game. All of those numbers are team bests.
While some of Indiana's players struggle to bring the same level of effort on a game-to-game basis, Jackson-Davis has been bringing consistent production all season.
Filed to: Aljami Durham, Justin Smith, Northwestern Wildcats, Trayce Jackson-Davis