Miller debates shortening rotation: 'Strength in numbers is only going so far right now'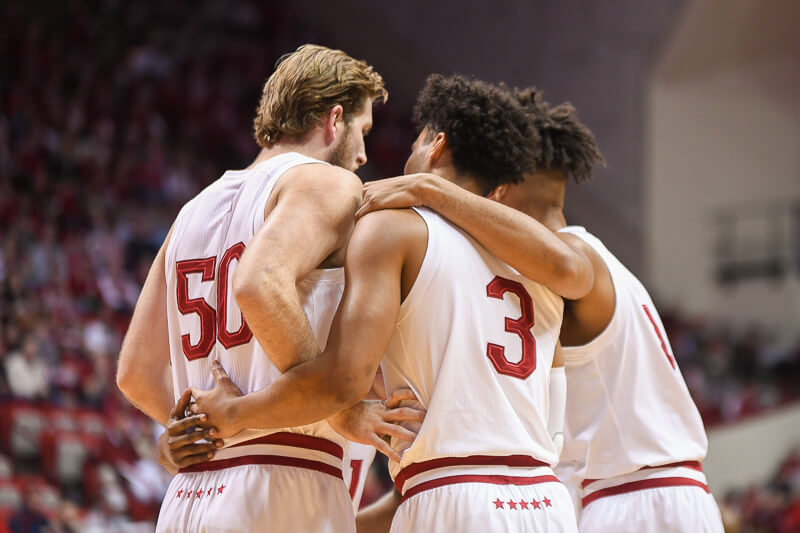 In the final 10:38 of Indiana's 66-62 win over Northwestern Wednesday night, Archie Miller only made three substitutions.
Once to put in Rob Phinisee to spell Al Durham, another time to put Durham back in for Armaan Franklin, and finally to put Franklin in for Joey Brunk at the end for free-throw shooting.
No changes were major, and it had Indiana playing the same style down the stretch. At that point in the game — 10:38 remaining — IU was down 10 points to a team that has yet to win a Big Ten game.
In the first 10 minutes of the second half, Miller made nine different substitutions. In the first half, there were 18 subs. So, the minimal substitutions in the game's final 10:38 worked out for Indiana as the Hoosiers started to make a run by getting to the free-throw line, running in transition and playing better defense.
It gave Indiana energy, sparked the crowd and helped the Hoosiers surge in front to secure the victory to even their Big Ten record to 2-2.
That rotational strategy may be something Miller wants to do more going forward. After the game, he was conflicted about the luxury he thought he had at the start of the season, which was being able to play all 11 scholarship players.
So far, Miller has stuck to that plan. But lately, it hasn't been working out for the Hoosiers, and he has noticed.
"I'll be honest with you, I don't necessarily know right now if the 11-guy rotation is going to work," Miller said. "I just don't know necessarily if that's the best thing moving forward if we're not going to get all 11 heated up and playing as hard and as unselfish as we possibly can. It may be five. It may be just five. I don't know."
But if the rotation is really going to shrink, which players aren't going to be seeing minutes?
Damezi Anderson and Jerome Hunter are some of the first candidates that come to mind, but they are usually first off the bench to play the three position when Justin Smith isn't playing well. In the first half against Northwestern, Smith had five turnovers, and Hunter and Anderson both saw some action.
According to KenPom, over the last five games, Smith has played 50 percent of the time at the small forward position, while Anderson and Hunter have played 30 percent and 17 percent, respectively.
Race Thompson and De'Ron Davis are other options as well. Their minutes have been scarce this season and in the 10 most frequent lineups used over the past five games, Thompson is featured in just one of them (sixth-most frequent) while Davis is in none.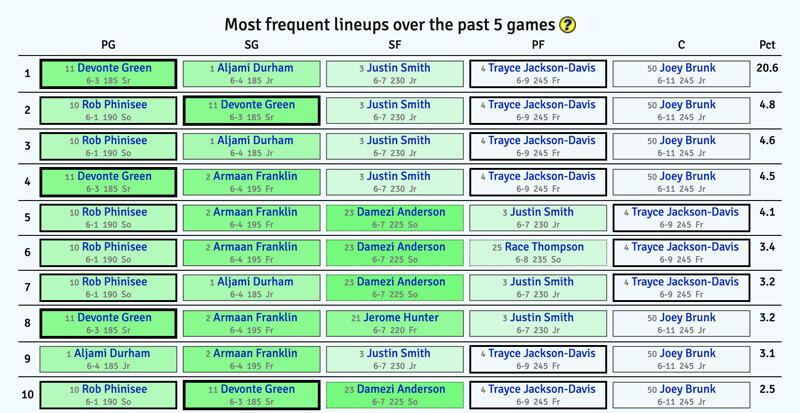 But Miller said on his radio show on Monday that the team will need Davis in Big Ten play.
Considering Brunk, Smith and Trayce Jackson-Davis are the starters and three of the team's most productive players, they are safe. That trio, who closed out the game Wednesday, are used together in five of the 10 most frequent lineups.
It's hard to imagine any of the guards seeing a slippage in minutes, especially with the lack of depth at that position and the importance Miller has tasked his backcourt quartet with.
If there had to be one guard, the easy guess would be Franklin because he's a freshman, but based on what occurred against Northwestern, could it be Devonte Green?
Green hasn't been himself ever since scoring 30 points against Florida State over a month ago. Green went 0-6 against Northwestern and played only seven minutes in the second half, finishing the game with one point.
It's unknown what exactly Miller plans to do with his rotation, but the bottom line is he doesn't seem pleased with the efforts of certain players.
"It just doesn't seem like our group is just locked in on, 'I do my job when I come in the game,' and it just seems like we have some guys that are really unsure," Miller said. "I think that's why we have some turnovers, and I think that's why we're playing lethargic defensively. Like I said to them after the game, strength in numbers is only going so far right now. The number has to shrink, maybe, in my opinion for some guys to get a jolt."
Perhaps a shorter rotation, like the final 10:38 of the Northwestern, can help Indiana get out of its offensive struggles (they didn't score in the final 7:05 of the first half) and get the Hoosiers in more of a rhythm.
The last three games have consisted of the same problems that don't seem to be going away for Indiana. Whether it's offensive ineptness, defensive lapses or lack of leadership, the season is slowly becoming on the ropes for the Hoosiers and maybe shortening the rotation can help change that.
Depth might not be a strength for Indiana anymore, and it will be interesting to see how Miller shakes up the rotation in the future, especially with No. 11 Ohio State looming on Saturday.
"We've got to punch through this wall right now," Miller said. "We're struggling a little bit of a rut and we've got to punch through that wall a little bit and I'll say if you're not ready to go on Saturday, that's a problem."
Filed to: Archie Miller, Northwestern Wildcats