News and notes from Archie Miller's radio show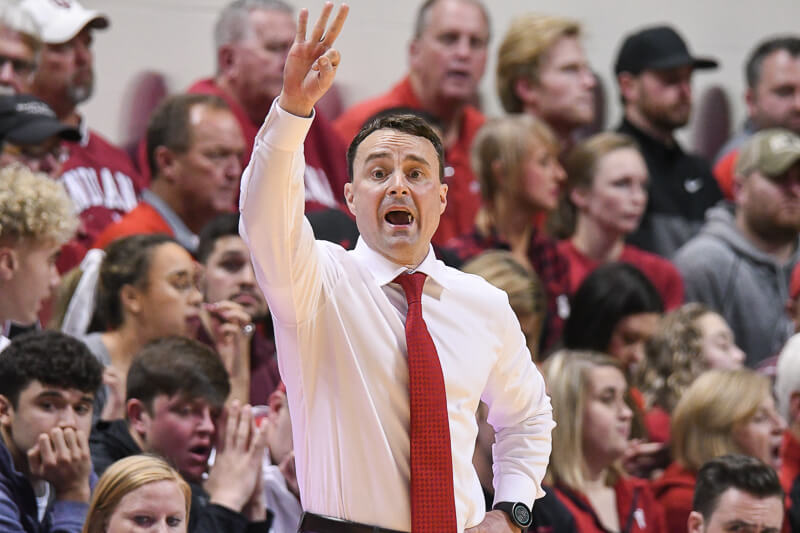 "Inside IU Basketball with Archie Miller" returned Monday night after a brief winter break with Archie Miller and junior forward Justin Smith spending a combined hour with host Don Fischer to discuss the games which took place since the last radio show (a win over Notre Dame and losses to Arkansas and Maryland).
The show also addressed criticism of the team's shooting ability and what needs to change for the Hoosiers to be more competitive in conference games on the road.
Here are the highlights from Miller and Smith's evening with Fischer.
– Reflecting all the way back on Indiana's two-point win over Notre Dame in the Crossroads Classic on Dec. 21, Miller thought the Hoosiers played 25 really good minutes against the Fighting Irish before things started to slip away around the 10-minute mark of the second half. Miller said his team went cold from the field on offense, struggled to get to the foul line (as they did all game) and were also poor in transition defense.
– During crunch time of the game, Miller said freshman guard Armaan Franklin was a standout player, not just because of the clutch 3-pointer he hit, but also with the recovery he showed on defense and the poise he played with.
– Analyzing his team's home loss to Arkansas to close out 2019 and end nonconference play this season. Miller said committing key turnovers and not playing smart basketball (a possible reference to Al Durham's ejection), were what cost Indiana the win.
– Looking at Indiana's most recent game (Saturday's blowout loss at Maryland), Miller said the result was "misleading in terms of what was going on out there." He pointed out how Indiana faced only a single-digit deficit coming out of halftime, and that the margin was trimmed to just three points before the wheels fell off for Indiana. Specifically, Miller said consecutive run-outs and scores by the Terrapins shifted the momentum at a noisy Xfinity Center in College Park, Maryland.
– This led to a wide-ranging discussion about the key issues that came out of the Maryland game, namely Indiana's ability to consistently produce good offensive possessions, hit open shots and compete on defense. Miller stressed that Indiana needs to do a better job controlling the things it can control, and that those things, like making free throws, not turning the ball over and making the extra pass, will help everything else fall into place.
– Miller was pretty direct when speaking, saying that Indiana isn't getting good looks right now from "the typical basketball plays," and that guards are missing opportunities for assists. "We're making it harder on ourselves…it's just a timing thing for us of late."
– Miller also discussed the type of games that Indiana will have to find a way to win on the road in the Big Ten. He said Big Ten games have a tendency to get ugly, and Indiana must learn how to "muck it up" by getting loose balls and rebounds. He also credited Maryland, saying the Terrapins "absolutely destroyed us with those run-out plays in the second half."
– For Miller, Indiana's issues aren't a result of poor practice habits. "It's perplexing, because we had an unbelievable work week heading into Arkansas and after Arkansas heading into Maryland," he said. Miller singled out the IU frontcourt for raising its activity level in practice, and as a result changing its minutes distribution. Miller said De'Ron Davis and Race Thompson have provided better competition for Joey Brunk and Trayce Jackson-Davis in practice and have also run the floor better in recent weeks.
– While that four-man group has improved, he's still waiting on Indiana's four-man backcourt to do the same. To that point, Miller said, "I'm waiting for our backcourt to kind of step up," and went on to say the Hoosiers haven't found the night-in, night-out consistency from the guards that they would like to have.
– Part of the reason this is disappointing for Miller is because of how pleased he's been with the way Indiana's frontcourt players have dealt with opposing defenses as the season has evolved. Miller said that as opponents have started to "throw the kitchen sink" at Indiana down low, the bigs like Brunk and Jackson-Davis have done a good job of kicking the ball back out. But then, perimeter players have not taken advantage by neither getting quality shots, nor hitting them.
– There are also defensive frustrations for Miller. He said the Hoosiers haven't created enough turnover plays on that end of the court, and there's little defense to offense carryover occurring.
– The most noteworthy moment of the night, and certainly the one creating the most social media reaction, came when Miller told Fischer "it's complete BS" regarding criticism that Indiana can't shoot the ball well. While this differs with the statistics compiled by the Hoosiers this season, in particular in games against quality opponents, Miller explained his response by saying that if the correct passing and positioning occurs offensively, Indiana's shots will go down.
– Since his second-half resurgence in the Jimmy V Classic against UConn, Joey Brunk has become a consistent scoring and rebounding presence for Indiana. "He's playing great, he's rebounding really well for us," Miller said of the transfer forward. While Brunk is commanding the ball much better now near the rim compared to earlier in the season, Miller still wants to see Brunk finish stronger at the rim, something apparent during both the Arkansas and Maryland losses.
– In a summation of his coaching mentality, Miller said defense is the key to more minutes. "If I notice you on defense, I won't take you out," he said. "The effort level has to be always up, and it can't come down." Miller said that sticking with things defensively can persist through shooting slumps, but right now the Hoosiers are struggling in both categories.
– In response to incoming Class of 2020 guard Anthony Leal, Miller praised his intelligence and the maturity he is set to bring to the Indiana program as a freshman. "He has a great motor, can run all day," Miller said. Leal's current size, 6-5 and nearly 200 pounds, also bodes well for him as a perimeter player entering the college game.
– Something that Miller said will help Trayce Jackson-Davis adjust to Big Ten play will be the experience Miller went through last season with a pair of freshmen, Romeo Langford and Rob Phinisee, playing significant minutes in Big Ten play. "Things really change (for a freshman) once you get into conference play," Miller said, noting the physicality and the lack of foul calls. "He's ready for it, you just gotta do it."
– For only the third time this season, De'Ron Davis played more than 10 minutes in game during the loss to Maryland. Davis logged 17 minutes, tying a season-high, while recording six points and gathering three rebounds. Miller said it was likely a sign of things to come as conference play takes over, noting the importance of having Davis' experience and size on the court.
– In an interesting look at how college coaches adjust their practice routines once the season gets going, Miller said that January is the month that practices begin to last less than two hours. By the start of February, the time shrinks to just 90 minutes, and by the start of March, it's rare for college practices to last longer than 80 minutes as coaches adjust to the wear and tear their players experience.
– In a brief preview of the Northwestern Wildcats, Indiana's opponent Wednesday night, Miller said he projects a hard game against a Northwestern team that switches between man and zone defense when healthy and doesn't allow easy baskets. He remained ambiguous about Northwestern's offense though, saying only that they "run their stuff."
– Monday night's player guest was junior forward Justin Smith, who was honored earlier in the day as Indiana's male scholar-athlete for the month of January. Smith is studying business within the prestigious Kelley School of Business at Indiana, and said his toughest class so far has been "Entrepreneurial Finance and Venture Capital," which he explained to Fischer as simply learning how to make good investments with money.
– Speaking about on-court matters, Smith said the key development with this year's Indiana team will be learning how to win the tough games, but eventually they will get over the hump as a result.
– When discussing his leadership role on this year's Hoosier squad, Smith said he's a quiet guy who must force himself into a more vocal role, especially when things get tough on the court. Smith said no one on the team takes it personally when a teammate criticizes them, since it's all in the pursuit of winning.
– Fischer ended the show with some more personal talk with Smith, who revealed that he has a metabolism that lets him eat "basically whatever he wants" including a lot of ice cream and also that he does not currently have a girlfriend.
Filed to: Archie Miller, Justin Smith