Similarities with last season arise as Big Ten play is set to resume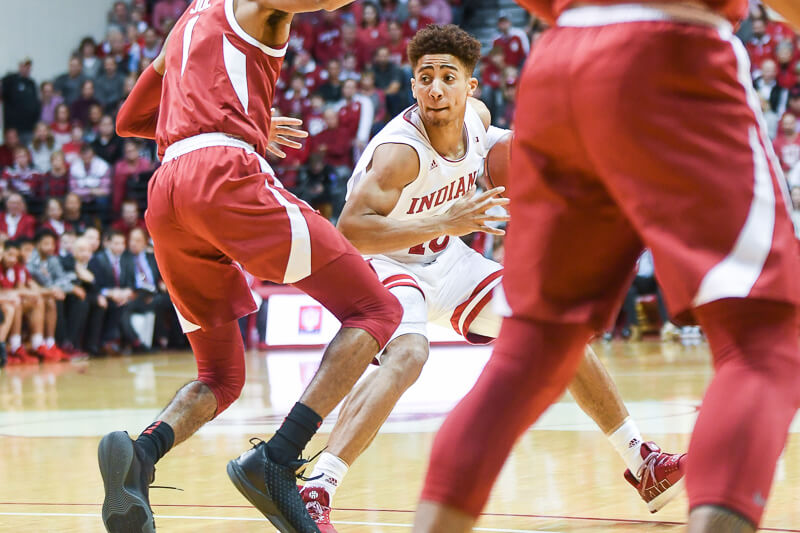 In November 2018 when Indiana played at Arkansas, they erased a double-digit deficit in the second half only to miss a last-second tip in, followed by a careless foul to lose the game by one.
When Arkansas came to Bloomington last Sunday, it was the Razorbacks who came back from double digits in the second half, thanks to an 8-minute scoreless stretch from the Hoosiers, to win the game 71-64.
Two regular season losses to Arkansas in the last two seasons spearheaded by offensive struggles and silly mistakes. They are reoccurring mishaps for this team no matter who has been on the floor.
The two rosters are different from last year to this year as there's no more Juwan Morgan or Romeo Langford. Instead, there's freshmen Armaan Franklin and Trayce Jackson-Davis, transfer Joey Brunk, and every other player from last year has developed with confidence or maturity in some way — Archie Miller is able to play all 11 scholarship players.
Despite the different makeup of the team this season, the same problems seem to keep bubbling up, and it has Indiana in a similar position as it was at this time last year.
The non-conference schedule is over and Indiana starts its remaining Big Ten schedule on the road against No. 15 Maryland Saturday. The Hoosiers are 11-2 to begin 2020, and they were 11-2 to begin 2019.
Indiana's first big test this season was Florida State, and their statement win against the then-No. 17 Seminoles felt like IU's impressive victory over No. 24 Marquette in 2018.
The Hoosiers then got rocked on the road against Wisconsin, much like they did last season at Duke.
They followed up the loss to the Badgers with three tight victories over UConn (57-54), Nebraska (96-90 in OT) and Notre Dame (62-60).
In 2018, they followed up the loss to the Blue Devils with four tight victories over Northwestern (68-66), Penn State (64-62), Louisville (68-67) and Butler (71-68).
Those stretches are eerily similar. A close non-conference win like UConn compares to Louisville, a tight Big Ten win over Nebraska is like Penn State/Northwestern, and two last-second 3-pointers in the Crossroads Classic — Rob Phinisee against Butler and Franklin against Notre Dame — to secure victories.
The narrative has remained the same both years as well. When they are winning those close games, there are lingering concerns but overall it's positive that they continue to grind out wins.
But when the losses like Arkansas happen, the flaws come to light. From too many missed free throws, to the inability to score, to not getting defensive stops in key moments, to too many turnovers, Indiana looks like it's in trouble with the remainder of the Big Ten on the horizon.
This time last year was when the Hoosiers spiraled out of control and lost 12 of 13 games. Archie Miller was asked about that ahead of this season on IU's media day on Sept. 25.
"Well, it was very odd to go through," Miller said. "I don't think a lot of people had been through that kind of streak before. When you hit adversity, whether it's one or two in a row, you're constantly on a quest to be able to get back on your feet and up off the mat. It takes great character to do that. Takes stay-with-it through tough times."
According to ESPN's BPI, the Hoosiers are projected to have the toughest strength of schedule in the country for the remainder of the season. So, who's to say Indiana's similar start to last year won't result in a similar finish?
"I think that maturity will be a huge part of the development of this team, is to not get carried away with the outside noise, the negativity, the cluster that everyone deals with in athletics in this day and age," Miller said. "You have to be able to stay tight, stay calm and be able to have great togetherness through those times."
The players and coaches have said they have more chemistry on and off the floor this season. There seem to be more vocal leaders, and after the lack of communication in the loss to Wisconsin, Miller seems to have sorted that out with his team.
Mental toughness will be key as conference play starts, especially with the parity that the league has displayed against one another in December, with 13 of the 14 games being won by the home team.
Since Miller came to IU, his record in Big Ten home games is just 12-8, so the team hasn't been able to take care of homecourt advantage in Assembly Hall the last couple of years.
After both of Indiana's losses this season, Miller has seemed very calm and composed postgame. He knows what needs to improve, and he seems confident that he has the right group of guys to get it done.
But this is the time of year where mistakes will be deadly, and Indiana will need to sharpen things up quickly before it becomes too late.
"There are always some things you can learn with. I would say handling adversity, dealing with negativity when it's thrown at you, and rightfully so, you have to respond to those things in an unbelievably tough-minded manner," Miller said. "From me all the way down, you have to be really, really locked in and focused on the next step, the next day. You're not going to be able to do anything until you can get through those hard parts."
"To me, that would be a great maturity lessen for our returning guys, to be able to understand that those things happen and the way you respond is the most important thing."
Filed to: