The Minute After: Arkansas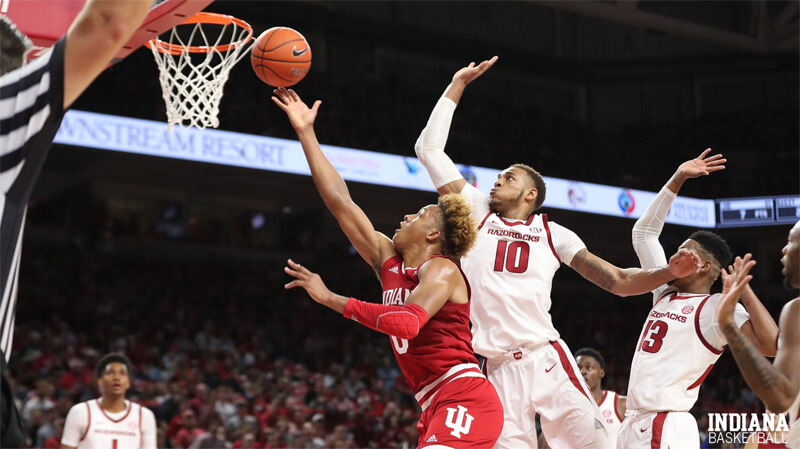 Thoughts on a 73-72 loss to the Razorbacks:
The Razorbacks picked the Hoosiers up full court and set the tone. This was not Wednesday night. This was not Branch McCracken Court. It was Sunday afternoon in Fayetteville. And the Hoosiers, so free and so dominant just a couple days ago, were no longer dictating the terms.
Arkansas' press and half-court pressure created a fog inside Bud Walton Area for the Hoosiers, as they struggled to see and think clearly. The overall effect of the Arkansas full-court defense wore Indiana down. It created mental mistakes. The Hoosiers were off beat with little rhythm and it didn't help that Juwan Morgan went to the bench early with two quick fouls, never to return in the first half. Indiana's offense struggled with ball movement and shot selection, and even when it got good looks at the rim, it failed to convert too often or were blocked from behind by Daniel Gafford's length. Everything just felt a little off, a little slow, a little hungover, the freshmen looking like freshmen in their first road game. This was a game Zach McRoberts' absence was acutely felt.
Still, this one didn't get away, as Al Durham Jr. was a calming presence, going 3-of-3 from deep on his way to nine first half points. Romeo Langford was just 3-of-9 from the field, but he hit 5-of-6 from the free line and had 11 points to help ensure the Hoosiers were in striking distance, down just 38-35 at half. But Arkansas had won 40 straight at home after leading at half, so Indiana was in for a battle against an impressive streak.
Now make it 41.
It looked like Arkansas was going to win this one going away, as the Hoosiers came out even more flat in the second half. The Razorbacks punched their lead out to 10 at the 14:16 mark. But then Morgan, as he so often has, put this team on his back. He splashed 3s. He scored in the post. He offensive rebounded like his life depended on it. Just 3:22 of game time later (10:52), Morgan hit a layup to put the Hoosiers up a point, erasing the Razorbacks' lead. But Arkansas had a similar ace up its sleeve with Gafford and suddenly it was a battle of big men. Gafford was an absolute terror in the second half, his motor revved up high on his way to a ridiculous 9-of-10 performance (19 points) in the second half.
Indiana hung around thanks to some late 3-pointers by Langford and Phinisee, who missed a significant stretch in the second half due to four fouls.
But of course Phinisee's late drive to put the Hoosiers ahead didn't drop. And of course De'Ron Davis' putback didn't fall. (And, of course, he made a costly, ill-timed foul to allow the Razorbacks a trip to the line to win the contest.) It was that type of game. Today just wasn't Indiana's day. The Hoosiers turned it over too much for their own good on nearly a quarter (24 percent) of their possessions. That's a hard statistic to balance against if your offense isn't firing on all cylinders, especially on the road.
"It was a good game," Archie Miller said after the contest. "Disappointed that we lost, but I also know this is something that can make us better."
Indeed. Instead of a cupcake game against a vastly inferior opponent, Miller put this kind of game on the early non-conference schedule to make his team better and tougher and stronger. It stings in the moment. It was a missed opportunity.
But this kind of road experience for the freshmen and for this team is a bit of extra money in the bank to start this year. The hope is the Hoosiers can cash in from it later when it counts a little more.
(Photo credit: IU Athletics)
Filed to: Arkansas Razorbacks