Five takeaways from Indiana's win over Butler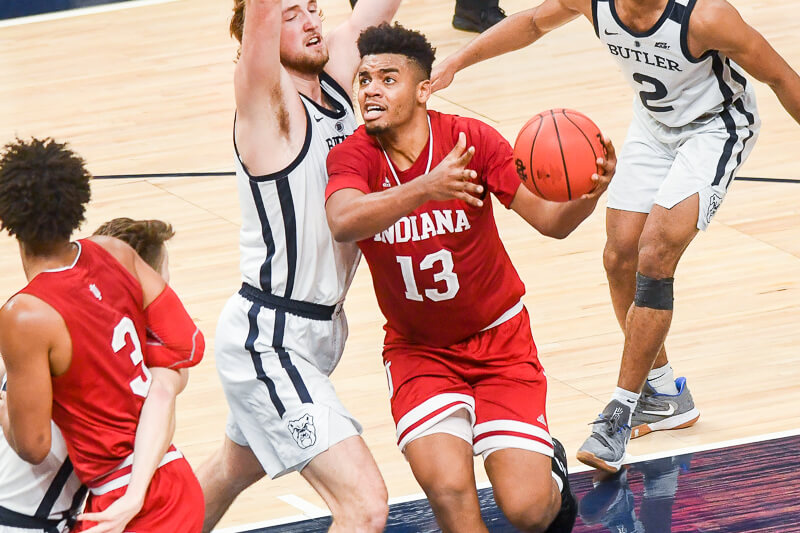 INDIANAPOLIS – Indiana improved to 9-2 with a 71-68 win over Butler in the Crossroads Classic at Bankers Life Fieldhouse. It was the fourth straight win by three or fewer points for the Hoosiers.
Here's a look at five takeaways from the win over the Bulldogs:
• Offense, not defense, propels Indiana to victory: Indiana had been winning close games recently by holding its opponents down with stellar defense.
The defense wasn't as sharp on Saturday afternoon as Butler managed 1.05 points per possession, which was the second worst defensive performance of the season for Indiana.
But the Hoosiers more than made up for it with a strong offensive performance that included a 9-for-21 mark on 3s (42.9 percent), 18-for-31 on 2s (58 percent) and 8-for-10 from the free throw line (80 percent).
Indiana finished the game scoring 1.10 points per possession despite turning it over on 23.1 percent of its possessions. If the Hoosiers can find a way to get the turnover percentage down on a more consistent basis, this team has potential to make significant improvement offensively.
• Butler has no answer for Morgan: Rob Phinisee's game-winner will get the postgame headlines, but Juwan Morgan carried Indiana all afternoon.
Morgan's 35 points were a career-high and he also became the 52nd player in program history to surpass the 1,000 career point plateau.
More impressive than Morgan's point total was his efficiency. The 6-foot-8 senior was 12-for-14 from the field, 4-for-6 on 3s and 7-for-7 on free throws.
He even revealed postgame that he's tweaked his free throw routine, which has helped him make 10 of his last 11 attempts.
"I've changed my free throw up a lot this year," Morgan explained. "I think I found something that really works for me. As you can see from tonight, I just stepped up with confidence, knocked them down."
• Butler played solid defense on the final play, but Indiana answered with a great shot: It's fair to say Butler had Indiana right where it wanted to with less than five seconds to play.
The Hoosiers couldn't get into their final play as Devonte Green struggled to find anywhere to go with the ball. When an opponent is scrambling outside the 3-point line in that situation with the clock winding down in a tied game, you like the chances to get to overtime if you're the defense.
But credit Rob Phinisee for stepping up and making a huge play in a tough situation. This wasn't a desperation heave from Phinisee. He squared his body, rose up and fired a game-winner from nearly 35 feet away.
Butler played good defense, but Phinisee made an incredibly difficult shot.
"Phinisee has been as impressive as any guard I've seen," Butler coach LaVall Jordan said. "He's poised, a tough kid. He ended up with it. I thought we did a good job containing."
• Indiana makes things difficult for Baldwin and Jorgensen: Butler's Sean McDermott got loose often on his way to a 20-point outburst, but the Hoosiers did a solid job containing Kamar Baldwin and Paul Jorgensen.
The Butler guard duo came in averaging nearly 34 per points per game, but combined for just 21 on Saturday. Baldwin was 7-for-19 from the field and Jorgensen was 2-for-10.
Give credit to all of Indiana's perimeter defenders – Phinisee, Romeo Langford, Zach McRoberts, Al Durham and Devonte Green – for a strong showing against one of the best scoring duos in the Big East.
• Hoosiers get strong point guard play: It was a tough afternoon for the Hoosiers in terms of taking care of the ball, but the mishaps weren't driven by the point guards.
In a combined 48 minutes, Green and Phinisee committed a total of just two turnovers.
More importantly, Green and Phinisee each had five assists and combined for 14 points, which included four made 3-pointers.
On an afternoon where its top two scorers combined for 48 points, Indiana's point guard duo put together an afternoon that it can hopefully build upon moving forward.
Filed to: Butler Bulldogs