Five takeaways from Indiana's win over Nebraska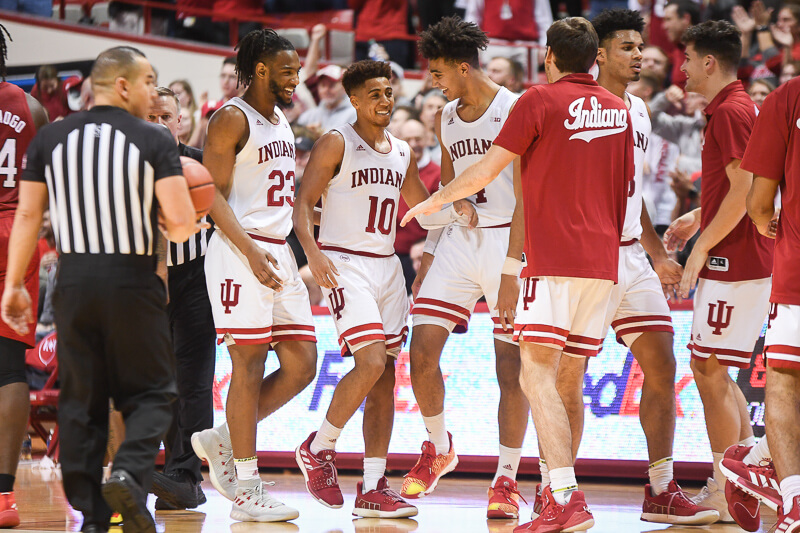 Indiana survived a much closer than expected challenge from Nebraska on Friday night at Simon Skjodt Assembly Hall. The Hoosiers entered the contest as 17.5-point favorites, but needed overtime to prevail 96-90.
Here are five takeaways from the win over the Cornhuskers:
· Indiana's defense struggling against Big Ten competition: It's never a good thing when the word "shredded" is used to describe a team's defense, but that was the adjective Archie Miller used late Friday night when discussing his Hoosiers.
In the preseason, Miller said this Indiana team would be built on defense first. In fact, that has been his vision for the program since arriving in Bloomington in the spring of 2017. And Miller has made significant strides with Indiana's defense as the program improved 39 spots nationally in Ken Pomeroy's adjusted defensive efficiency metric in his first season and 33 more spots in season two.
This season, however, has not yielded encouraging results through 11 games.
Indiana was torched for 1.35 points per possession in a loss at Wisconsin earlier this month. And Nebraska, a middling offensive team, came into Assembly Hall and put 1.1 points per trip on the Hoosiers.
Through two league games against teams projected to finish in the bottom half of the league, Indiana has the second worst defense in the conference. It is admittedly a small sample size, but allowing one of the league's worst teams to do what it wanted offensively on Friday night is a major cause for concern. There is still time for Indiana to improve, but as we saw against Nebraska, this team has little margin for error.
· Hoosiers avoid disastrous loss: In his postgame interview with Shon Morris of the Big Ten Network, Miller chose to strike a positive tone with his comments.
"They don't ask at the end of year how we got it done," Miller told Morris. "We're gonna take it."
No game over the course over a 31-game regular season should be viewed as a "must" win, but this was a game Indiana simply could not afford to lose. Given what the Hoosiers have coming up over their next 20 contests, which includes 18 games against teams ranked 76 or better in the KenPom ratings, this was the most winnable game left on the schedule.
Through 11 conference games, Big Ten teams are unbeaten at home. For Indiana to stay in the NCAA tournament conversation, it is going to have to mostly hold serve at home and steal a few on the road. Despite the ugly manner in which it earned its first conference win on Friday, the Hoosiers ultimately took care of business and avoided disaster.
· Trayce Jackson-Davis saves the day: Nebraska's frontcourt is significantly lacking in size, skill and experience and Indiana freshman Trayce Jackson-Davis took advantage over the game's final 25 minutes.
After a quiet first half in which he recorded three points and grabbed five rebounds in 13 minutes, Jackson-Davis exploded in the second half and overtime.
The McDonald's All-American finished with career-highs in points (25) and rebounds (15) and was the primary reason Indiana emerged victorious. Jackson-Davis was efficient from the field (9-of-12) and also knocked down seven of his 11 free throw attempts. He played 21 of the game's final 25 minutes and Nebraska simply had no answer for him in the paint despite going to a 2-3 zone.
"The difference was the size and strength of Indiana's front line and the paint," Nebraska coach Fred Hoiberg said. "We tried to do everything that we could to stay in front, keeping them out of the help in the backside and trying to get, trying to find and secure the rebounds. We had some good defensive possessions, dug out the tough rebound. That's what they do, that's Indiana's game."
· 3-point shooting remains a problem: Early in the season, Indiana looked like an improved 3-point shooting team.
The numbers for the Hoosiers over the last three games have been reminiscent of last season when Indiana ranked 311th nationally in 3-point shooting.
Indiana was just 5-of-25 from distance in Friday's win and over its last three games, it has only made 12 of its 52 attempts from distance (23 percent).
Hoiberg deployed a strategy that Ohio State used against Indiana last season in which it didn't guard certain players outside of the paint. It worked as the Hoosiers clanked open perimeter shots for most of the evening.
Miller, however, remained optimistic in his postgame comments that the Hoosiers will start to make shots and didn't have a problem with the 25 attempts.
"It's hard to shoot when you're left wide open," he said. "At some point you have to take them and make them. If you look at our 3s in the game, I'm not so sure a lot of them were challenged or quick. There's some good ones late. There's some guys that are taking a lot of open shots and we have some guys that are a little funky right now."
· Green leaves game, status uncertain moving forward: Senior guard Devonte Green, Indiana's best perimeter shooter, played just 15 minutes on Friday before leaving for good at the 13:26 mark of the second half.
Green appeared to be gimpy as he walked towards the Indiana bench and talked with Miller and trainer Tim Garl before remaining on the sidelines for the rest of the evening.
In his postgame press conference, Miller didn't have a firm update on the status of Green moving forward.
"I'm not sure where he's at," Miller said. "I asked him what was wrong with him. He said his Achilles was bothering him. I'm not sure how serious yet. He'll have to get a ton of treatment. If he can't go, we'll be ready with the other three guys."
Green, who missed the team's first three games this season with a hamstring injury, finally broke into the starting lineup the last two games and is fourth on the team in scoring at 12.5 points per game.
Filed to: Nebraska Cornhuskers