Notebook: Phinisee's buzzer-beater lifts IU to victory over Butler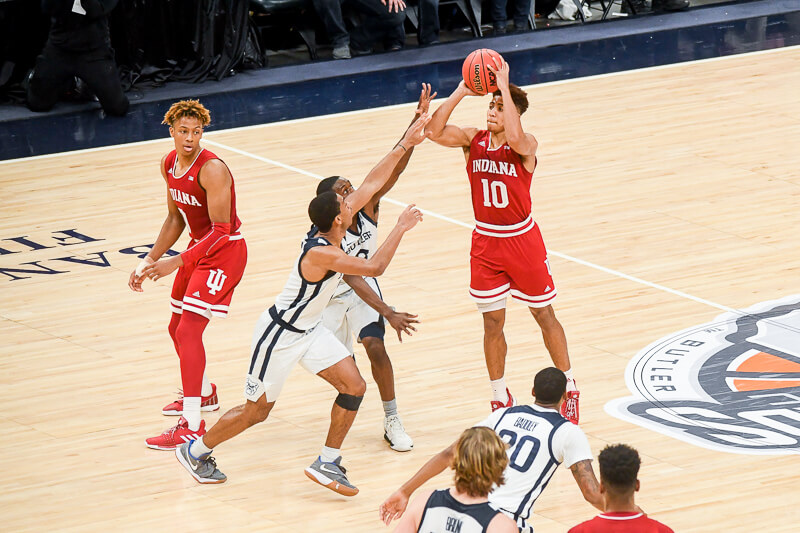 INDIANAPOLIS – If you said a prayer when Rob Phinisee launched the ball in the air as the clock hit zero, you're not alone.
Phinisee himself did the same.
"Obviously it wasn't drawn up like that, but I saw Devonte (Green) holding the ball," Phinisee said. "I slid over, put it up, and prayed to God it went in."
The possession was disastrous. The Hoosiers had no business getting a look at the basket, and really, they didn't. Which makes the shot even more amazing.
IU inbounded to Phinisee with 18.7 seconds to play, and the freshman held the ball until there were 10 seconds remaining. Juwan Morgan was on the perimeter, and Butler clearly expected the Hoosiers to get Morgan the ball. But Morgan set a screen at the low block to get Devonte Green open on the perimeter, and then Morgan promptly set another screen to free up Romeo Langford.
But Langford slipped running around the screen, which negated the effect. By the time he recovered to the top of the key, Aaron Thompson was guarding him tightly and only four seconds remained. Despite having no lane to pass to Langford, Green picked up his dribble with 2.6 seconds left. Phinisee came back to help and got the ball with 1.6 seconds to go, facing the sideline. Phinisee took one dribble to his left before going up to shoot with 0.8 on the clock, releasing it with 0.2 left.
When Phinisee dribbled left, Langford served as an important screen on Thompson. Phinisee's dribble created enough space from Kamar Baldwin, but if not for Thompson having to go around Langford, Phinisee likely wouldn't have had enough space to shoot.
Morgan said the freshman made a veteran play.
"Like I said earlier, they're not really freshmen any more, as you can tell from that shot, how they carry themselves," Morgan said. "That was a savvy move by Rob, and he knocked it down."
This marks the second game in a row where Phinisee knocked down a clutch 3-pointer late in the game. While this buzzer-beater will stand out over his go-ahead 3 with 1:21 to play against Louisville, both shots reveal Phinisee's quiet confidence in crunch time.
Morgan carries the Hoosiers
If Phinisee's buzzer-beater was the 'how' in IU's win, Juwan Morgan's performance was the 'why.'
The senior put up his biggest game as a Hoosier with a career-high 35 points on an efficient 12-of-14 shooting line. He carried IU through times where none of his teammates could get anything going. He was the only Hoosier who could reliably score anytime he had the ball.
Archie Miller ranked Morgan's performance among the best he's been involved with and praised the senior's attitude in practice.
"Every day is the same," Miller said. "Game day is no different than practice. Very few guys that can eliminate moodiness, the ability not to feel tired. For about two years straight, through about 150 practices, that's what I get to see every day. Not that his game days are perfectly. But the guy plays the right way."
Morgan's two biggest games at IU have come in the Crossroads Classic, as his previous career-high was 34 against Notre Dame last year. Morgan doesn't know why he plays so well at Bankers Life Fieldhouse. He just knew he had the hot hand.
"I mean, I approach every game the same way," he said. "Some games, the shots are going in. Usually if they're not going in, I try to look for my teammates more, give them a shot."
Morgan scored 18 of Indiana's 34 points in the first half. With Romeo Langford unable to score for the first 14 minutes, Morgan was the reason Indiana was even in the game at halftime.
And it's not like Morgan was just dominating in the post the whole game. He shot 4-for-6 from 3-point range, including shooting 3-for-3 in the second half.
Butler head coach Lavall Jordan said Morgan is a handful to deal with when he shoots well.
"If he's hitting 3s, he's a real problem," Jordan said. "We know how good he is inside. He got a lot of work done in there, as well. But if he's making his free throws, 7-for-7 tonight, he stepped up and made threes from the corner. I think it was just his competitive will. You love having guys like that, that have that about them."
Filed to: Butler Bulldogs, Robert Phinisee