What to expect: Maryland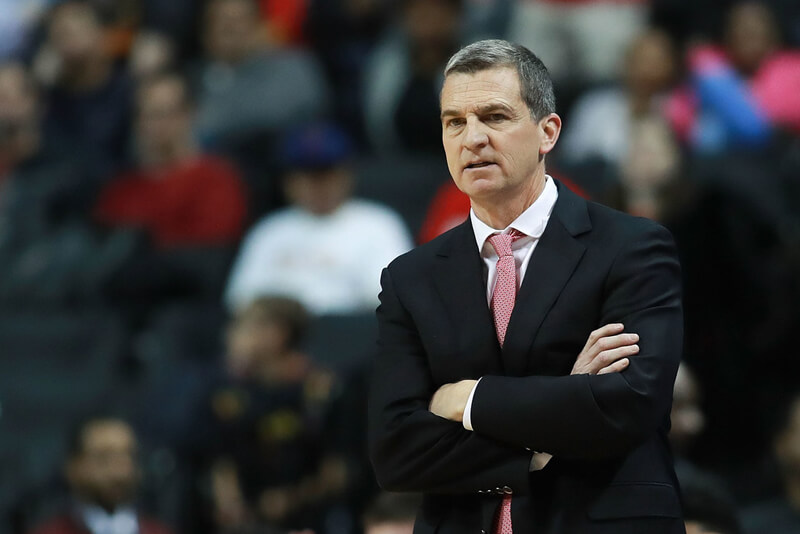 Indiana will return to action on Saturday afternoon against Maryland in College Park. The Terrapins are 11-2 and ranked No. 15 in the latest Associated Press top 25 poll.
Saturday's game will tip at noon ET on FOX with Joe Davis, Jim Jackson and Lisa Byington on the call:
As disappointing as Sunday's 71-64 loss to Arkansas was for Indiana, the road only gets tougher from here.
Non-conference play has concluded and Indiana finished 10-1 with wins over Notre Dame, Florida State, UConn and Louisiana Tech.
At 11-2 overall, Indiana is firmly in the mix for an NCAA tournament berth, but will have to earn it against a brutal Big Ten schedule. Of its 18 remaining regular season games, Indiana will play 15 of those contests against teams currently ranked in the top 50 of the KenPom ratings.
First up in 2020 is a trip to College Park to take on Maryland in the XFinity Center. Since Maryland joined the Big Ten, Indiana is 0-3 in the XFinity Center. The Hoosiers lost their three previous trips to Maryland by a combined total of eight points.
MEET THE TERPS
Maryland was ranked No. 3 in the fifth AP poll of the season, but dropped consecutive road games at Penn State (Dec. 10) and Seton Hall (Dec. 19) and now sits at No. 15.
Mark Turgeon has also dealt with turmoil in recent weeks as freshman twins Makhi and Makhel Mitchell announced they were leaving the program. Not only did the departure of the twins hurt the program's frontcourt depth, but the mother of the twins also ripped Turgeon in a social media post.
Despite its tumultuous December, Maryland still boasts one of the Big Ten's most talented rosters led by senior point guard Anthony Cowan and sophomore forward Jalen Smith.
Cowan is one of the nation's best lead guards and leads the team in points (16.7), assists (4.2), steals (1.4) and minutes (32.8) per game. Like Melo Trimble before him, Cowan is excellent at drawing fouls and converting from the free throw line. Cowan's free throw rate (FTA/FGA) of 53.2 percent is excellent and he's shooting 77.1 percent from the line. While he's not a great finisher – he's shooting just 43.4 percent on 2s – Cowan is a career 35.3 percent 3-point shooter.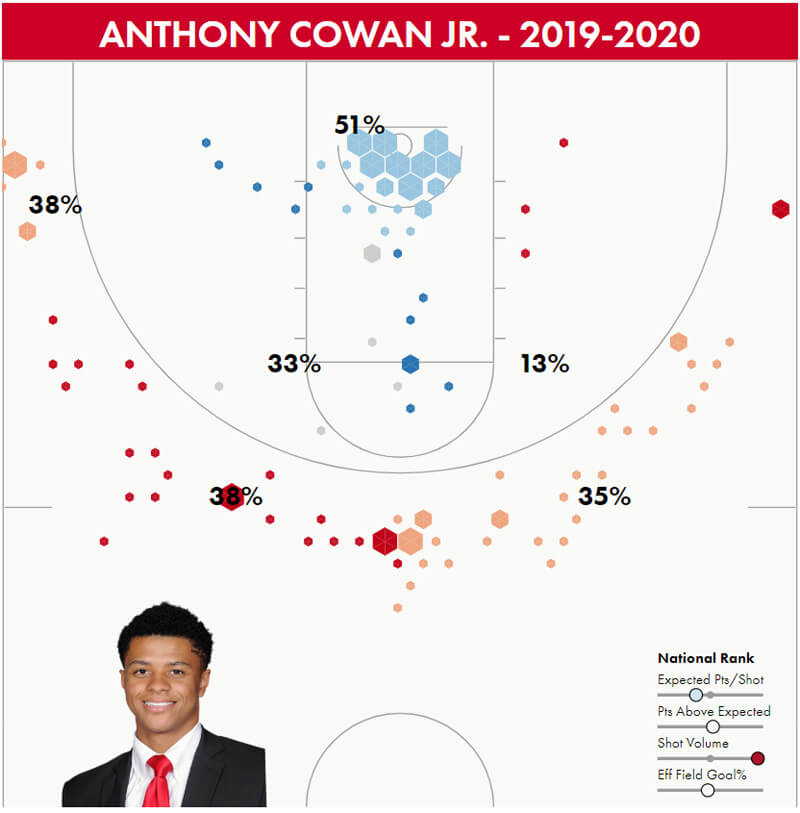 Surprisingly, Smith didn't even test the NBA draft waters last spring and is back in College Park for his sophomore campaign. He's started the last two games at the five with Donta Scott, a 6-foot-7 freshman, at the four.
The 6-foot-10 Smith is averaging a double-double (13.1 points, 10.1 rebounds) and is an elite shot blocker. Smith's block percentage of 9.5 ranks in the top 40 nationally and he's blocked 31 shots in 13 games.
He's also very effective on the offensive boards with 31 points on 24 offensive rebound putback attempts this season, according to Synergy Sports. Smith will step out and knock down the occasional 3-pointer. He's 7-for-25 from distance this season.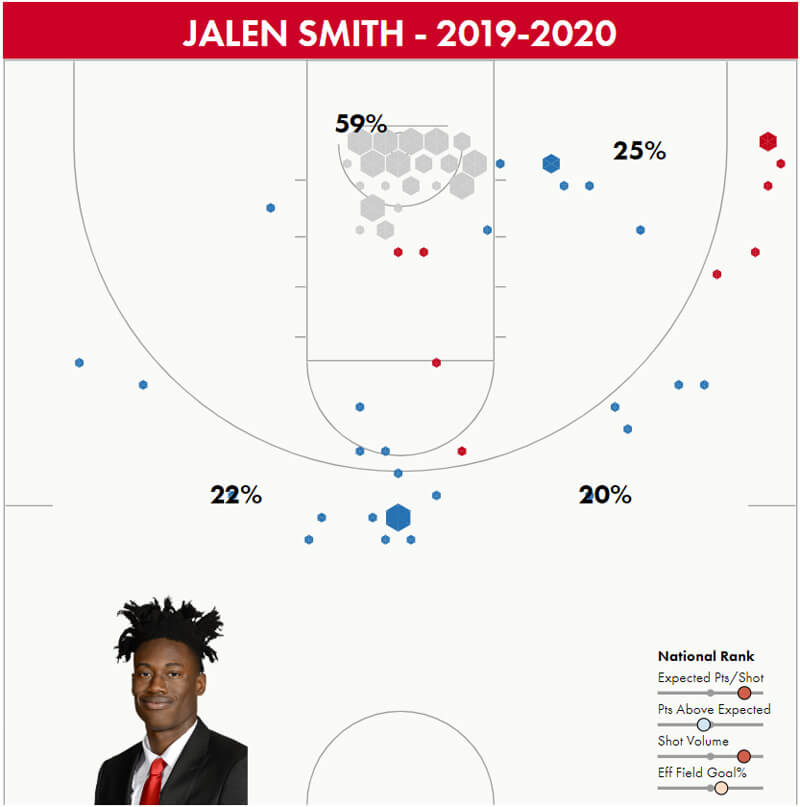 The two other double figure scorers on the roster are sophomore guards Aaron Wiggins and Eric Ayala. Both players take a ton of 3s, but have not shot it well through the team's first 13 games. Wiggins is just 22-for-72 from deep while Ayala is 17-for-63.
According to Synergy, Wiggins has been most effective when he's able to set his feet and spot up from the perimeter. He's scored 53 points on 54 spot-up possessions this season, which ranks in the 65th percentile nationally. As the shot chart below shows, Wiggins is most comfortable from the right wing: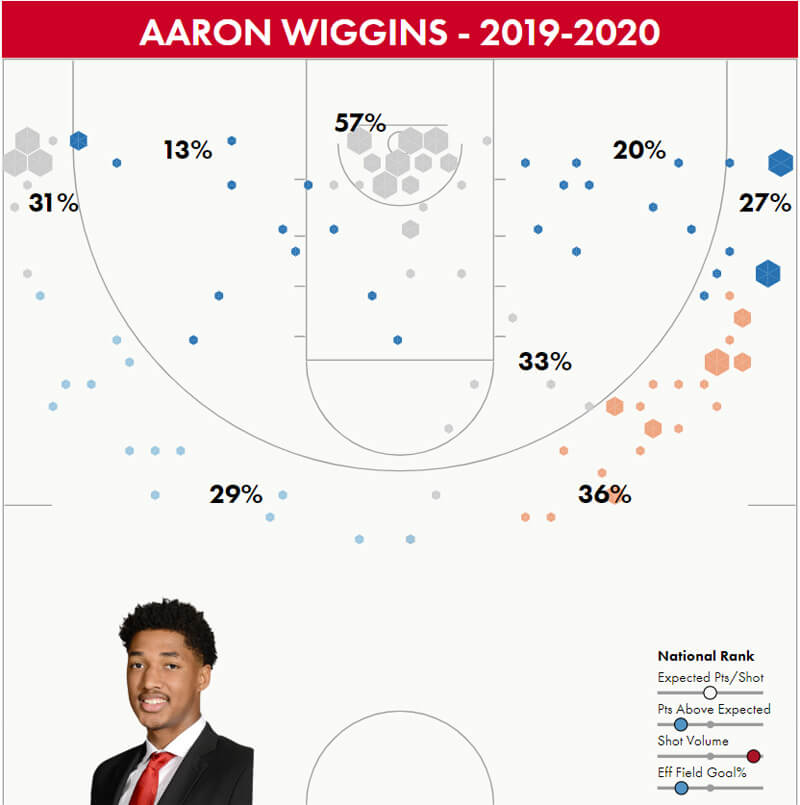 Ayala, a one-time IU recruiting target, is a sturdy, physical guard who is an excellent finisher. Ayala, who has been coming off of the bench recently, is shooting 57.4 percent on 2s and has been elite in ball screen situations. According to Synergy, Ayala has scored 44 points on 33 ball screen ball handler possessions, which ranks in the 95th percentile nationally.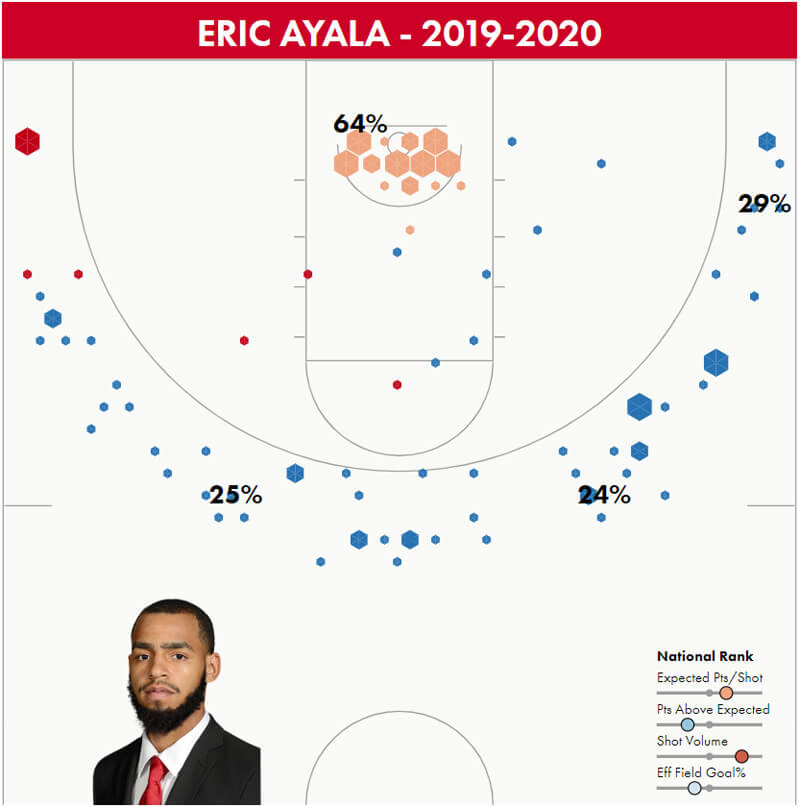 Junior guard Darryl Morsell doesn't bring much offensively, but is a capable defender and a great guard rebounder. The 6-foot-5 Morsell is averaging 5.7 rebounds per game.
Scott has been a steady presence in the rotation all season and may only see his role grow with the departure of the twins. He averages 4.8 points and 3.5 rebounds in 17.5 minutes per game.
Freshman big man Chol Marial made his season debut against Bryant on Dec. 29 and scored six points and grabbed five rebounds in 14 minutes. The 7-foot-1 newcomer from South Sudan was a three-star recruit in the 2019 class.
TEMPO-FREE PREVIEW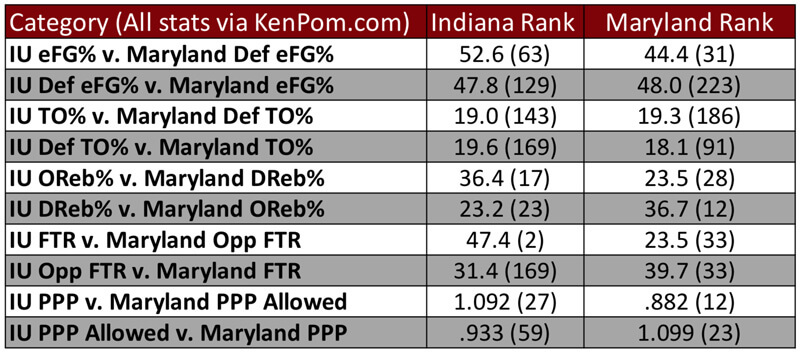 Maryland and Indiana are similar offensively as both teams excel on the offensive glass and at getting to the free throw line. Both teams are struggling from the perimeter with Maryland at 31.2 percent on 3s and Indiana at 31.4 percent.
Maryland is one of just two Big Ten teams (Illinois is the other) that has been better than Indiana on the offensive glass this season. Like the Hoosiers, the Terps are very good on the defensive glass as well. Second chance points should be a major factor in Saturday's outcome.
Defensively, Maryland does a great job of defending without fouling, which has been a problem for Indiana. The Terps rank 33rd nationally in opponent free throw rank while Indiana is just 169th.
WHAT IT COMES DOWN TO
Maryland is a 7-point home favorite according to KenPom and Sagarin likes the Terps by eight at the XFinity Center.
As bad as the optics of Indiana's 71-64 home loss to Arkansas were, the Hoosiers are in fine shape at 11-2 overall with plenty of opportunities ahead in league play to build an NCAA tournament resume.
Still, there are plenty of things to look for in Saturday's game.
Will Indiana be more competitive than it was in early December in Madison? Will the Hoosiers let the poor finish against Arkansas carry over? And ultimately, can this team hang in with a top 15 team on the road and give itself a chance to win in the final minutes?
Filed to: Maryland Terrapins