'We had a quiet group': Lack of on-court communication a concern for Indiana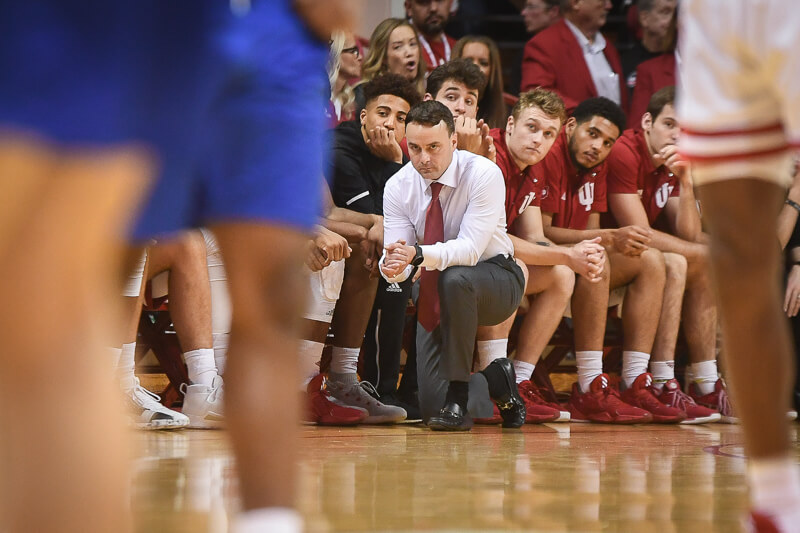 MADISON, Wis. — Al Durham shouted and screamed, and he begged and pleaded.
Gesturing demonstratively toward the various scoreboards displayed inside the Kohl Center, he implored his teammates to understand the urgency of the moment.
Indiana trailed Wisconsin by 20 points, 45-25, with 89 seconds left in the first half Saturday, and Archie Miller called a 30-second timeout to again try and jumpstart his Hoosier team after a sluggish first-half showing.
But Durham took command during the timeout, speaking directly and sternly to teammates.
Indiana's Big Ten opener had already slipped out of reach, with a lack of talking between teammates one of the principal reasons for the large deficit.
Durham did his best to get the Hoosiers talking more.
It didn't work.
Wisconsin opened the second half on a 14-4 run, and the Badger lead grew to 30 points as Indiana was left exposed in its first road game in the area of on-court communication.
"You've got to have a rallying cry at some point. Somebody's got to be able to jumpstart you, shake you up a bit," Miller said postgame. "A guy's got to grab you by the neck of the jersey a little bit, player to player."
"I thought Al tried pretty hard there a couple times in the first half to get us going, but there's also some guys that have never been there before."
Saturday marked the first road game, and the first Big Ten game, for five Indiana players who saw playing time.
Integral members of Indiana's rotation like Joey Brunk, Trayce Jackson-Davis and Armaan Franklin all experienced their first Big Ten road environment, although the Kohl Center housed nothing close to a capacity crowd with the tip time falling so close to Wisconsin's Saturday night appearance in the Big Ten football championship game.
Within the game's first five minutes Wisconsin had a double-digit lead that it wouldn't surrender, as Indiana players, both with and without Big Ten experience, faltered in the face of adversity.
The Hoosiers failed to respond on either end of the court, leaving Miller grasping at straws for a solution.
He repeatedly turned to his bench, playing rarely seen lineups in an effort to spark the Hoosiers, but it remained the voices of Miller and assistant coaches Bruiser Flint and Mike Roberts that ricocheted around the arena, rather than those of their players.
"That's hard sometimes for kids to talk," Miller said. "You've got guys out there for the first time in different scenarios, different leadership situations that, now they understand, it's really important."
Durham was floored by a screen set by Wisconsin junior forward Nate Reuvers on one of Indiana's opening defensive possessions, and it proved to be emblematic of the problems Indiana would have on that end of the court.
Postgame, Devonte Green said the Hoosiers weren't on the same page with their first-half defense. He said a lack of communication led to breakdowns on screen coverages and defensive positioning, two failures which let Reuvers and Wisconsin redshirt sophomore guard Kobe King combine for 28 first-half points (Indiana as a team scored a season-low 27 first-half points).
"We gotta do better communicating on screens and letting teammates know what's going on, we just gotta emphasize communicating," Durham said.
"It starts from the top down, I feel like I gotta make it an emphasis for everyone to talk and I take responsibility for it (to) make sure it doesn't happen again."
Miller singled out three players after the game — Durham, Green and Justin Smith — as those who need to be louder with their teammates. Durham was the most visible of the trio in his efforts to kickstart a Hoosier response, but he was also one of the main culprits in Indiana's woeful performance.
He went 0-of-4 from the field in the first half, and a 15-point second half for Durham came with the game already a blowout, and along with three turnovers.
This puts Miller's team at a crossroads with another stern test looming Tuesday night against Connecticut at Madison Square Garden in New York City.
Veteran players like Durham, Green and Smith are without question the players Miller turns to as vocal on-court presences. But Miller has also said that this year's Indiana team is quiet by nature.
He's leaned on the vocal contributions of Brunk and Durham both in practice and games, but the value of those contributions can be questioned when those players are also actively hurting the Hoosiers on the court.
Saturday was Brunk's worst game for Indiana. Reuvers continually drove past him from the perimeter and took advantage of Brunk's slow closeouts to punish Indiana by making shots from distance.
Durham's lack of scoring, which came in a game in which Green and Jackson-Davis both scored below their season-averages, didn't help either.
"Part of working on your game and your role is you've got to step outside yourself and try to be better in certain areas and I think we've got to be better in the area of talking," Miller said. "We've pleaded with this team, as much as any that I've been around, in terms of trying to get guys to talk a little bit more."
"The communication on the floor tonight, whether it was early in the game where you saw guys getting whacked on a screen and didn't see it coming, or communicating on underneath out-of-bounds things, little stuff. We've got to become a more savvy team through talk and communication."
Miller knows the players he wants to be louder on the court.
But when those players fail to play well, as was the case for Brunk and Durham for most of Saturday's game, where do the Hoosiers turn?
Unconventional lineups and plenty of screaming were both tried against Wisconsin. Neither potential solution panned out.
"I think our team was literally pleading with one another, pleading with each other in timeouts, talking on the bench, I think we were searching for that breakout moment… we never really got there," Miller said.
Dating back to the 2017-18 season, Miller's first as head coach, the Hoosiers have 11 losses by 15 or more points, with seven of those defeats coming in conference play.
There is precedent for what happened Saturday inside the Kohl Center. The recovery, or a lack of one, comes next.
Miller has keyed in on communication as the factor controlling whether another heavy defeat will soon follow.
"You could tell throughout the course of the game, we had a quiet group today," Miller said. "Now that they've been there, there's no excuses."
Filed to: Al Durham, Archie Miller