What to expect: UConn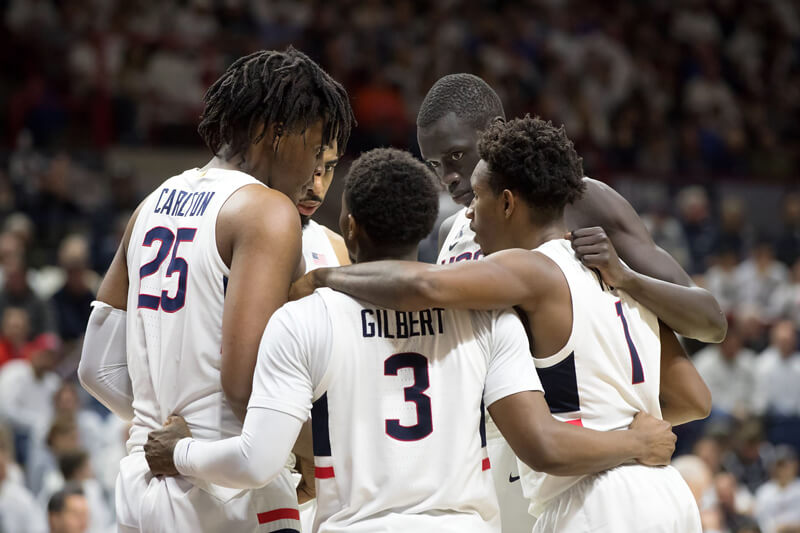 Indiana is back in action Tuesday night at Madison Square Garden to face UConn in the 2019 Jimmy V Classic. The Hoosiers beat Florida State last week in the Big Ten-ACC Challenge before losing by 20 at Wisconsin in their Big Ten opener.
Tuesday's game will tip at approximately 9:30 p.m. ET on ESPN2 with Dan Shulman, Dick Vitale and Holly Rowe on the call:
Which version of Indiana will show up in New York? Will it be the Hoosiers that trounced a ranked Florida State team in Bloomington or the version that trailed by as many as 31 points in Madison over the weekend?
After a November home schedule that taught us little about this team, last week brought a pair of performances that couldn't have been more different.
Indiana played so well last Tuesday that Florida State coach Leonard Hamilton didn't hestitate to heap on the praise in his postgame comments. That state of euphoria for IU fans was short lived as the Hoosiers came crashing back down to Earth at the hands of Wisconsin on Saturday afternoon in the Kohl Center.
MEET THE HUSKIES
UConn is 6-2 with wins over Florida, Buffalo and Miami FL and losses to St. Joseph's and Xavier, the latter in double overtime. The Huskies already have three neutral court games on the ledger as they competed in the Charleston Classic late last month.
A powerhouse that won four national championships in sixteen seasons from 1999 through 2014, UConn is in its second year under Dan Hurley. The 46-year old had a successful six-year run at Rhode Island that included a pair of NCAA tournament appearances and an Atlantic-10 coach of the year award in 2018.
Four of UConn's five leading scorers are holdovers from Kevin Ollie's tenure, but Hurley did ink the No. 18 class nationally in the 2019 recruiting cycle and is getting key contributions from several members of that class.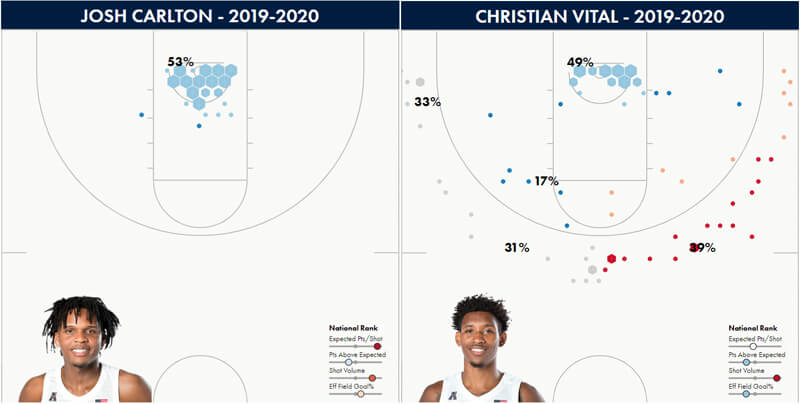 The Huskies are balanced offensively with six players averaging between 9.4 and 14.8 points per game. Senior guard Christian Vital is the team's leading scorer and a career 36 percent 3-point shooter. The 6-foot-2 Vital is dangerous as a spot up shooter as he ranks in the 91st percentile in those situations, per Synergy Sports. Vital has scored 31 points in 24 spot-up possessions this season.
As the shot chart above shows, Vital favors the right side of the floor to get looks and is a below average finisher at the rim and in the paint. He is an excellent free throw shooter (82.2 percent for his career) and has taken 33 attempts in eight games this season. Vital is also the team's leading rebounder at 8.2 per game.
Junior big man Josh Carlton uses the most possessions on the roster and operates exclusively in the paint. He's shooting 51.9 percent on 2s. At 6-foot-11 and 260 pounds, he won't present the matchup problems for Joey Brunk and De'Ron Davis that Wisconsin's Nathan Reuvers did away from the basket.
Carlton thrives on the offensive glass, ranking in the 89th percentile nationally in those situations per Synergy. Carlton has scored 35 points on 24 offensive rebound putbacks this season. He's Connecticut's only post-up threat as 39 of the team's 42 post-up possessions have been Carlton.
Freshman guard James Bouknight, a former IU recruiting target, missed the season's first three games after he was arrested in September for hitting a pole while driving without a license and then fleeing police. Bouknight, a top 75 recruit nationally, has scored in double figures in four of the five games he's played in. His 11.4 points per game are third on the team and he's shooting 62.9 percent from the field.
Redshirt junior guard Alterique Gilbert played poorly over the team's first six games, but was much better in recent wins over Maine and Iona. The 6-foot point guard leads the team with 4.6 assists per game, but is just a career 30.6 percent 3-point shooter. Brendan Adams, a 6-foot-4 sophomore, comes off the bench and averages 9.3 points in just over 20 minutes per game.
Joining Carlton in the frontcourt are 6-foot-9 freshman Akok Akok and 6-foot-9 junior Tyler Polley. Polley's 10.5 points per game are fourth on the team and he can stretch the floor effectively. Polley's 17 made 3-pointers lead the team and he's shooting 42.5 percent from distance. Akok, a top 100 recruit, is a legitimate rim protector and rebounder. His block percentage of 10.5 is 31st nationally and he's averaging 2.8 rejections per game.
TEMPO-FREE PREVIEW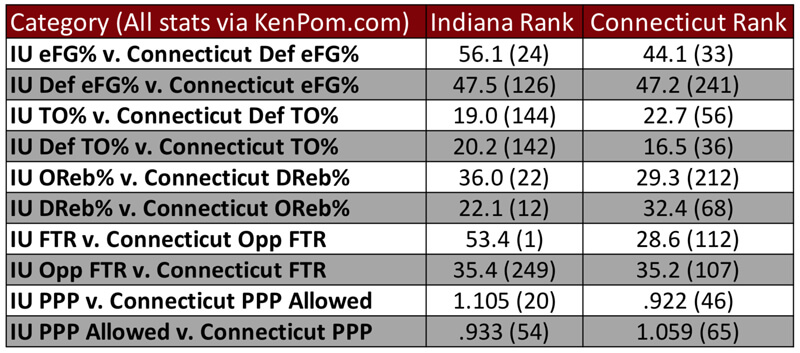 Will Indiana's defense travel to New York? The Hoosiers were carved up for 1.35 points per possession by a Wisconsin team that came into Saturday's game in an offensive rut. Archie Miller has voiced his concerns since the start of the season about IU's deficiencies on that end of the floor and the performance against the Badgers only reinforced the fact that the Hoosiers have a lot of work to do.
Beyond the obvious corrections Indiana must make defensively, finding ways to generate second-chance points against a UConn team that has been poor on the defensive glass is key. The Huskies have been a below average shooting team inside the 3-point line (35 percent on 2s) and just slightly above average on 3s at 34.3 percent through eight games.
WHAT IT COMES DOWN TO
The KenPom projection is Indiana by three with a 59 percent chance of victory and the Sagarin ratings favor the Hoosiers by 2.5. Early betting lines opened with Indiana as a 2.5-point favorite.
UConn traditionally brings a strong contingent of fans to Madison Square Garden and the Huskies are coming in with three straight wins by 18 or more points.
Indiana is 1-0 thus far in its four "marquee" December non-conference games. Statistically, KenPom actually gives the Hoosiers a higher percentage chance to win upcoming games against Notre Dame (65 percent) and Arkansas (65 percent) than this one.
Expect the Hoosiers to play much better than they did on Saturday, but the defensive effort must improve substantially to get back in the win column. UConn is also a team capable of forcing turnovers, which has been a problem for Indiana over its last four games.
The Hoosiers desperately need to get Rob Phinisee back to shore up the backcourt rotation, but there's been no firm indication yet on when that might happen. Miller did provide a sliver of hope that Phinisee could be back soon in his pregame radio interview with Fischer in Madison when he noted that the sophomore guard is "chomping at the bit" to play.
The starting lineup is also worth watching as Indiana has been getting off to slow starts and now that a loss has occurred, it wouldn't be surprising to see Miller shake things up to try to get off to a better start.
Photo credit: UConnHuskies.com
Filed to: Connecticut Huskies