Five takeaways from Indiana's loss at Maryland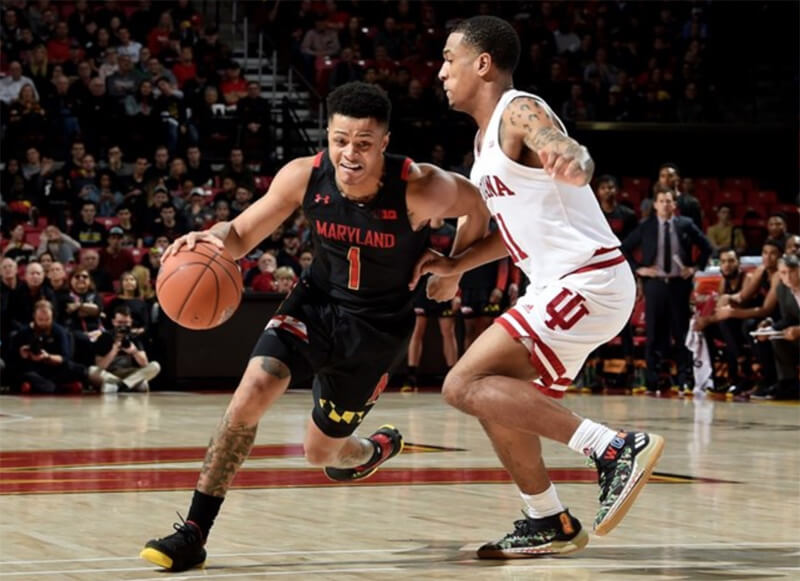 Indiana fell to 1-2 in Big Ten play with a 75-59 loss to Maryland on Saturday afternoon at the Xfinity Center. The loss, Indiana's second straight, dropped the Hoosiers to 11-3 overall.
Here are five takeaways from the loss to the Terrapins:
· Hoosiers not competitive for second straight road game: Indiana wasn't the favorite to win Saturday's game in College Park, but it was expected to improve upon its performance from early December in Madison.
But Saturday's performance wasn't much different than the blowout loss to the Badgers at the Kohl Center. For the second straight Big Ten road game, Indiana trailed by 30 points and wasn't even in the game when it mattered most.
Rather than bouncing back following last Sunday's collapse against Arkansas, Indiana only added fuel to the fire that it is trending in the wrong direction by getting run off the floor by the Terps.
Archie Miller still sounded optimistic in the aftermath of the loss, but it's certainly fair to wonder if Indiana is headed for a third straight season of .500 or worse in league play.
"In this league, you're in a deep ocean," Miller said. "There's a lot of waves and you have to ride them out and figure out how you group can survive it and keep moving forward. For us, that's the way it is. I can't complain about our guys in their approach and what we're doing."
· Indiana's perimeter shooting is a major problem for a third straight season: Year three of Miller's tenure in Bloomington is following a similar path to the first two seasons: The Hoosiers can't shoot.
Whether from a lack of player development or recruiting misses or a combination of both, Indiana is a poor perimeter shooting team for a third straight season.
After finishing Miller's season 307th nationally in 3-point shooting percentage and finishing 311th last season, Indiana is falling down the national rankings quickly this season. Saturday's 4-for-18 performance was the fifth straight game the Hoosiers shot worse than 30 percent on 3s.
Over its last five games, Indiana is 21-for-94 on 3s (22.3 percent). In Big Ten play, Indiana is shooting 24.6 percent on 3s and the Hoosiers are shooting 30.7 percent from distance through 14 games, which ranks 269th nationally.
· Free throw shooting remains poor, too: One of the strengths of this Indiana team is getting to the foul line, but the Hoosiers are also struggling to convert from the line for a third straight season.
Indiana's 11-for-18 performance on Saturday in Maryland wasn't the deciding factor in the game, but like its perimeter shooting, Indiana's free throw shooting percentage is moving in the wrong direction.
The Hoosiers are shooting just 68.7 percent from the line through 14 games after shooting just 65.5 percent last season and 65.7 percent in Miller's first season.
For an offense with a heavy emphasis on drawing fouls, the strength will ultimately be negated if the Hoosiers are unable to convert reliably from the line.
· Phinisee's impact continues to be minimal: Sophomore point guard Rob Phinisee is one of Indiana's most important players, but has yet to make a significant impact this season.
Phinisee was injured early in the season and has missed five of the team's 14 games, but his last three games have yielded little to no production.
The McCutcheon product scored just two points in 22 minutes in Saturday's loss at Maryland and over his last three games, he's averaging just 2.3 points, 2.3 rebounds, 1.3 assists and 1.6 turnovers in 20 minutes per game.
Without Phinisee functioning at 100 percent, Indiana has been forced to play Al Durham Jr. major minutes at the point, which isn't his best position.
· IU's turnovers fuel Maryland's offense: Maryland didn't shoot the ball particularly well on Saturday afternoon, but the Terps feasted off of Indiana's turnovers.
The Hoosiers turned it over 14 times in the loss for a turnover percentage of 20.2. Those 14 turnovers turned into 25 points for Maryland. Indiana scored just nine points off of Maryland's seven turnovers.
"Our defense didn't create any easy ones," Miller said. "If you look at them, I think seven turnovers. The points off turnovers were 25 to 9. So, on the road you have to find a way to get some easy ones. Our defense didn't create any easy ones as well."
Photo credit: Maryland Athletics
Filed to: Maryland Terrapins, Robert Phinisee