Indiana's offensive flaws exposed in 75-59 loss at Maryland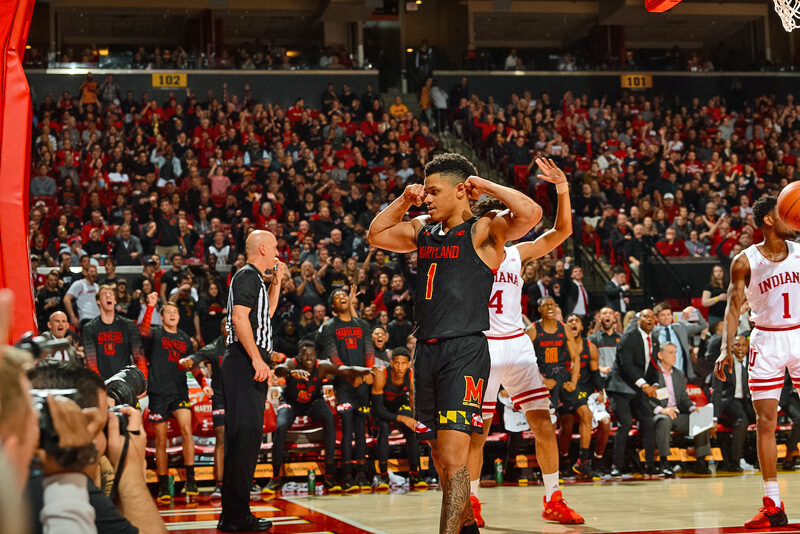 COLLEGE PARK, Md. – Indiana was within three points of No. 15 Maryland with 14:17 remaining.
The Hoosiers hadn't played particularly well, but good efforts by Joey Brunk and Trayce Jackson-Davis seemed to give them a chance. They both were solid in the post, and effective enough against Maryland's tough frontcourt.
But a 21-5 Terps run over the next seven minutes exposed every Indiana flaw on the way to a 75-59 win.
The more the game got out of hand, the more Indiana got away from what was working. When Maryland was able to limit IU's frontcourt, Indiana was left with few options offensively. Its only counters seemed to be guards driving to the rack and hoping to get to the line, and the Hoosiers weren't able to draw enough fouls for that to be effective.
When Al Durham Jr., Devonte Green, Rob Phinisee and Armaan Franklin combine to shoot 9-for-27 and just 6-for-24 when you take away Green's small run at the end when the Terps emptied their bench – and only one player hits double-digits, Indiana will struggle to win games.
"Not being able to score eventually overwhelmed us," Archie Miller said. "It's a fine line on the road. You've got to make all the little things go your way when things aren't going well on one end."
And Indiana's undisciplined play reared its ugly head. The Hoosiers committed 14 turnovers – not an especially gaudy number, but nearly all were costly as the Terps scored 25 points off turnovers. Many were simply unforced, silly mistakes. Joey Brunk throwing a full-court pass over everybody with two seconds left until halftime. Damezi Anderson not knowing where to go with the basketball. Race Thompson throwing an outlet pass to open hardwood.
The types of errors bad teams commit and the types of extra opportunities you can't afford to give good teams on the road in conference play.
All of those issues were prevalent in the aforementioned Maryland run. From the time IU closed the gap to three until the under-8 timeout when the Terps led by 19, Indiana shot 1-for-8, committed four turnovers and Maryland converted those into nine points. When the Terps got rolling, the Hoosiers struggled to respond.
"Ball's not going in the basket," Miller said. "Whether it's a layup, whether it's a free throw, or whether it's a wide-open shot. At some point, you have to be able to put it in the basket. And we've got enough guys that can do that. Certain teams struggle to find their way. We've got to get more quality 3s in the game, and our backcourt's got to be able to create more off the dribble on those 3s."
Indiana's defense kept it in the game as long as it could, but the offensive struggles eventually bled over to the other side of the court. Blown coverages, opponents left wide open (even if Maryland didn't always convert those looks), and lack of communication kept the Terps' momentum going in the second half.
But make no mistake: while not perfect, Indiana's defense wasn't the problem. In Big Ten play, the Hoosiers will have to find more solutions offensively than they had today to hang around late in games.
"I think we were in the game for the most part with our defense," Miller said. "Offensively, I think up until the last four minutes, which really doesn't count, offensively, we were 1-for-17 from 3. On the road. You're not going to just hold teams down and shut them down for periods of time. You've got to be able to make some of those open ones and make some of the tough ones. That's what teams do to overcome. You've got to make some shots."
Photo credit: Maryland Athletics
Filed to: Maryland Terrapins