The Minute After: Maryland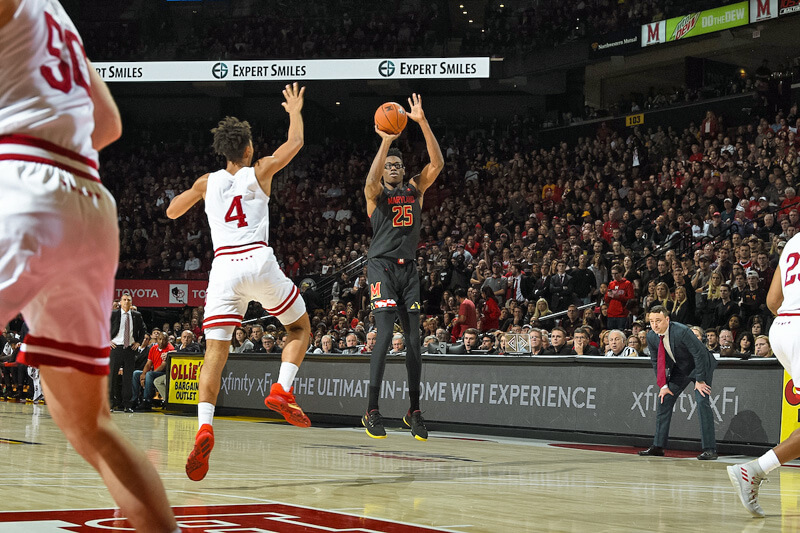 Thoughts on a 75-59 loss to the Terrapins:
The last few weeks haven't been a disaster for the Hoosiers. But the cracks in the foundation have started to show.
Devoid of the astronomical free throw rate Indiana racked up inside against untalented and undersized opponents, the offense is stalling. Better, more talented opponents are turning Indiana into a jump-shooting team. It's the whole defensive game plan. The results haven't been pretty for the Hoosiers. Over the last five games dating back to Connecticut on Dec. 10, Indiana has shot just 21-of-94 from 3-point range, a woeful 22.3 percent. Indiana shot just 4-of-18 (22.2 percent) in this one, three of those coming after Maryland had already put the game to bed.
We've seen this nightmare before. It was last season. And we know how it ended. As teams continue to throw similar defensive looks at Indiana, the offense becomes meek. Becomes timid. Lacks confidence, rhythm and direction. When Plan A is taken away, Plan B has no chance. The Hoosiers can't buy a bucket from the perimeter and their opponent knows it. It's Jan. 4. There's still plenty of season to go. But if you're skeptical about this team's ability to rack up wins and score the basketball the rest of the season, it's a valid concern.
Beyond the shooting woes, Indiana also turned it over on 20 percent of its possessions. Passes were telegraphed. Bad decision were made. Maryland made the Hoosiers pay, turning those turnovers into 25 of their 75 points.
Rob Phinisee isn't starting and barely making an impact. The sophomore scored just two points (1-of-3) and had one assist in 22 minutes of action. Not sure what's going on there, but if Indiana's guard play is going to improve from here on out, Indiana needs more — a lot more — from him.
The Hoosiers had a lot of missed shots to rebound and did a nice job there, corralling 38 percent of their misses. That helped Indiana along to 13 second-chance points. It was about the only bright spot in the offensive profile today. Indiana scored just .85 points per possession. And when it got to the line, it failed to convert. Both De'Ron Davis and Joey Brunk had completely empty trips, each missing two straight attempts at the line. (Perhaps a bit of a karmic rebalancing for Davis, who had luckily banked in a free throw on a previous attempt.) Indiana shot just 11-of-18 (61.1 percent) overall compared to Maryland's 21-of-25 (84 percent) performance. The charity stripe, so valuable for the Hoosiers earlier in the season, was not to their advantage today.
This was Indiana's second road Big Ten game of the season and its second poor performance. If things continue this way on the road and Indiana continues to not lock down home court, well … you can imagine where things might end up this season.
On paper, Indiana gets its easiest Big Ten game of the season coming up on Wednesday — a home game against Northwestern. It should be a welcomed opponent after the last two losses.
But will Indiana be able to flip the script and change its offensive ways? Recent history isn't instilling much confidence in that regard.
Photo credit: Maryland Athletics
Filed to: Maryland Terrapins