'They don't have to score to play well': Archie Miller focuses on assists and defense with a finally healthy Indiana backcourt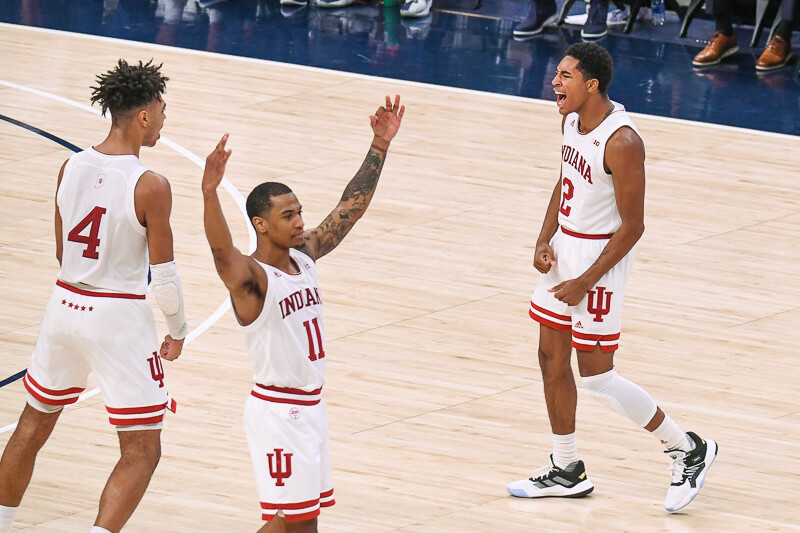 Indiana's game-winning play against Notre Dame in last weekend's Crossroads Classic will be remembered for Armaan Franklin's shot.
In the same way that Rob Phinisee's winning shot in 2018 signaled the arrival of the then-freshman guard, Franklin's corner three against the Fighting Irish followed suit.
A closer look at the on-court lineup for Franklin's clutch shot reveals less about the guard himself and more about what his coach envisions for the future of Indiana's backcourt.
Crunch time during the Notre Dame win featured a three-guard lineup for the Hoosiers, with Al Durham, Devonte Green and Franklin all on the court for the decisive offensive play.
A three-guard lineup has long been a possibility, but rarely a reality, for Indiana this season due to injuries.
Whether it was Green's hamstring or Phinisee's ankle, Indiana has been denied a full complement of guards for most of the season, with the Notre Dame game being an exception.
Prior to the Crossroads Classic, Archie Miller outlined how he planned to use the four guards.
"I've taken some steps myself to meet with those guys as a quartet," Miller said in his pre-Notre Dame media availability. "Our guard play isn't so much about scoring as it is as much about ball handling and assist-to-turnovers. Right now if you look at our assist-to-turnover (ratio) as a group, it's not where it needs to be as a backcourt that's heading into the thick of Big Ten play."
Against Notre Dame, Durham and Green both started and played 29 minutes. Franklin and Phinisee each came off the bench and played 14 and 15 minutes, respectively.
None of these players committed more than two turnovers (Durham) and all four recorded at least one assist.
A one-game sample size isn't conclusive regarding how Miller will employ his four primary ball-handling guards this season, but now that they're all at his disposal, Miller's mental gears are churning.
Each of Indiana's guard options offers something different, and more than ever before in his Indiana tenure, Miller is thinking about how to mix and match lineup combinations in the backcourt.
Durham has been a sporadic scorer in his first season as a team captain, failing to string together consecutive double-digit scoring games since mid-November. His 3-point shooting (39 percent for the season) has also been hit-or-miss, increasing the importance of his role as a fluid ball mover on offense.
Green's streaky shooting has continued into his senior season. His 30-point output against Florida State seems like a distant memory, as Green has failed to score more than 11 points in any of Indiana's last four games.
He remains a pesky defensive presence though, something Franklin has also displayed early in his career.
The freshman had a career-best 17 points in the Notre Dame win, and has shown a strong proficiency early in his college career for picking out the right pass and standing strong defensively.
Phinisee's influence on this Indiana team has been the most limited of any of IU's scholarship guards due to injury, as the sophomore has played in just seven games and still has strides to make with his conditioning.
Despite these differences, Miller's directives have been aimed at the backcourt as a group, rather than as individuals.
"I'm just trying to get them to understand it doesn't have a lot to do with the amount of shots or buckets that they get as much as it does with the other areas that they can contribute as a group, as a quartet," Miller said.
"They don't have to score to play well. That's my message to them. Add that into the defensive side of the ball, we got to do a better job of holding our own in terms of defending the other team's backcourt one-one-one."
That last part of Miller's reply will reveal itself in the coming weeks.
An inability to contain opposing guards, both off the dribble and on the perimeter, was the root cause of Indiana's defensive woes against Nebraska.
A Notre Dame team happy to launch nearly 30 3-pointers, with minimal success, wasn't the best test of Indiana's defensive instincts at guard.
Plenty of Big Ten tests in the new year will provide opportunities for that, and along with them, a proper assessment of whether or not Indiana will return to the NCAA tournament.
"That doesn't mean making threes and that doesn't mean scoring a lot of points," Miller said. "That means as a quartet, as a group, their floor game on offense, making guys better, assist-to-turnover (ratio), then their floor game on defense in terms of not only one-on-one, but a commitment as a group to defend the other team's backcourt in a better fashion."
In terms of what groupings Miller will piece together to try and realize these goals, that too will work itself out in the coming weeks.
While the end-of-game lineup against Notre Dame featured Durham, Franklin and Green, another variation of the three-guard set in the second half featured Phinisee instead of Franklin.
Miller said certain situations will dictate which three guards are on the court, and whether a three-guard lineup would be used at all.
He listed zone offense and pressure offense situations as scenarios which call for a smaller lineup, but admitted that most end-of-game situations will force Indiana to go bigger because of the way the Hoosiers play.
Regardless, Miller will remain focused on the areas of defense and assist-to-turnover ratio (Durham's is 36-25, Franklin's is 26-14, Green's is 23-19 and Phinisee's is 26-13) as the keys to the success of Indiana's guards as a group, and consequently, Indiana as a team.
"If we're winning, we're going to get good guard play," Miller said. "If we're not winning, a big attribute to not winning is not getting good guard play."
Filed to: Aljami Durham, Archie Miller, Armaan Franklin, Devonte Green, Robert Phinisee