'He sparked us': Jerome Hunter helps Hoosiers in win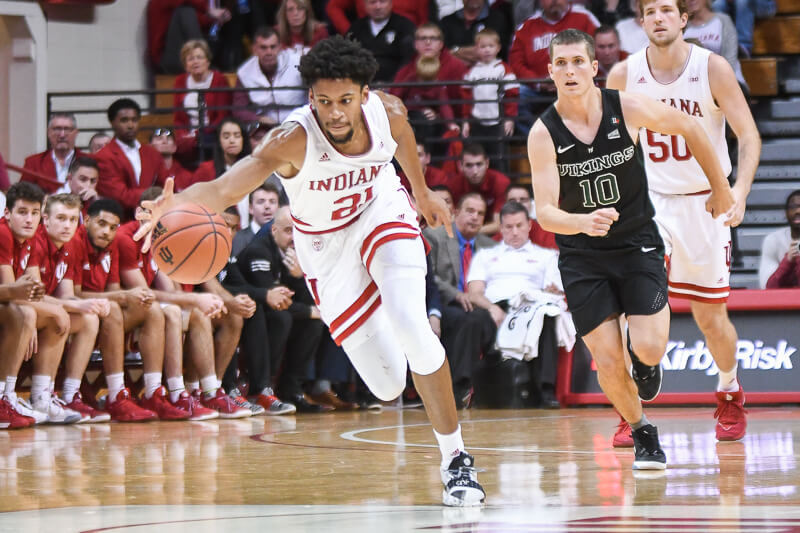 When Al Durham was asked about Jerome Hunter after Indiana's 85-74 win over Portland State, he couldn't help but give a smile.
He looked over to his right at Race Thompson and Trayce Jackson-Davis, and they were also smiling.
"Yeah, Jerome," Durham said.
Hunter's 15 minutes on Saturday were the most important stretch of his young career so far. He finished the game with nine points on 3-6 shooting and grabbed three rebounds.
As the first half was winding down and Indiana was struggling against a feisty Portland State team, Hunter hit his first-career 3-pointer to give Indiana an 8-point lead. About one minute later, Hunter drained another three from the right wing to push the Hoosiers out in front by 11.
"He sparked us," Durham said. "He came off the bench, hit two big shots for us. That takes confidence. I feel like he's going to be a really, really, really big part of our team."
Portland State answered Hunter's second 3-pointer with a second-chance basket, and Archie Miller was not pleased with his team's effort to box out on that possession. The very next time Portland State got the ball back, they missed a 3-pointer, and Hunter aggressively established inside position to snatch the rebound with two players hounding him, eventually getting fouled.
The crowd was on its feet for Hunter's efforts, and as he walked to the free-throw line, Miller gave him a high-five.
"To watch him come out there, he's fearless with his shot. I know that part of it," Miller said. "He mixed it up. He's able to get some offensive rebounds, get a big defensive rebound at the end of the half where he blocked out which we didn't do in the possession before."
He split his pair of free throws to score seven of Indiana's nine points to close out the first half, which gave the Hoosiers a comfortable 10-point lead.
At Friday's media availability before the game, Hunter talked about realizing how not playing for a year can really affect everything when it comes to playing basketball.
"I mean, going out there running up and down the court, that even felt different just from sitting out a year," Hunter said. "So, getting comfortable and getting myself comfortable I think I'm going to work on game by game, and I hope I get better at it."
Hunter seemed to be the most comfortable he's been when he took the floor Saturday. After struggling with his outside shot in Indiana's exhibition (0-1) and first game against Western Illinois (0-4), Hunter would often head to the paint and post up smaller guards to try to establish a rhythm.
He said working his way inside-out would be important to help his shot fall, and when it does, it adds a whole other weapon to Indiana's post-focused offense. Miller and teammates have often called Hunter one of the best 3-point shooters on the team.
In the second half on Saturday, Hunter missed his lone 3-point attempt, but crashed the glass on a missed 3-pointer from Rob Phinisee to complete a second-chance tip in.
"Great positive steps for him," Miller said. "He's a really good player. I'm happy he's out there playing. Knock on wood, we keep going with him, he continues to stay healthy."
His performance Saturday was exactly that — positive steps. It's the reason his teammates couldn't help but smile postgame when they thought of his ability, and what he can be for this Indiana team.
"He's rebounding, he's been playing hard, defending," Durham said. "If he keeps doing this, keeps working how he is, I mean, he's going to be a problem for real."
Filed to: Jerome Hunter, Portland State Vikings