Five takeaways from Indiana's exhibition win over Gannon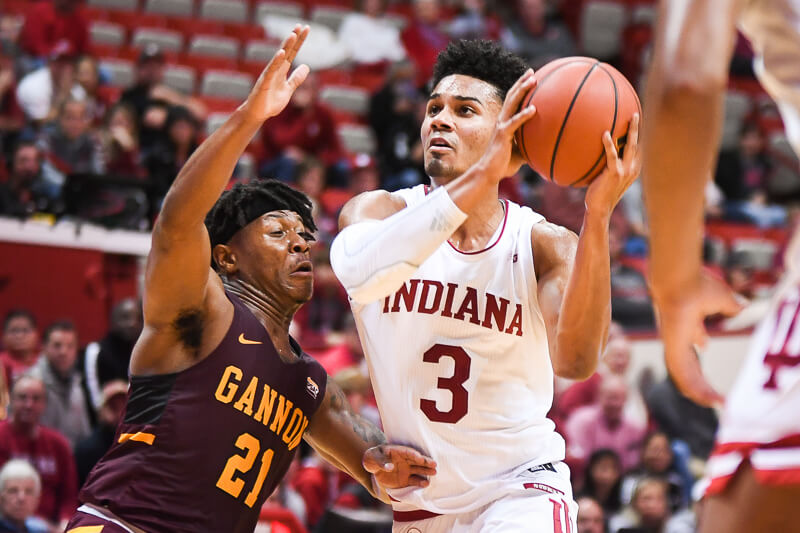 Indiana cruised to an 84-54 win in its final preseason tuneup on Tuesday night against Gannon. The Hoosiers, down a pair of guards in Al Durham Jr. and Devonte Green, led by just one late in the first half before easily pulling away from the Golden Knights after intermission.
Here's a look at five takeaways from the victory over Gannon:
· Rob Phinisee returns: On Monday afternoon in his press conference, Archie Miller was bearish on Rob Phinisee's availability for the Gannon exhibition.
But with just a week to go before the start of the regular season and Durham Jr. and Green unavailable to play, Phinisee returned and played 13 minutes against Gannon.
It was an important development for a team that is lacking in guard depth and for a player who is inarguably one of the program's most important entering the season. It's no secret that Phinisee's injury last season was a significant factor in IU underachieving. If this team is to exceed expectations, it needs Phinisee available for the duration of the season. Tuesday was a step in the right direction.
"For us, if Rob doesn't play tonight or get a little bit of action, we're really starting to set him up where he's not going to know how he feels after a game or what not," Archie Miller said. "So the plan was to play him between eight and 12 minutes tonight, which he got 13."
· Smith posts near flawless line: Over his first two seasons at Indiana, Justin Smith has flashed the potential that made him a coveted top 100 prospect coming out of high school.
He's also had his fair share of struggles to find a defined role offensively, which was the case for large portions of his sophomore season.
On Tuesday, Smith kept things simple and was Indiana's best player despite logging just 20 minutes. Rather than trying to force anything off the dribble, Smith simply let plays come to him offensively and the result was a 5-of-5 shooting performance and nine attempts from the free throw line. His 18 points were a game-high and he added three assists, two rebounds, two steals, a blocked shot and no turnovers.
"The way our offense is organized it's very free flowing," Smith said postgame. "Just if it happens, it happens and it just worked for me tonight."
A performance like Tuesday's certainly isn't the every game expectation for Smith, but for an Indiana team that could struggle to score at times, it will be important to keep finding ways to best utilize his athleticism and ability to finish at the rim.
· It's going to take some time for Jerome Hunter: Tuesday's exhibition was a rough public debut for redshirt freshman Jerome Hunter.
The Pickerington North product went 0-for-5 from the field and scored just two points before fouling out in 17 minutes.
However, the fact that Hunter hasn't missed any time this preseason is a positive for this Indiana team. The 6-foot-7 forward is going to need time to shake off the rust that is a result of him undergoing surgery last fall to address a lower leg injury. It's not fair nor is it reasonable to expect Hunter to look like the player he was coming out of high school right now.
A favorable November slate should allow the coaching staff to get Hunter plenty of reps and build his confidence before the meat of the schedule arrives in early December.
· Defense, defense, defense: Archie Miller made it clear in his postgame press conference that he's excited about Indiana's defensive potential.
The Hoosiers were a top-35 KenPom defense a season ago and Miller spoke like a coach that believes his team will be even better on that end of the floor in his third season at the helm.
After a subpar first half performance against Gannon, the Hoosiers limited the Golden Knights to just 30 percent shooting in the second half last night. That number means little given the level of the opponent, but IU deserves credit for a more engaged effort after halftime.
"Without question, if this team has a chance to reach its potential, it has to become an elite defensive team," Miller explained. "It has to become a team – even with its youth and newness – has to become a team that can win with its defense. If that happens, if we become a good defensive team, a team that buys in and believes in it and is hard playing, a lot of the things offensively that you sort of worry about will take care of themselves."
· Anderson earning heavy preseason minutes: After logging 29 minutes in IU's scrimmage against Marquette, sophomore Damezi Anderson played 31 against Gannon.
As a freshman, Anderson was relegated to the bench for most of conference play. As a sophomore, Indiana is going to need him to produce and Tuesday's performance was encouraging.
Anderson was one of five IU players to score in double figures and he made two of the team's five 3-pointers. If he's able to consistently knock down perimeter shots, he looks like a player with a good shot to remain in the rotation even after the team returns to full strength.
Filed to: Damezi Anderson, Gannon Golden Knights, Jerome Hunter, Justin Smith, Robert Phinisee