The Minute After: Gannon University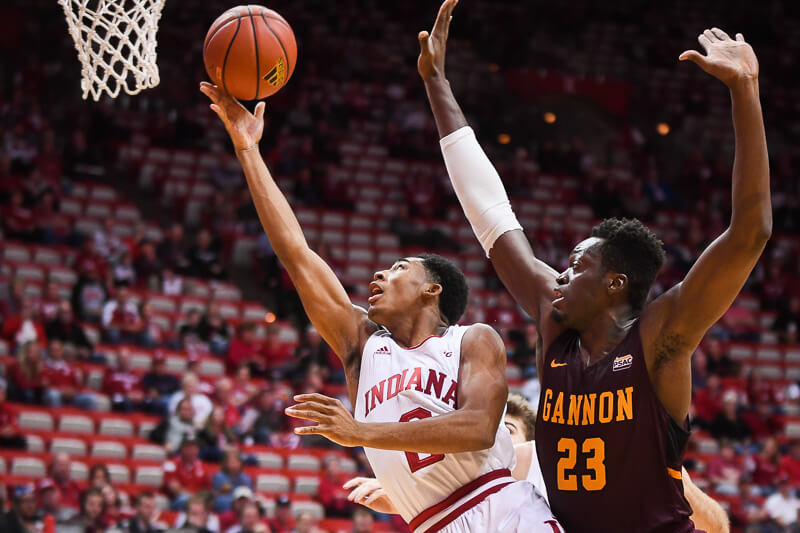 Thoughts on a 84-54 win against the Golden Knights:
With Al Durham and Devonte Green sidelined due to injury, and Rob Phinisee seeing limited time as he works back from his lower abdominal injury, Indiana's backcourt was thin this evening. But it mattered little. Mattered little because the opponent was DII Gannon University, a team a short-handed Indiana Hoosiers team should have no problem beating with ease. Mattered little, too, because freshman Armaan Franklin looks like a college-ready player from the get-go.
Archie Miller described Franklin as "ahead of schedule in terms of his learning curve" during his press availability Monday and that was plain to see this evening. Against more bulk and muscle in the Big Ten, Franklin's thinner frame may get pushed around some. But he showed no signs of struggle tonight in 34 minutes of action. He saw the floor well. Made smart reads off the ball. Looked engaged on defense. Shot it well too. Franklin finished the evening with 12 points (5-of-10), eight rebounds, four assists and three steals. He turned it over a team-high four times as well. But for not being expected to handle the ball so much in his college debut, you'll take such a number in 34 minutes of action.
Damezi Anderson never scored in double-digits as a freshman. Didn't score a point for the Hoosiers after Dec. 22, either. But he made a lot of his increased opportunity tonight as well. Anderson scored 10 points in 31 minutes of action, including a 2-of-4 mark from distance. He snagged four rebounds and racked up four assists. If Anderson can continue to knock down 3-pointers and show more competency on defense — the latter being a major reason he didn't get much playing time last season — he may be able to carve himself a decent backup spot in the rotation once Green and Durham return.
The Hoosiers had 10 players score tonight, including four in double figures, a sign the balance and varied options on this team are for real. But it's about how it's put together. That's still very much a work in progress, especially with injuries to key players right now. Indiana looked great to start as it pushed it in transition for quick, easy looks. But as the first half went along and a number of rotations saw the court, the Hoosiers looked out of synch on offense. It allowed the Golden Knights to briefly take two leads. There wasn't enough team play. Jerome Hunter, playing in his first college game, missed a couple 3-pointers badly. When Indiana's bigs got the ball in the post, you could tell the possession would end with that individual getting a shot up. It was a stretch of play Justin Smith described as "a little awkward" after the game as the Hoosiers fumbled through lineups. Indiana got it together in the second half, which allowed for the blowout victory.
Speaking of Smith, save for an early drive he looked a bit out of control on where he picked up a foul, it was a strong game for the junior. He hit controlled shots in traffic — not something you could have said of him last year — en route to a game-high 18 points. Smith didn't miss a shot all contest (5-of-5) and made 8-of-9 from the line to help Indiana to a 21-of-30 (71 percent) mark from the charity stripe on the night. He also added two rebounds, three assists, two steals, a block and no turnovers in 20 minutes of action. Considering Smith's baseline, it was an impressive 2019-2020 debut.
The Hoosiers are back. But with so many new parts and moving parts and injuries abound, just where it goes from here is hard to ascertain at the moment.
Filed to: Gannon Golden Knights